Overview:
One of the main reasons I launched the 'Our Tribe Travels' Community was to give families a place to swap their tips and recommendations and to share their travel gems.
I've found that a recommendation from a like mind traveller often results in being a highlight of a trip. It could be discovering a small homely guest house, an unusual trek, or, as in the case of the recommendation from one of the 'Our Tribe Travels' community, an entire island!
We've travelled extensively around Thailand, yet for some reason this little island called Koh Samet had slipped under my 'laid back beaches' radar.  I'm now sharing this gem with you as my son (aged 6) and I absolutely loved it. If you want to escape the hustle and bustle of the tourist towns and beaches then read on.
Where is Koh Samet?
Koh Samet is situated a couple of hours East of Bangkok and is accessed via the little port of Ban Phe. I've detailed the transport options at the end of this post.
The island is a National Park and has strict regulations regarding its development and  infrastructure. This means that the island is less developed than others and retains its rustic appeal. Accommodation varies from high end boutique spa hotels to VERY basic wooden huts, so there's a price point to meet all budgets.
Where We Stayed on Koh Samet:
We didn't pre book any accommodation, but we turned up and secured a room at Samed Villa, a place recommended by the 'Our Tribe' community. It was perfect. Simple, clean rooms overlooking the beach and a fantastic restaurant serving local Thai food and traditional stone baked Italian pizzas (yes, I'm not sure about this either, but they actually looked pretty good). We paid 1,700 baht for a double room, inc breakfast, as we chose one at the back, forgoing the beach view.
Beaches on Koh Samet:
The beaches where we were located are stunning. The clear, shallow sea is ideal for families and it's very easy to walk around the coastal path to other beaches, some of which are very quiet and uninhabited. Local boat companies run daily trips to neighbouring islands and it's also feasible to give parasailing a go.
We stayed for 4 nights, but we could have easily stayed for a few more.
Here's a little video of one of the beaches and a summary of out time there.
Save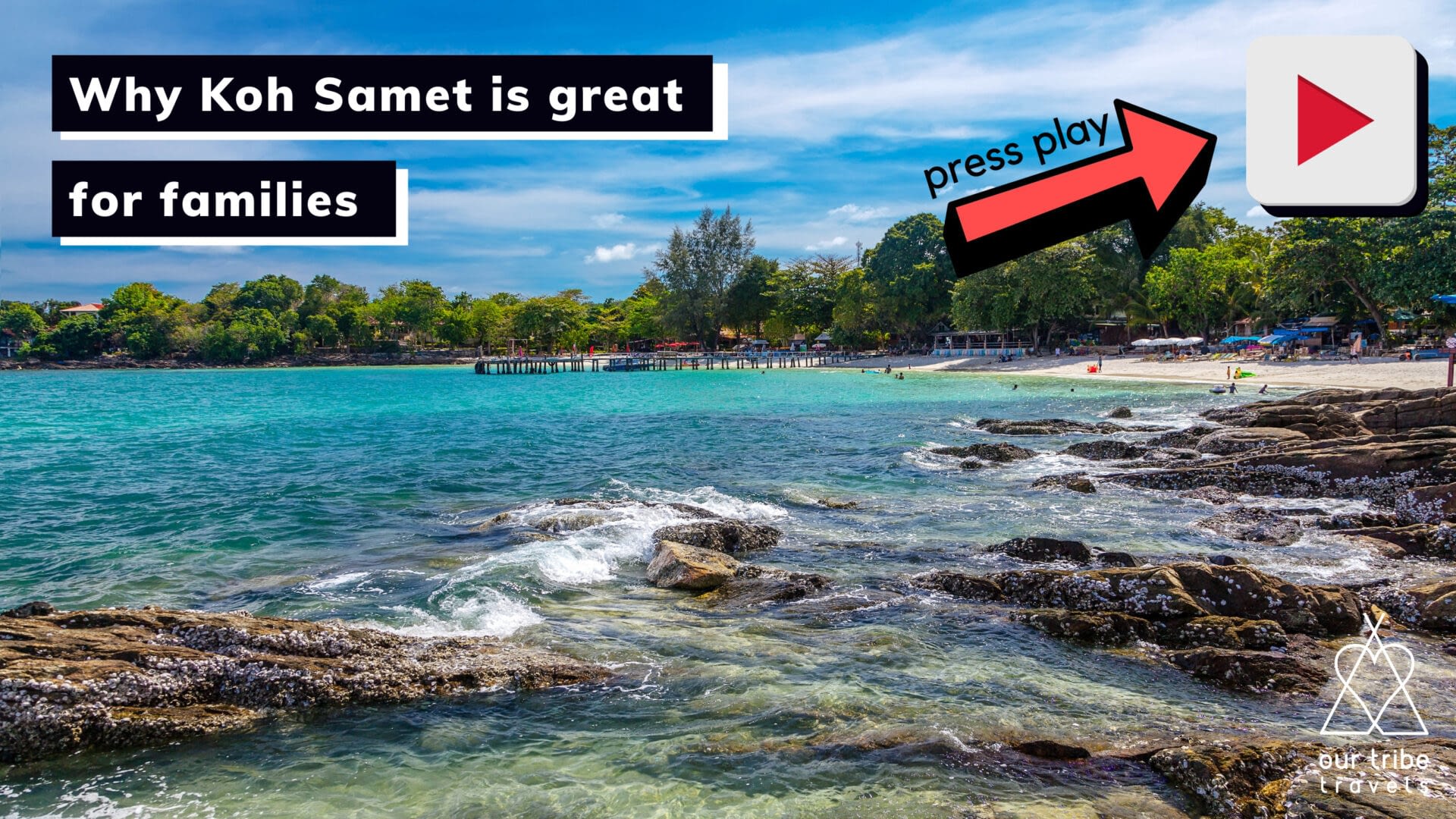 How To Get To Koh Samet:
Taxi – Bangkok to Ban Phe takes approximately 2 hours and costs circa 2,500 baht.
Local bus – the buses leave from Ekkamai bus station (Eastern bus terminal) at least every 2 hours (on the hour during peak periods). It costs circa 160 baht per adult and 100 baht per child. The buses do not stop and take between 3.5 and 4.5 hours, traffic dependant. They do have a toilet on board, although it was very small and difficult to use when you're helping a small child and travelling at speed!
Ferry – the ferries run hourly from Ban Phe doc to Koh Samet and take 40 minutes. A return ticket costs 100 baht. Life jackets are available once on board and they even had a few smaller child sized jackets.
Speed boats are available for private hire (circa 2,500-3,500 baht per boat / 10-12 people) or for smaller groups they will negotiate a lower rate if the driver thinks it's worth his time.
'Our Tribe Travels'- helping to make independent family travel easier.
Save