Tell us a little bit about your tribe and your travel style?
Hi, I'm Prema, and my compact little family of three (hubby and five year old son) reside in the most liveable city in the world, Melbourne.  Despite this luxury, we love to travel.
Travelling is in my blood and I have ventured to most places on earth, my husband on the other hand was a monk, who lived in the one small ashram in India for fifteen years (until he met me.. but that's another story!).  My son, well, with a wonderfully curious mind and thirst for adventure, he is the perfect blend of us both.
We try to keep the travel to age appropriate places for our son, that way we all get the most out of the travel, so for the last three years it's been Asia. They love kids and the people are so friendly and accommodating.
Our travel destinations are decided on New Year's Day every year.  Whilst most folks are making new years resolutions they won't keep, our little tribe each choose a destination and give reasons to go there…and then we take a vote. When the whole family is involved in the decision making process, then we all have a stake in its outcome. That's the way we like it.
P.S. Just for the record my son is already reeling of the 'must do's'  in Egypt and it's only October!
What has been your favourite family holiday and why did you love it?
Last year we went to Vietnam and it was one of the best trips we have done. We always travel on a very tight budget, stay in homestays or hostels, use local transport, and eat on the street with the locals.
We were there for one month and we travelled light. One 60l pack (on Hubby's back) and one daypack that had a laptop and camera in it (that I carried).  A total of 15.7kg – not bad for three people
This trip was great because:
Nothing was booked except our hotel on the first day, as I do like to freshen up on arrival.
The boys were actively involved in deciding what to do and where to go each day
We stayed in family homestays, so there were local kids to play with and my son was really able to immerse into the culture and join in the festivals in an authentic way.
We spent a week in a village outside of Sapa, where my son made friends with all the local children, wandering off for hours at a time to "his friends house"  and running through the fields. He was able to discover than having few possessions did not amount to unhappiness, but quite the opposite.
It was the first time I have given him pocket money to spend on anything he wanted, and he loved walking up to street vendors and buying their wares (at heavily discounted rates!)
We loved the adventure of trying crazy and exotic delights like fertilised eggs and crickets.
And ticking off another 10 modes of transport travelled on. (The goal is ride every form of transport possible.)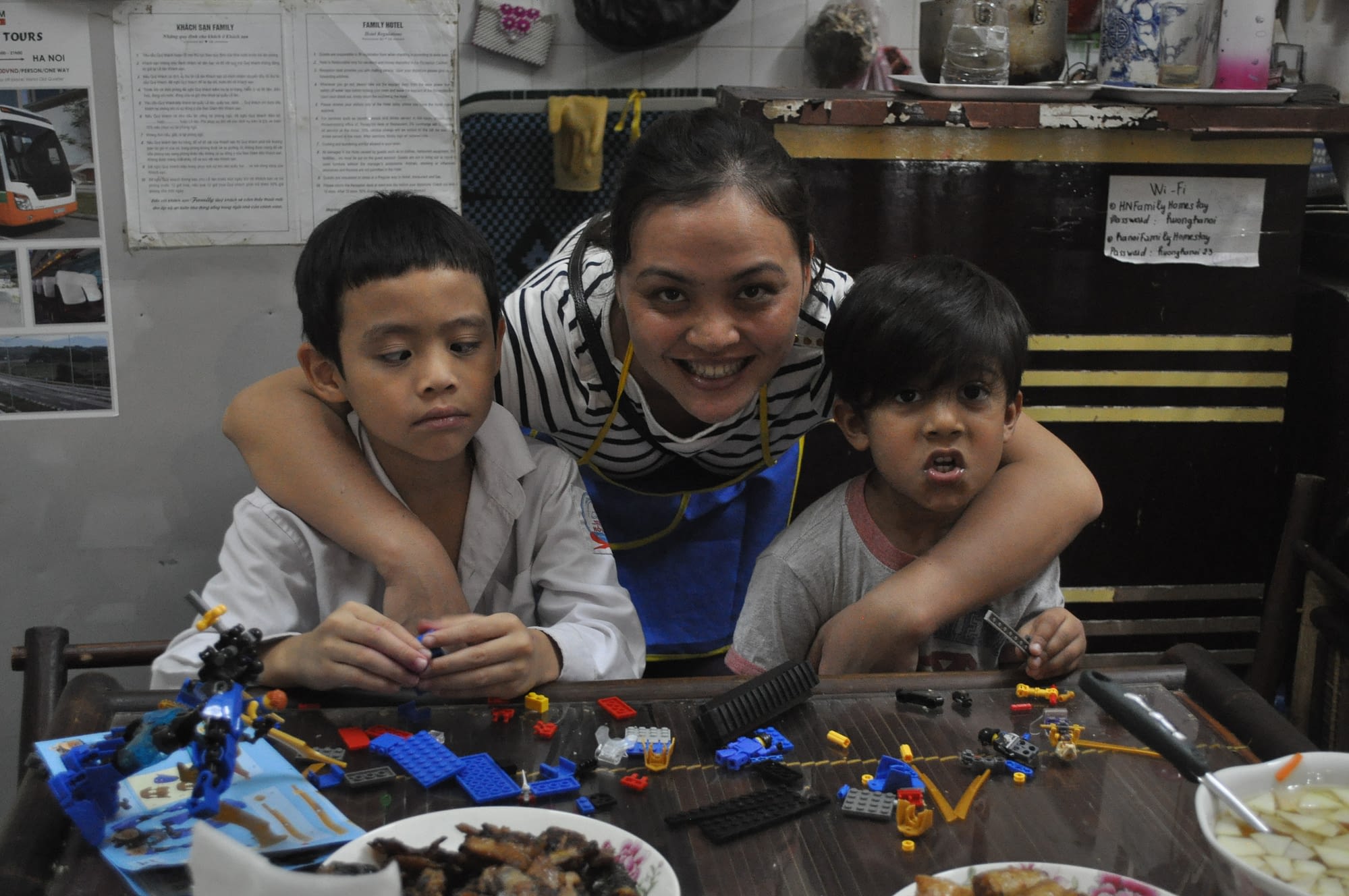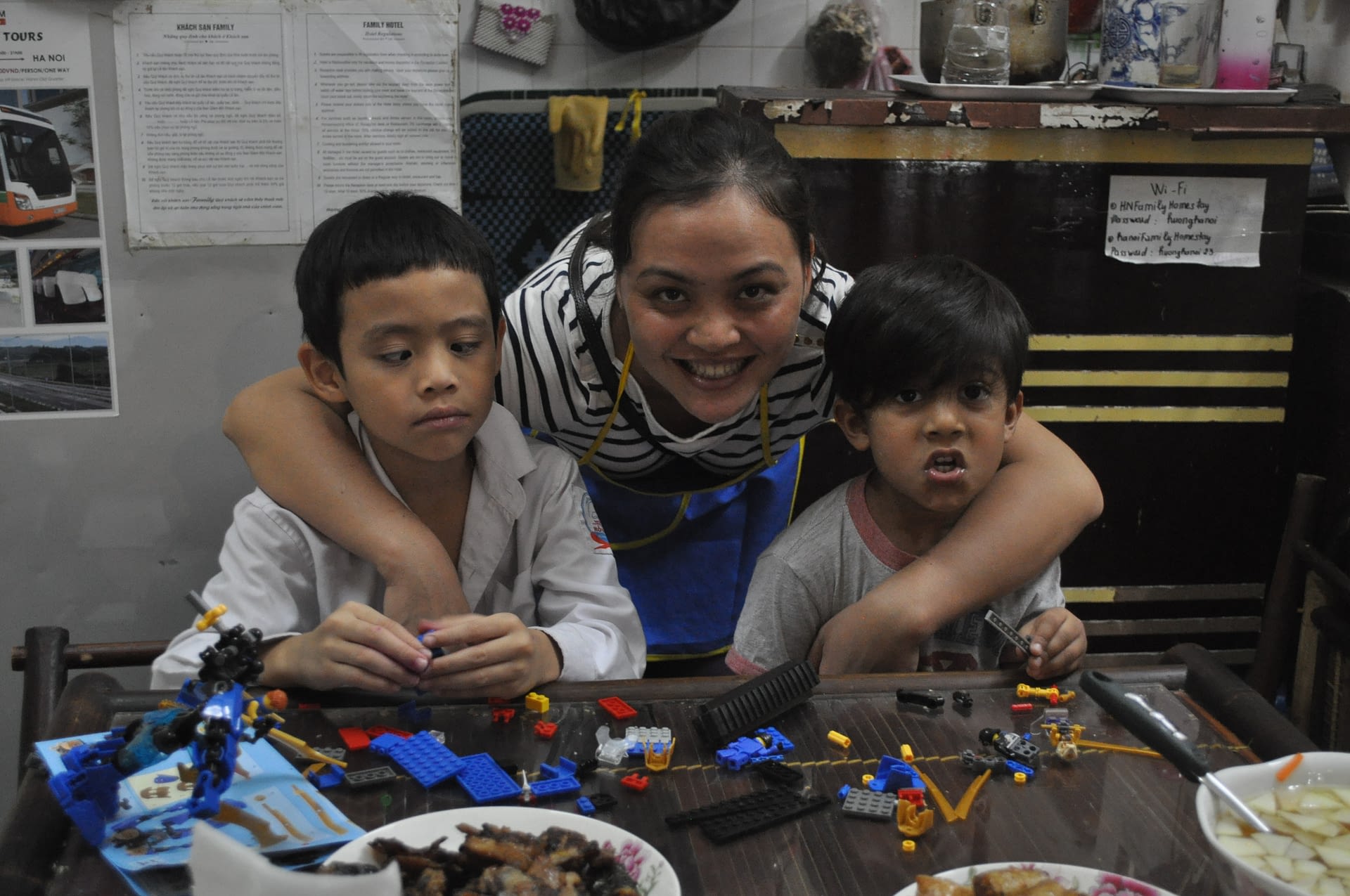 What 3 destinations are top of you family travel bucket list?

Egypt
Japan
Lord Howe Island
If you had to pick one travel item that makes travelling with kids easier, what would it be?
Card Games. They are light, compact and come in a multitude of forms.  We like top trumps for the long train rides and waiting at airports.  We just bought the monopoly card game… we will keep you posted on that one
What's the best piece of family travel advice you have been given?
Don't be afraid to let your kids wander, explore and contribute to the trip. They will absorb the culture and atmosphere of the places you go, rather than tick off the sights.  It is how they can truly become a world citizen.