Tell us a little bit about your tribe and your travel style?
We are a family of four, made up of a slightly alternative Dad who seeks out all things local- food, people and fauna; an adrenaline seeking mum who wants to see the world, a sensible and risk averse 13 year old girl who dreams of belonging to a "normal family" and an active and quirky 9 year old boy who loves all things nature and outdoors but is scared of frogs (in all fairness he loves them really – it's only when they jump out the drain in the shower that he's unnerved.)
We currently live in Singapore. A choice that has surprised those who know us well, believing we would find it 'sterile' and 'regimented' and thinking we would be happier somewhere more rustic like Thailand. We have been here four months now and so far absolutely love it. It's clean, safe and friendly and has bundles to do. In the U.K we live in Brighton and have found several places in Singapore that have a similar cool, creative vibe to the arty community at home. From Dempsey Hill Open Farm Community to Timbre hawker stall, to innovative events such as 'metaphors be with you' that are run by up and coming artists at the Haque Centre of Acting and Creativity.
Finding a home for four people with different needs was a challenge for us, but for now we have definitely found it in Singapore. Day to day life becomes just that wherever you live, but to be in a hub like this where I can scratch my itchy feet without it breaking the bank is a dream.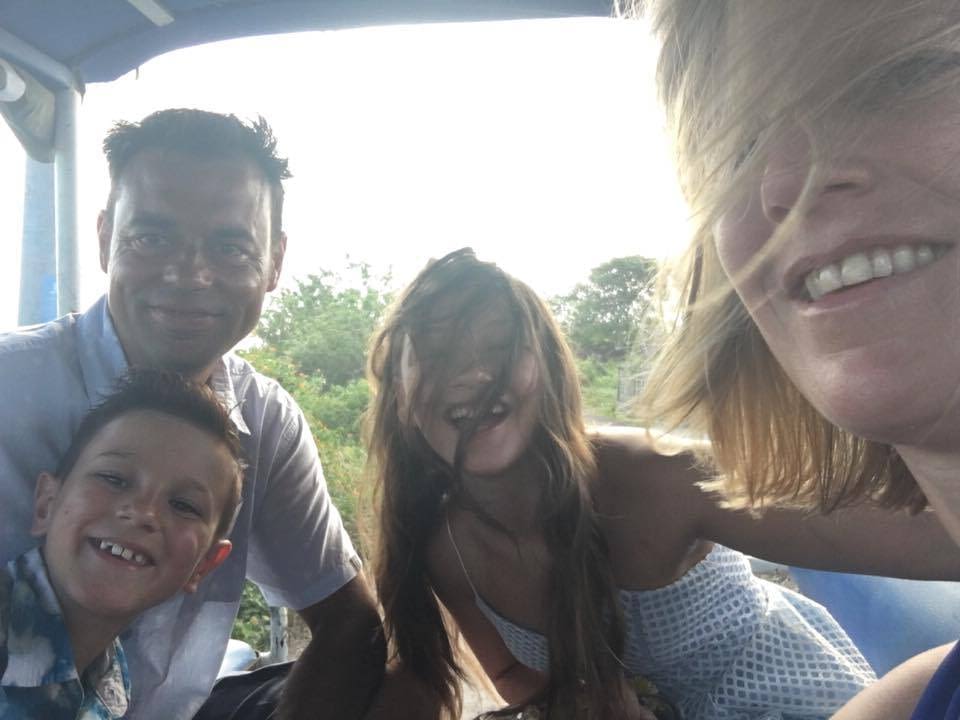 What has been your favourite family holiday and why did you love it? 
I am currently writing this from our eco lodge on the island of Bintan, just an hours boat ride away from Singapore. The resort is called Lula and it is managed on an ethos of improving the lives of local people. It is run completely by locals and promotes employment to as many as possible. You can order coffee to be delivered by a nearby coffee stall, you can stop at the local shop before venturing on the boom netting expedition and it's joyous to watch the resort feed over 100 villagers on a Tuesday – something they do every week to bring the community together.
The long list of activities available means it is a popular place for school excursions. After raft building Maia rightly noticed that our holiday was fairly similar to a school trip.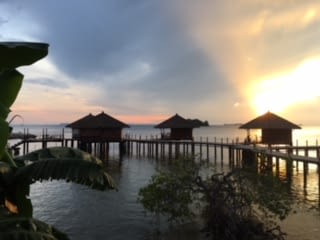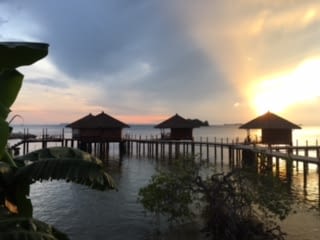 The program we were offered over our four day trip included kayaking through the mangroves (with a hasty retreat after my incompetent driving shocked and woke a deadly snake curled above our heads. Exactly the kind of thing Maia was trying to avoid.) Archery, jungle walks, boom net jumping, flying fox, climbing wall, leap of faith, pizza making and the best of all community links. For us meant buying and delivering three mosquito nets to the chief of a local village. There are larger projects on offer that need more notice to organise, but for us this was a sweet little taste of community involvement.
Just to clarify…I was giving the nets to the Chief, not the other way round. Inside he is dancing, I swear.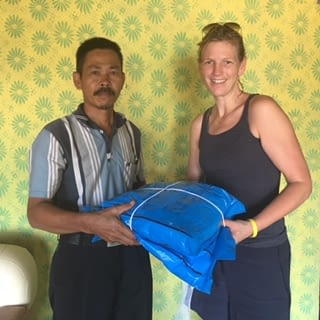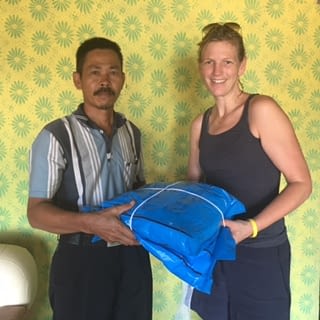 The rooms at Lula are great – a choice of stilted sea bungalows or the newly built landed air-con bungalows.
We got up early, had fun filled full days, ate great food, played board games, read and were all asleep before 9 – my kind of holiday.
Bintan has other resorts that make great weekend get aways. I recently stayed at Niwana Beach Resort with a  group of friends and it was perfect for escaping the city and offered a stunning beach view and infinity pool. Again, a huge list of activities on offer from paddle boarding to parasailing and the beaches were far more accessible and appealing (and I do love a floating bar every now and then.)
But there is just something very special about the vibe at Lula and what they are achieving. I love the localness of it and the intention behind every decision they make.
Whichever style of weekend fun you opt for, Bintan is the perfect bolt hole from city life.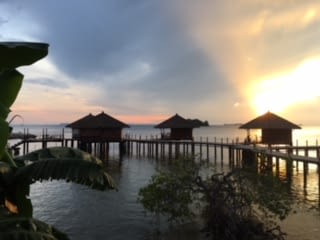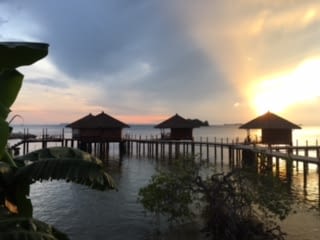 What 3 destinations are top of you family travel bucket list?

Skiing in Japan,
Trekking the Inca
The rickshaw challenge India
If you had to pick one travel item that makes travelling with kids easier what would it be? It's a bit hard to narrow it down to one. With young kids the only thing I ever took was a sturdy back pack to carry them in when hiking and an Ergo Baby for when we were on mopeds (Please don't tell my mum).
When travelling I carried Silas until he was well over 3, as it meant we could still go on long treks. We didn't let the fact he was a toddler stop us from the kind of exploring we wanted to do. The Samsonite backpack carrier we had has a sun roof, a rain cover, a detachable bag and it doubled up as a high chair and it tilted backwards, so if he was asleep he could recline slightly and be put on the ground so I could have a mojito in peace.
A squishy bucket was always a hit too – it didn't take up any space and meant they were beach ready at anytime. Now they are older we don't go anywhere without Bananagram, Uno and Mastermind.
I'd love to add our new air filled sun loungers to the list. In theory it's something that becomes a fully inflated sun lounger from merely being shaken out of its bag and takes up no more space than a hand towel – sounds brilliant. But in reality, half an hour twirling round in circles on a hot beach trying to drum up enough of a breeze to fill the sack before holding it over the electric fan in our room means this is not making the list.
What's the best piece of family travel advice you have been given?
Eat where the locals eat – look for the place with the queue.
My advice to you would be to boost your child's immune system before you go away and while you're away continue to give extra vitamin C – we had them in sachets that we added to their water. Also pro-biotics and multi vitamins are good as it helps to make them more resistant to the new germs etc. that they will encounter.

Save