Tell us a little bit about your tribe and your holiday style.
We have two kids, an eight year old daughter and three year old son. We prefer planning holidays on our own from scratch and really love going on adventure holidays that have an element of exploring the local area. We generally tend to hire a car and prefer self-catering accommodation to reduce food costs.
What has been your favourite family holiday and why did you love it?
Our favourite family holiday was in February 2016 when we took a trip to Norway to see the Northern Lights. This was a special holiday as it was our tenth wedding anniversary so we decided to treat ourselves by ticking off one of the things from my bucket list. In 2011, before my teacher training, I did a course for Physics where I studied about the phenomena of Aurora Borealis and since then I have wanted to observe it. I told my husband about my desire to see Northern Lights and took the lead to plan the trip. I began by researching the countries where you can see the lights and narrowed it down to Iceland, Norway and Sweden. I took help from a local facebook mums group and decided on Tromso in Norway as it has direct flights (3.5 hours) from London Gatwick – preferable with a two year old. I booked with Norwegian Airlines and used booking.com for accommodation where I booked a two bedroom log cabin http://www.yggdrasiltunet.no/news_144.html. which is about a 45 minute drive from Tromso, a place called Baakejord on island Kvaloya.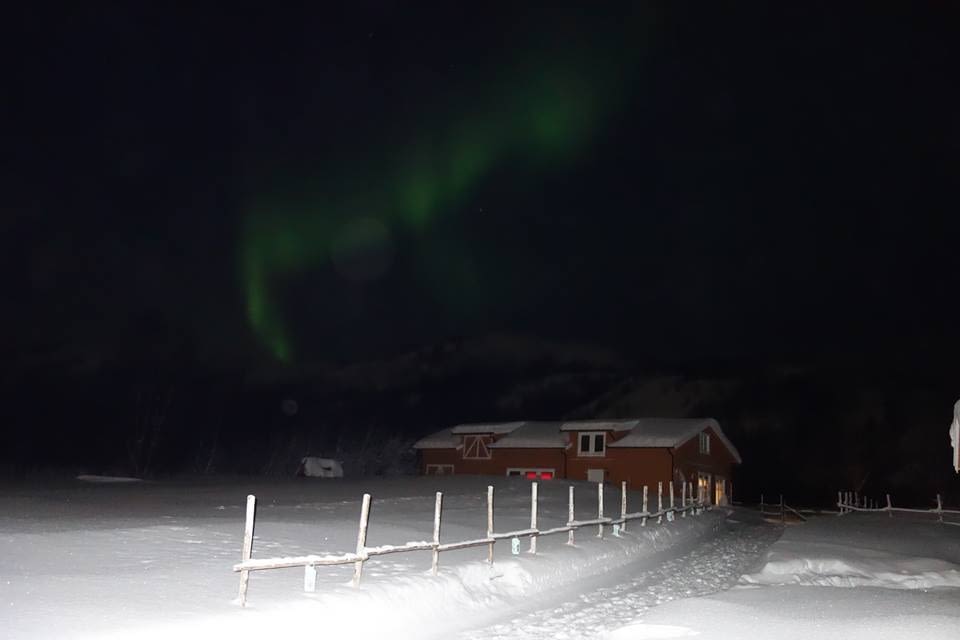 The start of the journey wasn't great as our flight from Gatwick was delayed by two and a half hours and then due to a snowstorm we couldn't land in Tromso.  After a longer journey than anticipated we landed in Bodo from where we were supposed to take a coach to Tromso. However, luck was not on our side as when we landed in Bodo the immigration was closed so we had to fly for another 2 hours south to Oslo where we were given accommodation for the night.
The next morning we finally flew to Tromso, collected the hire car from the airport and as we left the airport it started to snow very heavily. It was our first experience of driving in a snow storm and on the left hand side of the road. Finding our accommodation took a long time as we got very lost (a lovely local lady helped guide us) and we also had to stop regularly to clear the snow off the roadsigns.
When the weather cleared and we saw the Northern Lights it was such a spectacular show that our long and adventurous journey was forgotten. The reason I chose and booked the accommodation myself is because most of the tour companies take you outside to view the lights and we wanted to guarantee a good viewing point from inside our cabin. We were incredibly lucky to observe the lights for three nights and my advice would be to go for at least five nights. We also went reindeer sledging and drove around beautiful Kvaloya Island to Sommaroy. The owner of our cabin, Maria, lent my son some snow boots and a sledge to take on a trek to the mountains. She recommended that November is the best month to see the Northern Lights from Bakkejord. You can also do whale watching from the same location but we missed it as the migration season ends in January.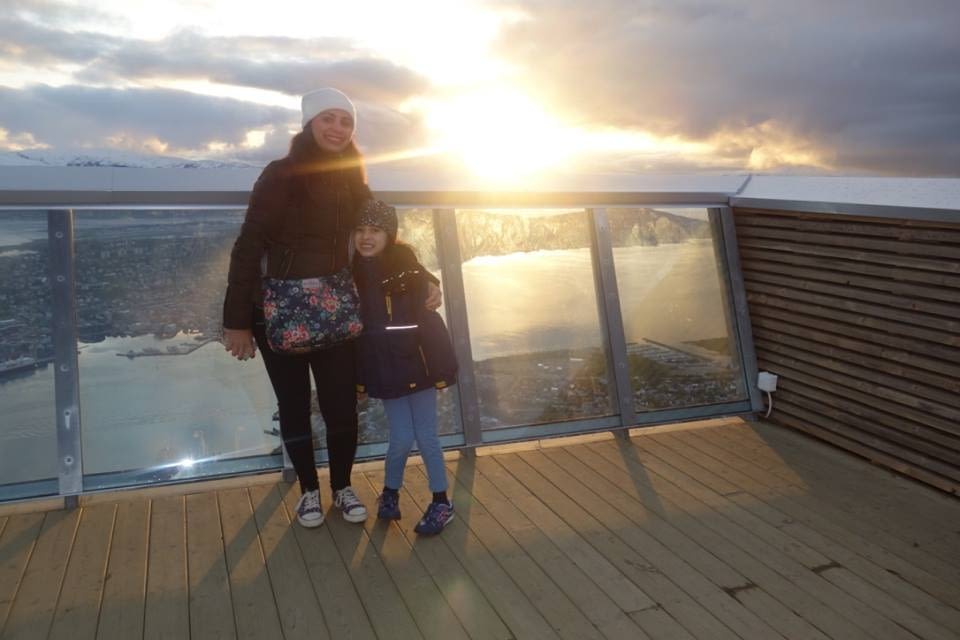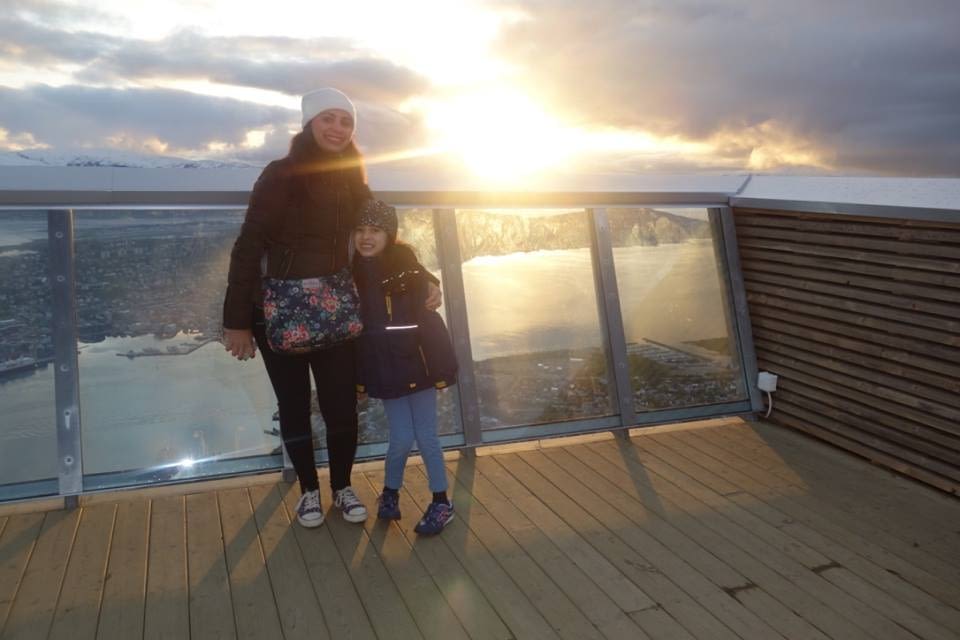 I loved it so much that went back to Norway in June with my daughter to observe the midnight sun. Rather than booking tours we stayed in a 3 star City Hotel in Tromso and walked to Fjehlheissen (we didn't stay in Yggdrsiltunet as I wasn't confident to drive on my own). From here you can take a cable car to the top of Fjehlheissen mountain where you have a breath taking view of the midnight sun across the Tromso harbour for around 220 Norwegian Krones per adult.
My daughter and I walked across the bridge to the mountain and came back around 1pm where the views from Yggdrasiltunet were spectacular.
I loved both of these trips as Norway is full of wilderness and is such a safe country to travel with children. I think I now love cold snowy holidays more now than sunny beach holidays.
What 3 destinations are top of your family travel bucket list?
South India- Kerala,
Andaman and Nicobar; Iceland;
Peru-Machu Picchu.
I also wish to go to Svalbard.
If you had to pick one travel item that makes travelling with kids easier, what would it be?
Calpol and Dioralyte
What's your best piece of family travel advice that you can share with the Our Tribe Travels community? My best piece of advice for family travel would be to plan for flight delays and just enjoy.