Tell us a little bit about your tribe and your holiday style.
The Castro-Vanegas Family consists of myself, my husband Mauricio and little Amelie.  Mauricio and I both love travelling and from the signs she gave us on our recent trip to Thailand, Amelie does too.
We tend to travel independently.  I have never used a travel agent and am well known in the family for being a bit of a whizz at finding the cheapest flight on the planet to any chosen destination!  We have been using Airbnb exclusively as of 2011 and we find that this works especially well now with a little one as apartments are a lot less restrictive than hotels; no need to sit in silent in the dark when Amelie goes to sleep.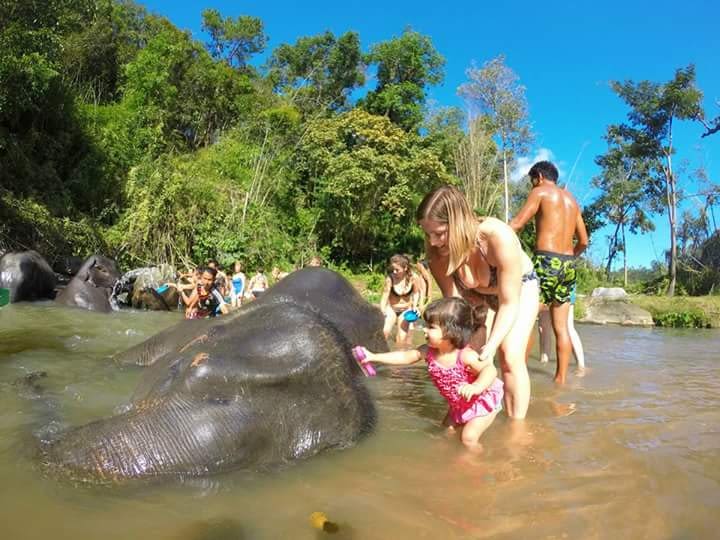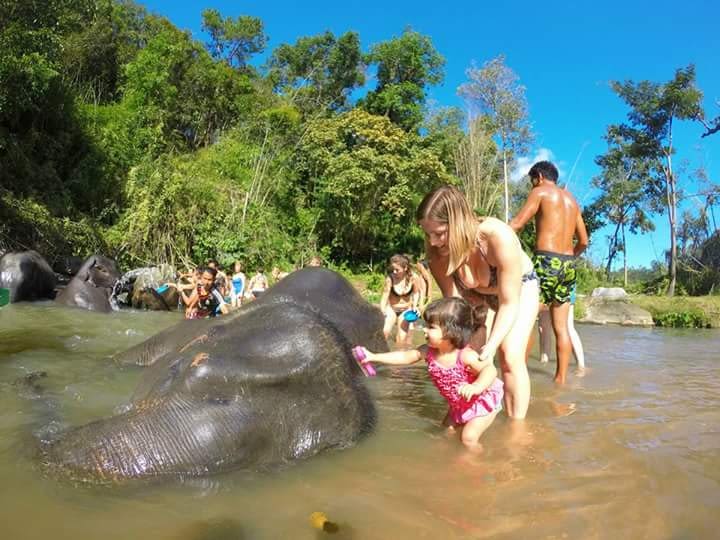 What has been your favourite family holiday and why did you love it?
Our favourite family holiday was our most recent one, Thailand.  We spent a few days in Bangkok, then Chiang Mai and finished with a few days in Ao Nang (Krabi).  We were quite worried about this holiday for a number of reasons; despite having travelled with Amelie quite a bit already we had never done a long haul flight, we knew that some of the activities we would like to do or destinations we would like to visit might not be feasible and we were also aware that she was no longer a baby and wouldn't simply be happy following us on our holiday or sleeping while we enjoyed the sights or a romantic adult dinner.  We were also concerned about what to take, would she be ok with the food, and (sadly with everything going on in the world) would it be safe?
To be honest we shouldn't have worried about a thing.  Not only was Thailand absolutely amazing and very child friendly but Amelie loved EVERYTHING; the attention, the food, the beaches, the temples, the elephants, the boats, everything.  She was even well behaved on the flights!  And on top of it we even managed to do some sea kayaking and hire a moped to visit a mountain temple in Chiang Mai.
This trip definitely showed us that while our holidays might need to be a bit different to how they were before they can still be as fun and adventurous and that actually we can do a lot more than we thought we could (I had visions of ending up in an all-inclusive hotel and never leaving to see the "real" country – my worst nightmare!).
What 3 destinations are top of your family travel bucket list?
Depending on who you ask I think you would get a different answer.  Amelie loves the beach and eating so she is quite flexible as long as those two needs are met!  Mauricio really wants to go to Dubai (I really don't) and I really want to go to Senegal (I love Senegalese food) and this doesn't really appeal to him.  But if we had to come up with a joint answer I think it would be:
Providencia (an island that belongs to Colombia) and has the most amazing colour of the sea – they say it's the sea of seven colours (all shades of blue).  It's still very natural and unspoilt and the snorkelling is meant to be amazing.  Plus it has this really cool mix of Colombian and Caribbean culture.  It's heaven on earth!
Japan is also on our list.  We both think the culture is very interesting and that it is a county of true contrasts.  I have a friend who went and told me all about these bathhouses they have which sounds fascinating.  Plus, the food is supposed to be amazing!
New Zealand.  I love museums and galleries but when I'm on holiday it's rare that I ever go to one unless it's raining and it's the only option.  I much prefer walking around and experiencing the country.  For this reason places with dramatic landscapes or landscapes which are different to those we are used to really appeal to us.  New Zealand would be superb for this and Amelie would no doubt be pleased with the beaches.
If you had to pick one travel item that makes travelling with kids easier, what would it be?
I think the item would depend on the age of the child, but if I had to pick one I would say the Connecta infant carrier.  We bought a proper hiking backpack carrier for Thailand and in the end we only used it twice as we used the Connecta instead.  It's comfortable to use, the little one can sleep in it, it folds up really small and you can use it from birth (more or less) until they are a few years old.  And, despite what I thought it's not actually that sweaty to use even in humid climates – what's not to love?
What's your best piece of family travel advice that you can share with the Our Tribe Travels community? My top piece of advice for family travel would be to be realistic about what you can and can't do on holiday so as to avoid disappointment, but don't limit yourself because you have children with you.