In addition to our European travel and longer term backpacking adventures we were fortunate to secure full time jobs in Asia.  For a few years India, and then Malaysia, were the countries we called home. Weekends were spent exploring and over the years we've found beaches that, for us, stand out from the rest.
Our criteria for a 'good' beach is as follows:
Underdeveloped – no large hotels or concrete monstrosities
Simple accommodation on the beach
Laid back, relaxed and low key – no discos and nightclubs
Local family restaurants and bars on the beach – there's nothing better than eating dinner with your feet in the sand
Clear sea that's suitable for paddling and swimming with children
Here are the 'Our Tribe Travels' top 5 (to date):
Manana beach, Kota Belud, Borneo (Malaysia)
One of our most satisfying finds was a beautiful remote and private beach on the East of Borneo.  Crystal clear water, a handful of basic cottages and a bar / restaurant. It had recently opened and hadn't yet 'hit' the Lonely Planet guide. We would have been oblivious to this gem had we not got chatting to a group of backpackers in a hostel in Kota Kinabalu. One recommendation, a two hour taxi drive and a rib boat later we were there, enjoying our secret find. Four days later and back on the main travel trail we were able to pass this secret find on to yet more grateful travellers.
Manana-Borneo
Kapas Island, Malaysia
Located south of the Perhentian Islands, Kapas is a smaller and less developed piece of paradise.
The accommodation on the island is very simple and basic, but this adds to the island's charm. Beach huts and shacks line the stunning beach and laid back cafes with hammocks create a relaxed atmosphere (not a shop in sight).
We enjoyed spending our time in the social area at KBC chalets, where they have a small children's play area and serve a fresh seafood BBQ each evening.
Otres beach, just outside Sihanoukville, Cambodia
*****EDIT – a few members have visited Otres beach recently and unfortunately it has changed quite dramatically over the last few years. The area has been developed and the general upkeep of the beach and surrounding properties has declined. It's a real shame as this was an amazing gem of a location*****
Sihanoukville town and beach are VERY touristy and built up, but jump in a tuk tuk, head 15 mins out of town and at the bottom of a dirt rack you'll discover Otres beach.
Otres is the picture postcard beach; rustic beach cafes serving chilled beers, fresh juices and freshly caught fish line the waters edge. The basic accommodation is set back from the beach (circa 50 yards) and range from very basic bamboo rooms to simple wooden chalets.
We loved everything about this beach and the sea was calm and clear, perfect for children.
***this beach is under threat from mass development so visit while you can***
FYI If you're in this area and really like to get away from it all then pop over to Koh Ka Tiev and spend a few nights in their tree houses. This is relaxation at its best, with no electricity, running water or mod cons, BUT the islands chef is amazing and the food is definitely not basic.
Gill Air, Indonesia
When you arrive on Gilli Air you immediately feel relaxed, and this is partly because the only mode of transport on the island are push bikes and small horse drawn carts.
The island is small enough to walk or cycle around and child seats for the back of the bikes are readily available to hire.
Accommodation varies from simple wooden beach huts up to luxury villas, so it suits all budgets and preferences.
Snorkelling trips are a must do activity and a lot of the dive companies offer toddler sized life jackets. Our son loved floating around on the water spotting turtles and colourful fish.
I love the fact that the island is very family orientated. There's a bar that has a mini outdoor cinema (a projector screen and lots of comfortable bean bags and cushions) that screens a children's movie first, followed by an adults movie, so if your kids are good sleepers they can snooze whilst you enjoy a drink and a film.
Cala Mitjana, Menorca 
Menorca is a beautiful island and small enough to explore by car.  It's hard to find a bad beach, but our favourite was Cala Mitjana.
Cala Mitjana is a 1.5km walk down a bumpy track, so not ideal for toddlers, but fine if your child is in a sling or aged 4 plus and happy walking.
As you descend down to the beach you are greeted with a beautiful vista; clear blue sea, yellow soft sand and rocks to seek shade.
There are no shops on the beach so you have to be prepared and take a picnic, but vendors selling fruit and cold drinks do appear every few hours.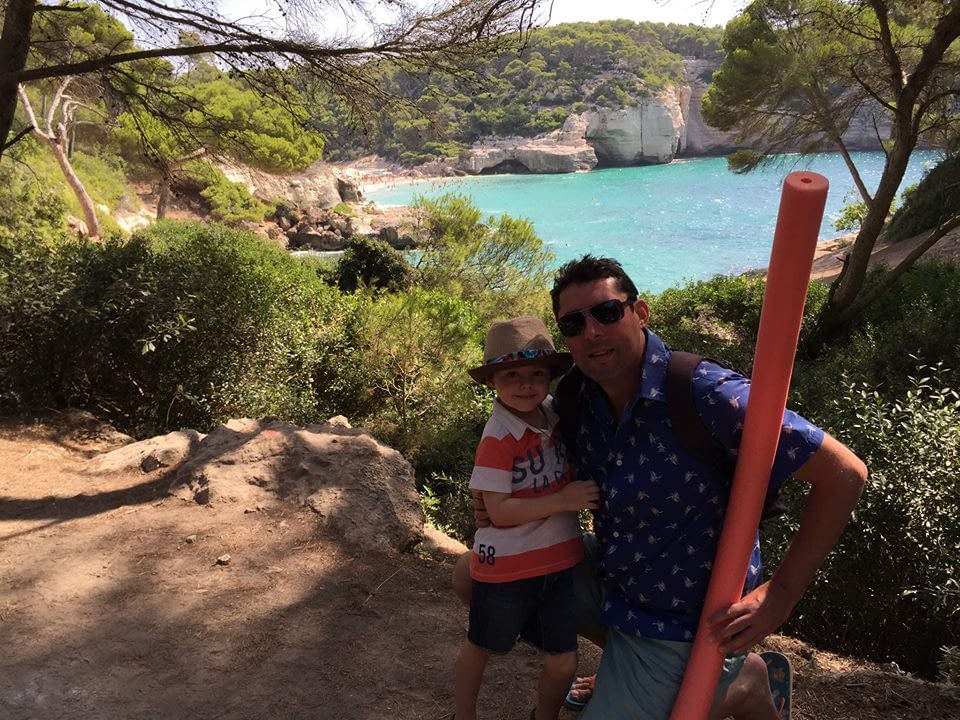 Other beaches we love:
Palolem, Goa, India
Aragon Bay, Sri Lanka
Three Cliffs Bay, Gower coast, Wales
Koh Samet, Thailand
Coral Bay, Western Australia
SaveSave