When to visit:
Morocco's climate is moderate and subtropical, cooled by breezes off the Atlantic and Mediterranean. In the interior the temperatures are more extreme, winters can be fairly cold and the summers very hot. The further you travel from the ocean the more extreme winter and summer temperatures become.
The country is at its most beautiful in spring (mid-March to May) when the landscape is green and lush, making for spectacular mountain hiking. Morocco is also lovely in Autumn (September to October) when temperatures are cooler.
Due to holiday dates we decided to visit in December / January when daytime temperatures are circa 20 degrees, dropping to minus 3 at night in the desert and in the mountains.
Getting around Morocco by car
Driving in Morocco is very easy. The cities are busy, as you might expect, but as soon as you get on the open road there is very little traffic and the infrastructure is surprisingly good.
Our 11 day Moroccan road trip adventure started in Marrakech and ended in Agadir. We opted to hire a car (easy to book via Hertz who are based in Marrakech airport) rather than book an organised trip as we prefer to travel at our own pace.
We mapped out our route as a rough guide and set off with no real expectations of what we would see or experience.
Our Route:
Day 1,2,3,4 (3 nights) – Marrakech
Day 4 (1 night) – Ourrzazate, near Todra Gorge
Day 5 (1 night) – Mezouga
Day 6 (1 night) – Sahara Desert Camping
Day 7 (1 night) – Agdz
Day 8,9,10 (3 nights) – Agadir
One thing that never ceased to amaze me was the diverse landscape. It was mesmerising. One hour you're driving through barren dry land, the next hour you're climbing up into the mountains where you can stop for a snowball fight.
Be prepared for journeys to take a lot longer than you plan for as the roads can be winding and steep. Pack anti nausea tablets as our son, who never suffers from car sickness, was very ill on one of the journeys through the mountains.
Marrakech (day 1,2,3,4)
Our Morocco adventure started in Marrakech, a vibrant and bustling city with a crazily busy heart, the souks.
As we planned to explore the city on foot our credentials for our accommodation were as follows:
Central – within a few minutes of the souks and central square
Budget – our room was our base to explore the city so basic was OK for us
Traditional building – character over modern style
After sourcing a few options we chose Riad Hamza.
Would I recommend it? It was perfectly located only a 2 minute walk from the main square and souks, the rooms were clean with air con/heating, an en suite and breakfast was included. If you are used to budget accommodation then it is adequate, but I'm sure there are better options available.
Exploring the souks is great fun, albeit very chaotic. There are plenty of interesting areas to look at including the tanneries, fabric dying area, rug shops and never ending stalls selling home decor, leather goods, spices and traditional blankets. Yes it's busy, but this all adds to the atmosphere and sense of adventure of being somewhere. When you want a little bit of space away from the mayhem there are plenty of rooftop cafes to escape to – a little bit of tranquility.
As sun sets the main square comes to life. There are some rooftop cafes in the main square that give you a great vantage point to watch the world go by and escape the chaos below. Blooms of smoke rise up from the central square which is full of food stalls and cafes with a busy and noisy market atmosphere; great for a spot of dinner and to soak up the atmosphere.
There are of course the negative sides to the city. The badly treated monkeys who are dressed in dresses and ridiculous outfits, supposedly to impress the tourists. And the snake charmers who sit cross legged on the floor playing pipes with mistreated animals who are forced to perform.
Would I go back Marrakech, yes absolutely, but two nights is plenty of time to see the sights and soak up the atmosphere.
Top tips for Marrakech:
If you have very young children use a sling in the souks – far easier than a buggy/pushchair
Escape the busy streets on one of the rooftop cafes – the busy and narrow streets can become a bit overwhelming for kids.
Motorbikes are present in the Souks. Try and get in the habit of walking close to the shop fronts to stay out of their way.
Planing a sunset drink overlooking the square – head up early to secure a good vantage point.
Morocco is a predominantly cash country, including accommodation. Plan ahead to ensure you have access to the funds you need.
If you get lost and need to ask for directions I recommend asking someone to point to the direction of the main square. If a local guides you back the expectation is that you will pay them a tip.
Ouarzazate (day 4,5)
The journey from Marrakech to Ouarzazate is really beautiful during the winter months as the Atlas mountains are covered in snow. Don't underestimate the journey time between these two locations. We had anticipated a 5 hour journey, but the mountain roads add a few hours onto the google map estimation, taking us 7 hours but this included a stop at Boumalne Dades to watch the sun set over the small town.
We stayed for one night in L'auberge Le Bleu Ciel homestay which can be booked through booking.com. We stayed in the large family room that has 2 x double beds and one single – ideal for a big family.
The homestay is built in the traditional Berber building style of mud bricks. The interior is very traditional and its focal point is a huge balcony that overlooks the hills. This is where breakfast is served so it's a great vantage point to watch the world go by.
The family were very friendly and welcoming and provided dinner, mint tea and musical entertainment in the form of traditional Berber music. We were the only ones staying there so we had our own private concert – a unique experience.
The accommodation is basic (a small bar heater in the room and basic concrete bathroom), but very clean and we loved that we got to spend time with the family who ran it.
From here it was an easy drive to Todra Gorge, en route to Mezouga.
Mezouga (day 5,6)
Located on the edge of the Sahara, Mezouga is a small town that attracts thousands of tourists who use it as a base to explore the desert. There's not a huge amount to do here so I would recommend using it as a base for the night before a Sahara trip.
We hadn't booked any accommodation when we arrived in Merzouga so we looked at a few places before choosing Maison Adrar. This was the nicest budget place that we found. It's simple, but very clean and all of the rooms have en suite facilities.
The building is traditional style with all of the rooms facing onto a garden. We loved that the backdoor opened onto the open desert – a great space for kids to roam around.
As with most of the home-stays and riads, dinner and breakfast was served on the premises.
A great location if you want to head into the desert for the overnight trip – this can be organised through the hotel.
Sahara Desert Camping (day 6,7)
The highlight of our trip was the desert adventure. A 24 hour camel trek into the Sahara desert.
You can read about it here (click on the image)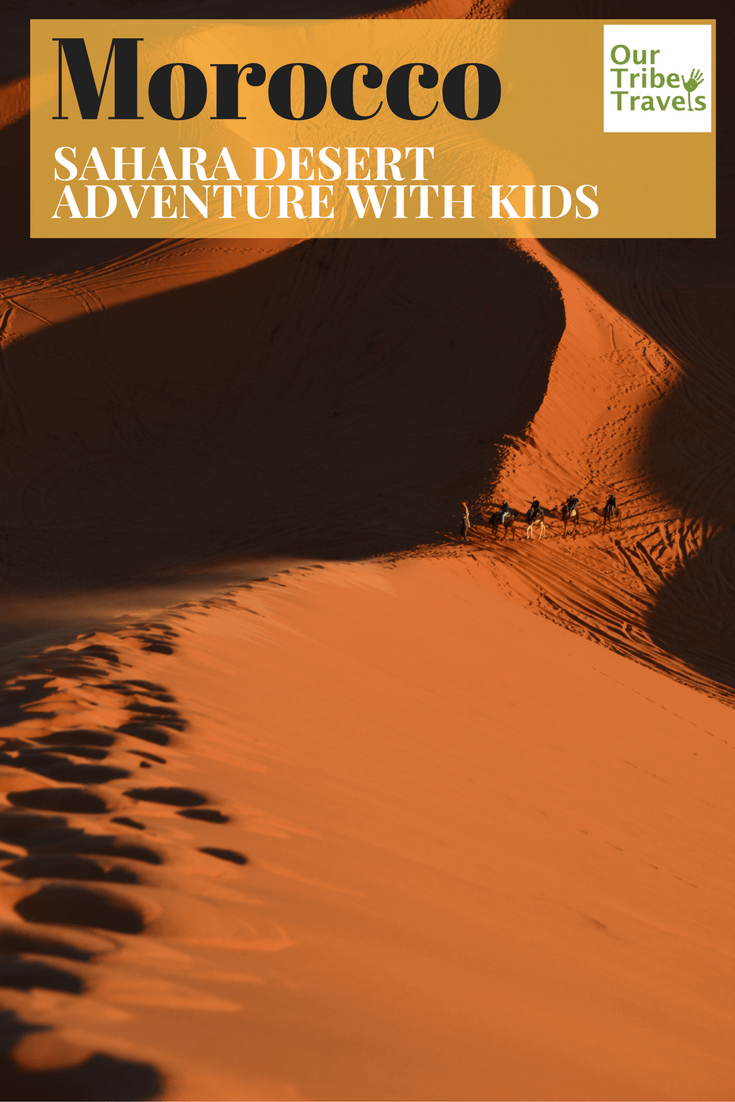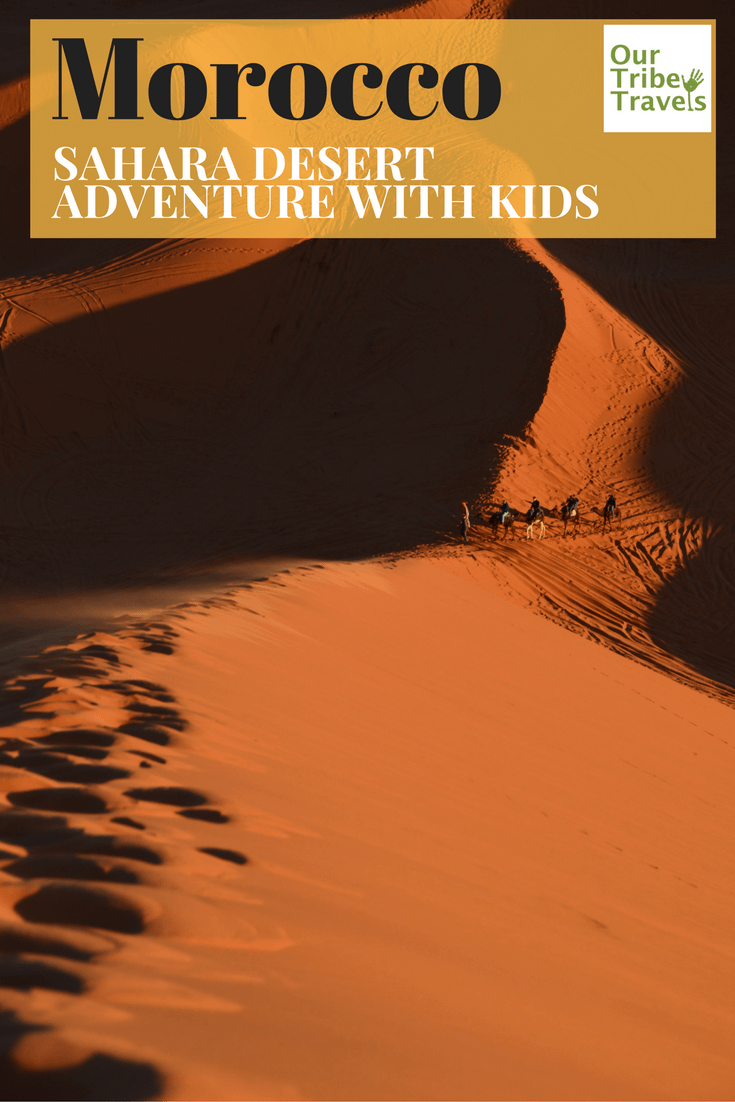 Addz (day 7,8)
The Rose De Sable Guest house is a popular stop off point between Merzouga and Agadir. The name means 'Rose in the sand' and it's certainly that! The popularity of this guest house is due to its location, rather than Addz being a tourist destination – there's not a great deal to see here.
The rooms are very comfortable with duvets, comfortable beds and air con / heating. We had a room with a double and single bed. There's a little plunge pool in the courtyard but it was too cold to use in January.
The food that was cooked on the premises was really delicious and the eating area was comfortable and warm, with an open fire.
If you want to break up a long drive then this is a great place to settle down for the night.
Agadir (day 8,9,10,11)
Agadir has been a popular beach destination for many years which means there are plenty of accomodation options. The bigger chain hotels line the beach, but out of peak season it's feasible to find some great room deals.
Don't eat in the hotels as there are plenty of more affordable cafes and restaurants within walking distance of the beach front.
5 Handy Tips
1. Cash – Morroco is a predominantly cash country. Even the accommodation we had booked through Booking . com required cash payment as a lot of the smaller homestays and riads don't have card machines.
2. Car sickness tablets – prepare in advance as the mountain roads are VERY windy. Even though our son never normally suffers from travel sick he was very ill on one of the mountain passes.
3. Sleeping bag liner – another community member recommended this as the bedding at the Bedouin desert camps is very basic. The liner gave a perfect layer between us and the blankets that are provided.
4. Moisturiser and lip balm – the air is very dry and your skin, particularly lips, are prone to cracking
5. Snacks – stock up on any snacks in one of the major supermarkets in the cities. The local shops en route are incredibly expensive.Enjoy your trip.
SaveSave