My 9-year old son Jake and I went travelling in January 1999.
As you might imagine, at this time there was not really much info on the internet, most of my research and booking was offline, and I relied on the Lonely Planet guides and website for much of my information.
There wasn't a long lead up to the trip as I made the decision during October half term and upon collecting Jake from his grandparents on the Saturday I told him of my idea.  He burst into tears and said he didn't want to go, but that weekend I won him round with the list of exciting things we'd be doing and comforted him that his friends would still be at school when we got back.
I'd just broken up with my then boyfriend and felt like a complete change of pace.  I was ready for a change at work too – so handed my notice in, knowing I'd easily get a job on my return
I had £10k savings plus a credit card. I had the route all planned, roughly worked out what it would cost (I ran out of money of course!), and by the following weekend I had booked the flights, 7 in total – London to Beijing, Hong Kong to Bangkok, Singapore to Bali, Bali to Melbourne, Cairns to Auckland, Auckland to Los Angeles, San Francisco to London to be completed within a 6-month period.
I bought walking shoes and a rucksack, vowed to take minimal clothes, and resolved that we were sorted!
Most of my family thought I was crazy, but my Mum knew I was fairly independent (I was a single mother, living in London, with own flat and job in Publishing), so after the initial shock they just went with it.  My dad was all for it as he'd travelled quite a bit himself so said he'd join us for the Thailand/Malaysia leg.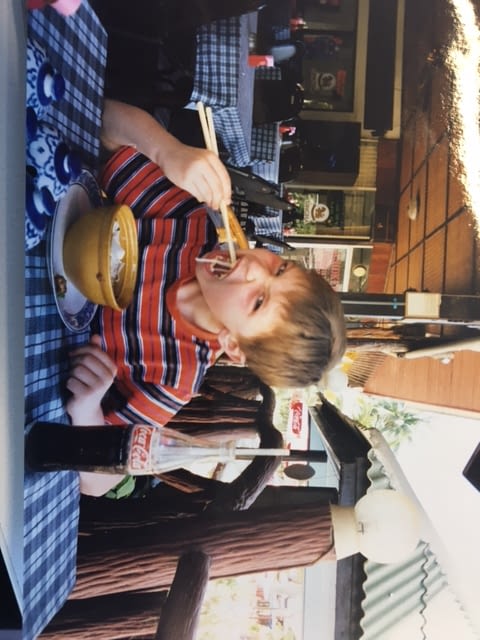 No one I knew had been to China and that was our first destination, so Lonely Planet was literally my only source of information, even being used to match up the symbols at train stations. I booked ourselves a nice hotel for the first 2 nights in Beijing and the plan from thereon was to use hostels.
It was almost immediately after we landed in Beijing that we had our first backpacking scare.
I'd planned to get a taxi to our hotel, but as soon as we went through arrivals I was quickly overwhelmed by the amount of people shouting at us. I finally said yes to one person who swiftly grabbed my backpack and headed off as we followed.
He put my bag in the boot of the car and motioned for us to get in to the back seats.  I felt like I'd just walked into a trap.  As I quickly played catch up with the exchange rate in my head I realized the fare he'd quoted was 10 times what I should have paid, but I was scared it was more than just being ripped off.
I vowed to be less trusting and more vigilant after that.
Though in general, people were quite aggressive to me in China, with Jake they were different.  They used to touch his hair and smile (he was blond), whereas they'd shout at me and I couldn't work out why.
After experiencing that kind of behavior at Tiananmen Square, we headed back to our hotel and I ordered room service and watched movies for two full days!  I'd been gone less than a week, and I felt like I'd made a huge mistake.  I couldn't however admit that to Jake.
We next took a train to Shanghai, which was a much friendlier city but still lacked English speakers. We met no other westerners and I began to feel isolated.
At the three week mark we moved down to the ancient city of Dali in Yunnan province.  I decided I hated China and that I just had to tough it out another week till Hong Kong then I'd be fine.
I eventually went downstairs for another lonely dreary dinner (I needed more than Jake's conversation and I missed my boyfriend), when suddenly loads of westerners arrived.
They filled the hostel with the English chatter.  As we were approaching Chinese New Year, everyone was going home for a holiday and all the westerners who were there to teach English were on holiday too and came to Dali.  I was suddenly in heaven.  Lots of Europeans and Americans who I could talk to and join for dinner and day trips, so as we approached the end of our China trip, the notion of travelling had finally come alive.
We reached Hong Kong in mid February – a city I love more than anything in the world, then flew from there to Bangkok where my Dad met us at the airport.  He stayed with us for 6 weeks, and after that we met lots of people who were all doing a similar route who we'd end up meeting time and time again.
It didn't matter that I was travelling with a child.  In many ways he met people for us.
I'd be sleeping or reading by the pool and he'd start chatting about football to some guy who'd invariably have a girlfriend, and the four of us would end up eating dinner together or teaming up on a trek.
So having Jake along was turning out to be great.  He was my door opener!
We both read loads and developed our private in-jokes, we were constantly juggling different currencies so using and developing maths skills regularly, we also enjoyed calculating distances and arrival times, practical education on the move!
When he wasn't improving his maths, Jake also became an expert at shooting pool.  The two of us spent a memorable evening in a bar in Singapore – me reading my book nursing a 2 for 1 beer, whilst Jake did his best hustler routine with the locals.
That night there was a tournament and Jake did really well, an English guy was pitted against him and Jake won!
It was amazing, everyone was cheering and the locals bought me more beer.  It was a fabulous evening which we both still remember.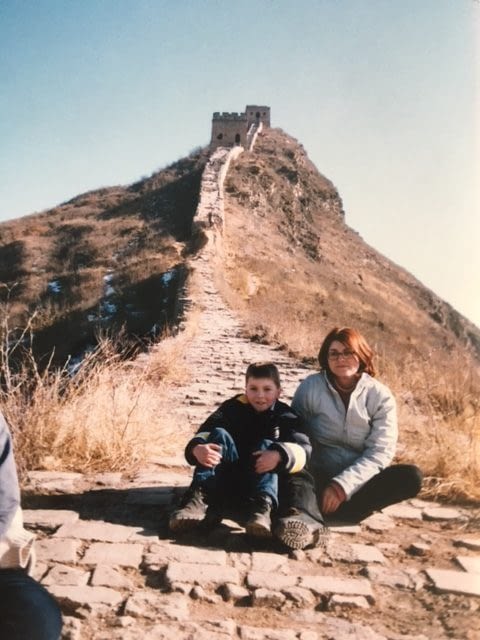 Other highlights of our trip were visiting the Great Wall of China, snorkeling in Krabi, meeting three amazing people on a boat to the Perhentian Islands then spending an incredible five days with them (such good time we even met them again in the UK), diving on the Great Barrier Reef, having a bonfire on the beach in Queensland and realizing the next day that we would have been surrounded by crocodiles, meeting a friend in Kuala Lumpur, the Bay of Islands in New Zealand, and a party motel in Los Angeles.
Jake is now 27 and I think this trip influenced him hugely as he really loves to travel.
His gap year was spent in South America and though he doesn't tend to have summer holidays, instead he'll jump around with city breaks and this year he's planning to go to Costa Rica.
I think it broadened his mind as much as it did mine.  I hadn't left the country before I was 18 and it fills me with such passion now. I'm always planning the next trip.
Now that I also have a 14-year old daughter named Sophie, I'm keen that she travels even if it isn't for an extended period.  The two of us went to Hong Kong in October and later this year we're going to be heading to both New York and China (yes I'm going back!).
HK blew her mind and she was already interested in Korean culture, now she wants to study Chinese and Korean and study there with a longer term aim of living and working there.
I met my partner, Sam, a few months after returning from our trip and he has a totally different travelling style.
For our first big holiday together, the three of us went to Sri Lanka.   Jake and I rocked up carrying our rucksacks, and booked into a homestay, whilst Sam arrived with his suitcase insisting he stay in a hotel.
So clearly these days we need to find a compromise.  Either that or I will have to go with just Sophie!
We also have 5-year old twins, and as they get older I look forward to introducing them to places far and wide.
There is still so much to see.