Tell us a little bit about your tribe and your holiday style.
We are a family of 4 who love to travel. When we travel our aim is to experience the culture we are visiting therefore to do this we stay locally, eat locally and travel on a budget. We began our travels as 2, a very long time ago and the incredible journey into the unknown changed our lives completely and we now live overseas working and travelling. Our 2 children aged 6 and 13 now enhance our journey and they have been exposed to some amazing experiences. Our son was only 4 months old when we decided to move overseas permanently. We had travelled and worked and whilst working and travelling in China  I fell pregnant with my son. At 8 months pregnant we decided to go back to the UK, however once he was born itchy feet kicked in and when he was 4 months we moved back out to China to continue our love of travel. We work as teachers so every holiday would be (and still is) full of culture and travel. By the time he was 3 , his passport was pretty full and he had travelled by plane, bus, car, van, bicycle, backpack, horse! A fantastic experience which has encouraged him now to want to travel more. Our second child was born in Malaysia and in her six years has also travelled with us extensively.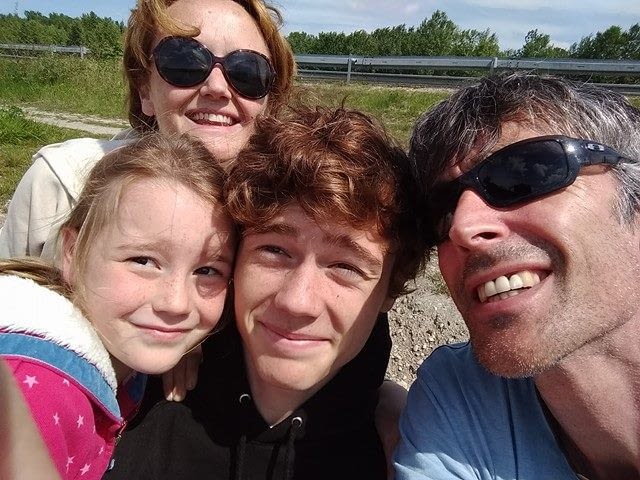 What has been your favourite family holiday and why did you love it?
A particular holiday favourite was our trip to Mongolia, what an amazing country! We began our journey in Ulaan Baatar where we hired an old Russian Van and driver. Then off we went with no real plan in mind, tents and food packed in the back. Once out of the capital city we headed North to Darkhan and then across to Bulgan. The landscape stretched for miles. I think it is probably the biggest sky I have ever seen! Roads became fields! We could stop anywhere to set up camp, the kids ran for miles, jumped in lakes and witnessed the nomadic living of Mongolia including wild horses running by! Our journey continued to Moron, up to Khovsgol Nuur down to Kharkhorin and then back to UB. Children were welcome everywhere and the locals would come and offer us freshly made butter, dried yoghurt (an acquired taste!) and 'Erig' (fermented Mare's Milk! A local drinking treat and a must try!) After travelling through such  amazing countryside we got back to UB just in time for the Naadam Festival, another must see! Being Vegetarian in Mongolia we did find choices limited, however we have learnt to take snacks etc, with us and bananas, bread and rice have saved us many times!
What 3 destinations are top of your family travel bucket list?
We have many different destinations on our family travel bucket list. We would love to travel around Australia again with our children this time (having spent a year working and travelling the country living in a tent!) Parts of South America we haven't seen in particular Argentina and Patagonia. Ruili on the border of China and Burma. My son also wants to go to Mumbai.
If you had to pick one travel item that makes travelling with kids easier, what would it be? Some travel items that I would always take (depending on where you are going) would be sterilising tablets or a small travel kettle (for drinks, making food etc.). A good first aid kit (with Betadine!) a packet of Mentos for the plane especially (for any ear issues!) Card games/ Dobble/ Stickers/pens and paper (for all ages) – easy to slot in anywhere and don't need a charger! small books to read (Mr Men books!) Small notebooks to doodle in, again easy to slot in anywhere.
What's your best piece of family travel advice that you can share with the Our Tribe Travels community? The best piece of travel advice I could give is pack light with kids especially if going somewhere hot, you can always wash things! Plan well and if on a long journey always spend a day doing nothing for the kids to rest on run off their energy!