Tell us a little bit about your tribe and your holiday style.
There's me, my husband Ben and our nearly 4 year old Zakir. Our holiday style and our complete guiding mantra these days for EVERYTHING we do is "Life's too Short". We just relocated from Brighton, UK to Sydney, Australia because we got a taste of Sydney life last year when we backpacked around Asia and Australia…and realised how much we wanted an outdoorsy lifestyle for a while!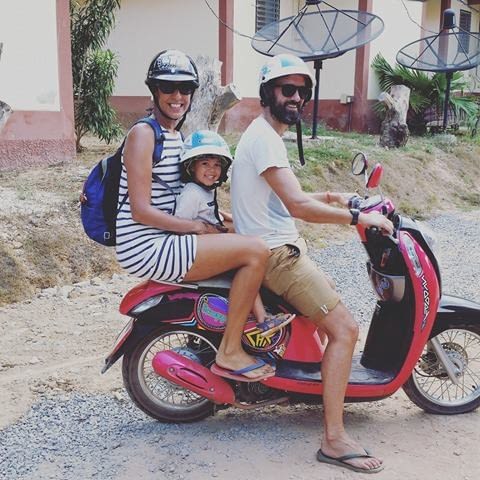 What has been your favourite family holiday and why did you love it?
Our favourite holiday was our 2016 Asian Adventure! We took sabatticals from our jobs at the end of 2015 as we wanted to spend more time with Zaki, wanted to spend more time as a family and also wanted to change the crazy commuting, non-stop lives we were living (our home was in Brighton but we both worked in London and commuted most days!).
We started in Sri Lanka in Jan 2016 and backpacked with a 2.5 year from there to Singapore, Thailand, Myanmar, Laos, Vietnam, Cambodia (joined by my parents for 2 weeks!), Thailand, Malaysia, Australia (lived in Sydney for 3 months and Ben worked), the Philippines and finally Indonesia! In total we travelled for 10 months with Zaki, 2 rucksacks and 2 daypacs.
My absolute favourite country was Vietnam – amazing food, people, weather (cold in the North and tropical in the south) and so incredibly interesting from a historical perspective. I also LOVED Laos – we travelled quite far up North beyond Luang Prabang and got such a wonderful taste of local life and culture. Our son was adored wherever we went. Throughout our 2016 trip we mostly stayed in guest houses and some cheap hotels, we always looked for places with a pool (really helpful for days when your child just needs some R & R) and also bicycle rental, fridge and kettle options and included breakfasts. This meant we could load up on fruit and banana pancakes at brekkie, pop addition fruit in the fridge for snacks later  and be able to make Zaki emergency "pot noodle" lunches or dinners if we couldn't find child-friendly food (very rare but it did occasionally happen)
What 3 destinations are top of your family travel bucket list?
3 destinations (apart from our new home country – so much to explore here!) on our radar next are New Zealand, Japan and and the Pacific Island (we're sticking to our local-ish 'hood now that we're living in Australia)
If you had to pick one travel item that makes travelling with kids easier, what would it be? One amazing item we bought from UK which was fantastic was the Puddle Jumper floatation device. It was amazing. Our super confident son still hadn't learned to swim when we left, and this gave buoyancy across his chest and top arms but gave him complete movement. I did a lot of research to find the best floatation aid for a child and this had great reviews. We used it almost daily, and we also used it for him in open water when we were snorkelling, he floated alongside us and just popped his head under water (wit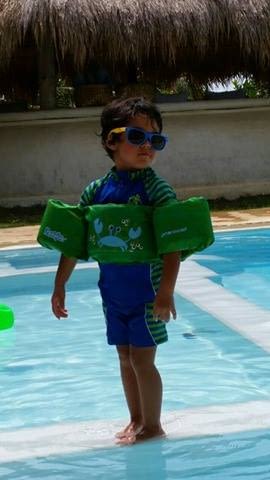 h his goggles) whenever he felt like it! We had complete confidence in the device and even used it as a life vest when taking trips across SE Asian waters, as the emergency vests found on boats from Bali to Lombok definitely failed to come in child sizes (so whenever we went on small sea vessels or island hopping type boats he wore the puddle jumper regardless of how it looked)
What's your best piece of family travel advice that you can share with the Our Tribe Travels community? Best piece of advice? Book places with pools if you're travelling in warm climates – when things get too much and a 2.5 year old is about to loose his sh*t, nothing beats a cool pool and an inflatable. We took an inflatable beach ball (with a globe on it) – which was helpful in explaining our journey to our son and also doubled up as fun in water. We also took an inflatable noodle for the pool which doubled up as a bed guard if he slept in a single bed (we put it under the sheet at edge of mattress). If you'd like to read about Sameera's amazing family trip around Asia you can check out their blog on www.dayksdobreaks.com
Footnote:
I had the pleasure of meeting Sameera through Our Tribe Travels and we met up in person before they relocated to Sydney. Sameera invited me to join her fabulous FB group called MA Tribe.
"Whilst travelling I realised that one thing I was missing was the regular connections with my Mama Village, my community of like-minded, amazing mum friends. I wanted to find somewhere to share news and opinions and discuss thoughts about sisterhood and womanhood and also about being mothers in challenging times. I couldn't find the community I needed, so I decided to create it myself….and MA tribe was born. For women who happen to be mother's too. We don't talk about our children – plenty of places to do that, we talk about ourselves, because actually there's not a lot of spaces for mothers to do that. I'd be thrilled if Ma's from Our Tribe Travels would join us…."
You can find the group here MA Tribe Pop over and have a look.