Tell us a little bit about your tribe and your holiday style.
My husband and I live and work in China.  We have a 3 year old son who is absolutely my little mini me. He loves to explore and see new places.  My husband works at a train station and I teach English at a university here. During my summer and winter vacations my son and I travel all over and visit family back in America.  Our holiday style typically leans towards budget travelers or outdoorsy backpackers.  You are much more likely to find us exploring ruins or hiking in the mountains than swimming in a pool or lounging at a luxury resort.
What has been your favourite family holiday and why did you love it?
My favourite so far has probably been the most recent one. We went to Cambodia for two weeks in February. I'm such a history nerd so I absolutely loved walking through Angkor Wat and all of the other temples. My son loves animals so I took him to the Phnom Tamao Wildlife Rescue outside of Phnom Penh where we got to touch, play, feed and walk with elephants and monkeys! He had a blast!
What 3 destinations are top of your family travel bucket list?
Number one is Peru. I really want to see Machu Picchu, go hiking with alpacas, and see the Nazca lines. Number 2 is a journey from Kenya to Egypt. I really want to take my son on a safari to see African animals (Giraffe Manor!) and then venture up north to explore pyramids and tombs. I think he would love a hot air balloon ride over the Valley of the Kings. Hoping to do this when he's just a little bit older. Number 3 is probably either the Galapagos Island or Easter Island… There are so many amazing places in this world. I want to take my son to all of them!
If you had to pick one travel item that makes traveling with kids easier, what would it be?
Hmmm. I guess I would have to say my son's Trunki suitcase. He can ride on it through the airport so I don't have to carry his stuff. You can either attach a leash and pull it or they can drive it around by themselves.  You can also get lots of great styles. My son's is shaped like a firetruck, but there are monsters, horses, pirate ships, and all sorts of other cool ones.  He loves driving it around making siren noises.  It makes getting through the airports easier.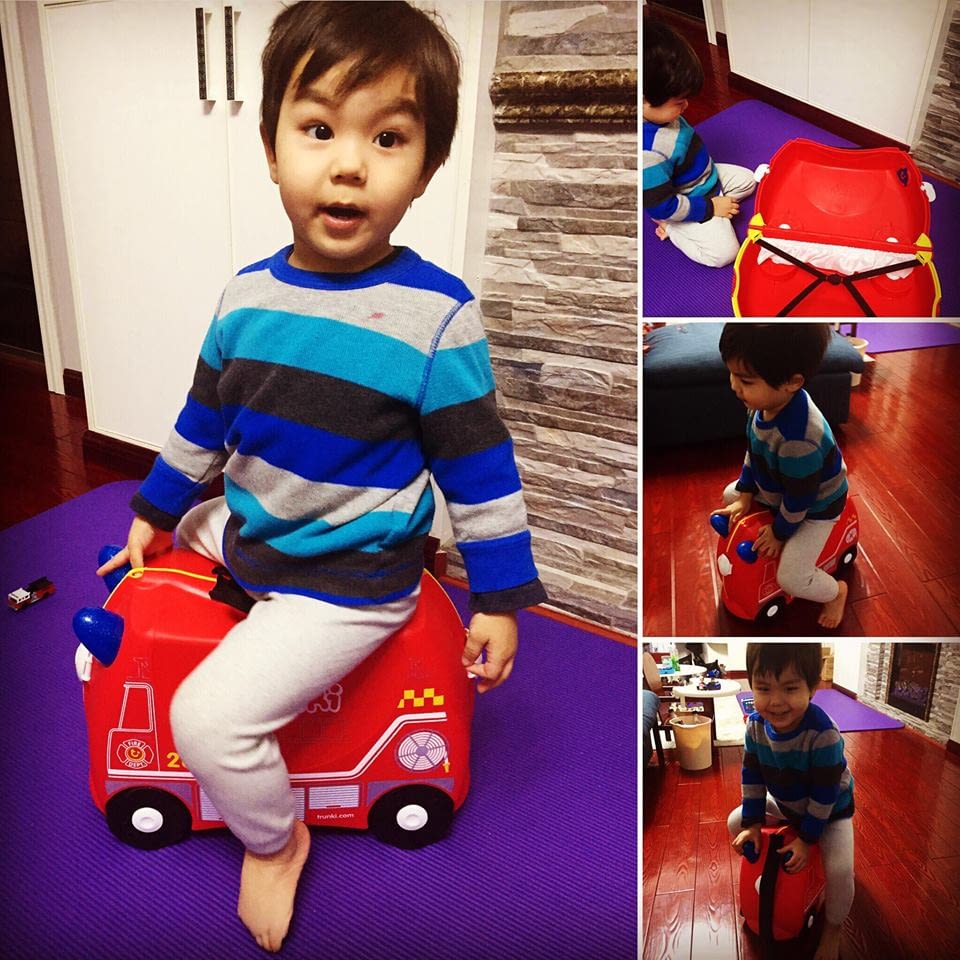 What's your best piece of family travel advice that you can share with the Our Tribe Travels community? Just to always remember there will be some really bad days while your traveling.  Sometimes your kid will puke all over you in a crowded bus or whine constantly or throw a tantrum in the middle of a sacred area. You just have to let it go and remember they are kids and they are going to have those days where they need down time and to just snuggle with mom in a hotel bed watching a movie. These bad days shouldn't scare you away from traveling with them though.  For every bad day, there are amazing ones filled with so much love, adventure, and lots of kisses.
You can read about more about their family adventures in Shandi's blog, Mini Me Wanderlust