Tell us a little bit about your tribe and your holiday style.
My husband and I are Americans and we have 2 daughters ages 3 and 5 who have grown up traveling. My oldest started traveling, from San Diego to Hawaii, when she was 3 weeks old, and my youngest was born in Italy.  I'm a former US Navy Nurse, and we lived in Italy for 3 years, where we had a travel lifestyle and loved it! When we moved back to the states, we thought we needed to "settle down" and bought a house to start "putting down roots". We traveled some, but not like we did in Italy.  After 2 years, we decided that the "American dream" culture was not for us, so we sold our house and most of our belongings, and are currently moving to Hawaii. We decided that traveling is one of our family goals and we are excited to get back to that lifestyle!
What has been your favourite family holiday and why did you love it? 
I asked my husband about his favorite place we've been to, and then we totally started down memory lane, bringing up all the great places we've been!  We settled on our first trip to London because it was huge a struggle at first, but ended up being one of the best family trips we've taken!
I was at a work trip in Rota Spain while my husband and daughter (my 2nd wasn't born yet) were in Naples Italy.  My work trip ended right when we were going to fly to London, so I just flew from Madrid to Gatwick Airport.  We flew into Gatwick for all our trips to England, and loved it.  It was so easy! From Gatwick, we took the Gatwick Express which is a 30 minute non-stop train ride to Victoria Station. Buy tickets ahead of time (https://www.gatwickexpress.com) to avoid the lines! Once we get to Victoria Station, we usually buy Underground tickets to take us to our Airbnb or hotel. But this 1st time in London we had a slight money problem. Since we had traveled from 2 different places, our bank shut down our debit cards, and the 20 Pounds my husband took out at Gatwick had fallen out of his pocket! We had about 4 Pounds total from a trip I had taken to London when I was 18. That wasn't enough to get the 3 of us anywhere! Our Italian data plan for our iPad didn't work, and we had traditional cell phones.  So, my husband grabbed a city map, and off we started walking from Victoria Station to Notting Hill! At first I was like "we can totally do this, it's a fun adventure!" That lasted about 5 minutes, when I realized that we had to walk a full 4 miles with luggage and a kid.  We got in the general vicinity of our Airbnb when my husband used a red telephone booth to call our contact. That lightened the mood, because we never thought we would use a red telephone booth.  We walked down Portobello Road, arrived at our Airbnb, called our bank and rested!
The next day, it was pouring rain but we had signed up for a Fat Bike Tour of London (https://www.fattiretours.com/london) and they go on tour rain or shine.  So, we bought our Underground day passes (much better for traveling than an Oyster card or single tickets) and headed for the tour. At the tour, we picked out our bikes and my husband realised that each bike had a "name" label.  His was named after a famous British military figure, and as I looked down at my bike's name, I started to giggle. I got on my bike and started riding away, as he asked me who my bike was named after. I replied "I'm riding David Beckham!"
The Fat Bike Tour took us to all the famous landmarks, giving us a chance to find our way around the city and learn enough for our visits the next day.  The tour stopped for lunch at Trafalgar Square, and our guide suggested eating at Café in the Crypt (http://www.stmartin-in-the-fields.org/cafe-in-the-crypt/) It's located under St. Martin in the Fields, and is cafeteria style service and food.  We went back to Café in the Crypt every time we visited London, because it has great food, is a fun place to eat and I could always sit with the kids while my husband got everyone food. Our tour ended shortly after lunch time, and when we took my daughter's red coat off, I realized an essential reason why you always wash wool before wearing it.  Because if it gets wet, the color comes off! Our daughter was red from head to toe!
The next few days were filled with trips to the British Museum, Buckingham Palace, Big Ben, London Eye, a RIB Tour down the Thames (http://www.ribtourslondon.com) and Tower of London.  We also did a ton of shopping, which made my heart happy! Fortnum & Mason was one of my favourites, and you can take part in Fortnum's Afternoon Tea starting at £44. (https://www.fortnumandmason.com/restaurants/diamond-jubilee-tea-salon)
I'm sad we missed this opportunity, so be sure to do it.  It's just so iconic! We also went to Hamleys, which is the best toy store ever. I was like 5 years old as soon as we walked in! It's 7 floors of every toy you could ever want, including Paddington.  Take the Underground to Oxford Circus and walk south along Regent Street for about 3 blocks. You can't miss it! Plan for a couple hours to explore Hamleys because you won't want to leave!
We learned a lot from our first big European trip traveling as a family, and have grown since then.  Even though that trip started out rough, we loved London and went back 2 more times.  London is very walkable (even from Victoria Station to Notting Hill!)  and the Underground is easy to use and inexpensive. The cafes or food restaurants in the parks have amazing healthy foods too.  Airbnb a place to stay, buy an Underground pass and have fun in one of the best cities in the world!
What 3 destinations are top of your family travel bucket list?
New Zealand, Australia, and Moscow. We have American friends in Moscow, and would love to experience Russia!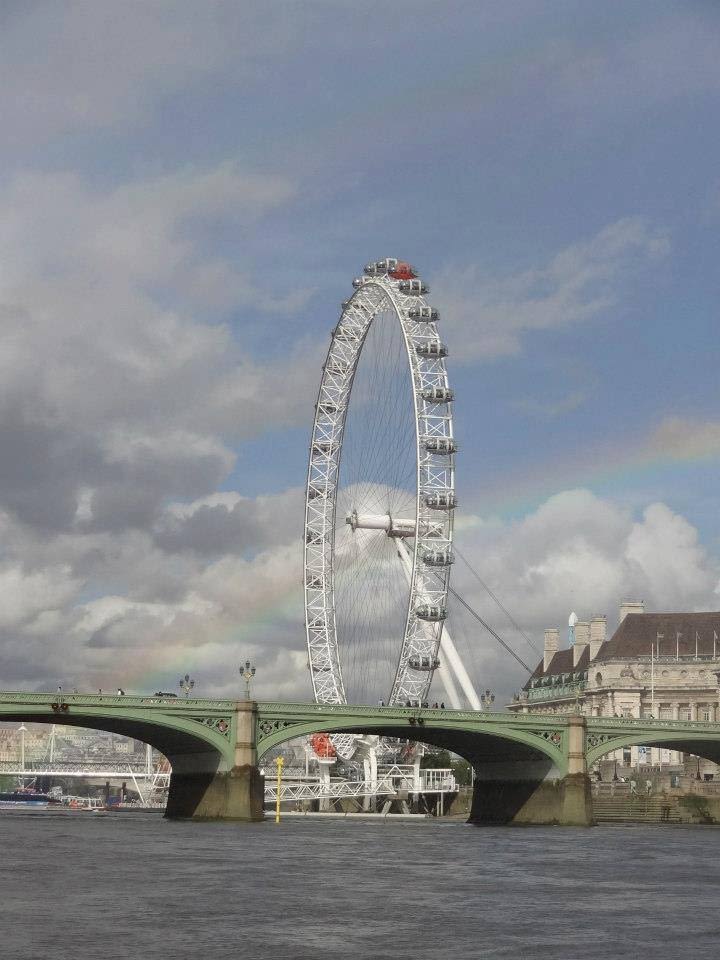 If you had to pick one travel item that makes travelling with kids easier, what would it be? Osprey Pack. I know most family travelers say that baby/kid carriers are the must have, because they totally are!! We wanted to be as mobile as possible, including minimizing stuff we carried during the day. We could shove wipes, water bottles, extra clothes, snacks, etc. in the Osprey, along with our youngest daughter, and we were set for the day. And most airlines will let you take kid carriers into the cabin!
What's your best piece of family travel advice that you can share with the Our Tribe Travels community? Minimize and be as mobile as you can! You might need to weave in and through crowds, run to catch a train, or walk 4 miles across London. Travel with carry on suitcases only, because that just makes life easier! And if possible don't bring a stroller, use baby carriers, and allow your other kiddos to walk.  It might be slow going, but then you can enjoy the view better too!
Rachel has a fab website called Joy and Finley where she documents their trips and gives loads of top travel tips and advice.  You can also follow the family's adventures on instagram