Tell us a little bit about your tribe and your holiday style.
We're a family of five. Our oldest just turned 6 and the other two are 3 and 1.5. We split our travel times between going back to those places we've been going to for years and exploring new places. We had been focused primarily on international travel until out third came along and we decided to invest in a minivan (yikes) and start road tripping around the US. So, now we're figuring out ways to do both. We also seem to split between city and then more outdoor adventure type vacations. Coming from NYC, we tend to get a bit restless when going to younger international cities, so we like to move around a bit on vacations.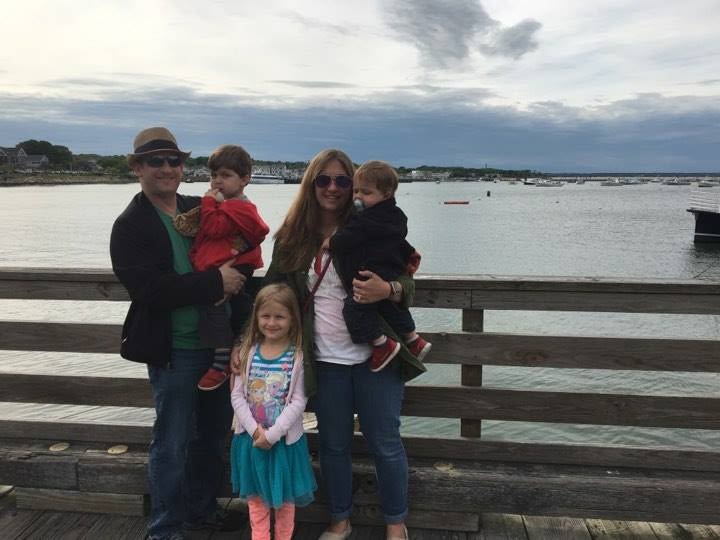 What has been your favourite family holiday and why did you love it?
Probably my favorite family holiday was Japan, and not at the time, but in retrospect. We didn't plan the trip well. We split our time between Tokyo and Kyoto, but failed to take into consideration that we'd be there during rainy season. And it rained. Hard. Every day. Out little people (only two at that time, but I was five months pregnant with the third) were confined to their strollers under foggy rain covers more often then they'd have liked. We booked a trip to Mt. Fuji, but, even though we were at the mountain base, as far up as a car could take us, we could not even see the mountain because of the rain and fog. Additionally, since I was pregnant, my food options were limited and my husband is allergic to shellfish, so his were as well. Our concierge had trouble finding us places to eat that would allow us to bring our children and more than once Denny's was recommended to us. But it truly is an international city where we managed to have some great Italian food and some amazing Indian food (which we hadn't anticipated). After a few days in Tokyo we headed out to Kyoto. It was absolutely beautiful and such a great change of pace from Tokyo. It was a bit difficult for me to manage pregnant and lugging around two young children (there are some temples that require quite a bit of stair climbing), but it was worth it. (One of our takeaways from this is to properly split time. Tokyo really doesn't require that much time. But Kyoto, though much smaller, has so many more beautiful temples and such a distinct feel to it, plan more time here.) We had some issues with food here too though. The concierge couldn't find any restaurant that would allow us to bring our children, which was disappointing as we're fans of good food. Finally, we decided to cut short our time and take our kids to Tokyo Disney (we go to WDW in Orlando a few times a year) so they could just cut loose. While it all seemed difficult at the time, there were so many parts of it that in retrospect are so funny. We stayed in traditional Japanese rooms, which meant that as a large pregnant woman I had to get up from the floor quite a bit. That wasn't a great decision on our part, but I wouldn't change it. In some ways, the fact that we experienced this together made us really pull together to make decisions together, to keep each other upbeat in the rain, to find the moments of funny when we were stressed. That's probably why it's my favorite vacation. What we experienced together really forced us to be a team, and now we all have this sentimental view of it.
What 3 destinations are top of your family travel bucket list?
This is tough. My three year old son would without a doubt say Nairobi so he could go to Giraffe Manor. His lovies are giraffes so he is absolutely smitten with them. We keep coming back to discussing Alaskan cruises and Norwigian Fjord cruises. And Portugal. We've planned and booked trips there twice and had to cancel each. One of them two days before we left. It's that place we keep meaning to get to, but keep putting off.
If you had to pick one travel item that makes travelling with kids easier, what would it be? One item that makes traveling with kids easier (other than an extra pair of hands?)-As much as I don't want to say it, I'd have to say an iPad (also after their lovies). It's good for all those times they're actually confined by travel (airplane, train, car). But I also like to use them to show them little videos of places that we're going to go the next day. It give them something to look forward to. My children like to know what to expect and this gives them it so there is no disappointment, just excitement.
What's your best piece of family travel advice that you can share with the Our Tribe Travels community? My best piece of travel advice is to travel with limited expectations. Be flexible and don't try to do too much. Kids need to spend some extra time running around a park or sitting in a book shop. They need to lounge in a hotel room a few extra minutes or to play in the hotel fountain. They need a day to swim and not explore more than just the pool. For our family, with kids, a day booked solid just doesn't work. We get stressed, take it out on each other, and don't appreciate the opportunity we've been given. So we keep our goals small. If we can get more done great, but if we don't, that's ok too. The important thing is we're facing new things together.