As avid walkers, and now with a toddler in tow, the thought of a trekking holiday couldn't have been further from our mind. Taking our son for a walk to the local shop was a slow and arduous task, so a walking holiday. Forget it!
But if this sounds like you then think again, because if you head to Nepal, a family trekking holiday is very feasible and simple to organise.
How to trek in Nepal with a toddler
If you trek on any of the popular routes it's standard practise to hire a guide and a sherpa to carry your rucksacks and sleeping gear. These sherpas are incredibly fit, and it's not unusual for a 55kg man to carry up to 70kg on his back AND make the steep climbs look easy.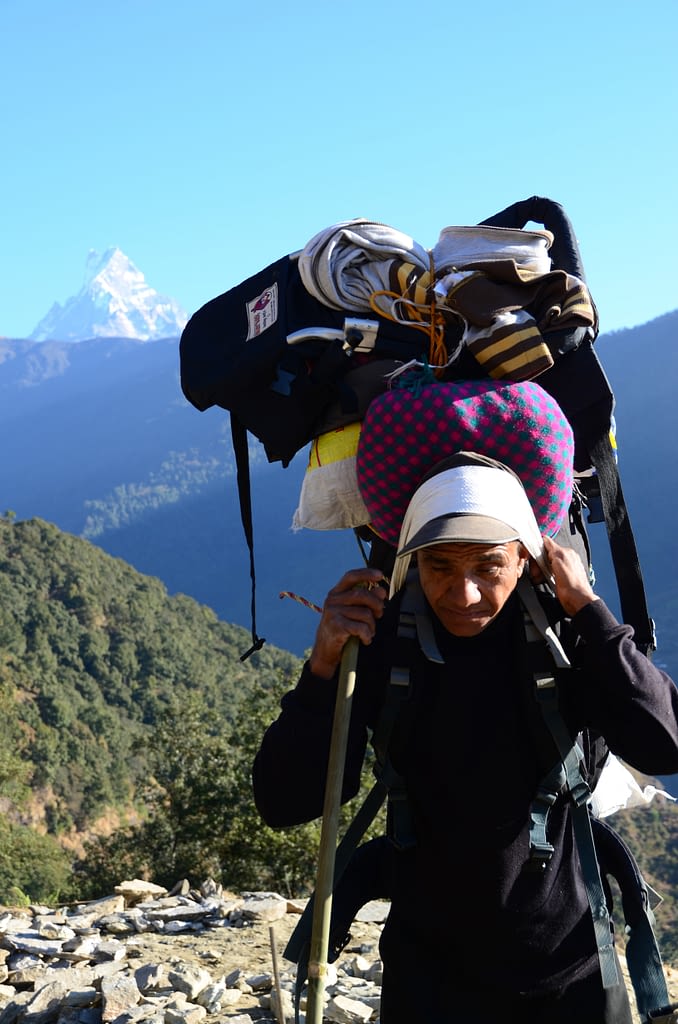 So that's exactly what we did. We hired an additional sherpa (circa USD20 per day) to carry our then 3 year old, and at 16kg he was light relief compared to their normal 50kg plus loads.
Prior to leaving our then home of Kuala Lumpur, we had desperately tried to find a decent framed child carrier, but to no avail. And as we found out, trying to hire or buy a safe carrier in Nepal was impossible. As we had no means to carry our son, and a piggy back didn't seem like the logical solution, we opted for the traditional Nepalese method – the wicker basket, locally known as a Doko (or Duku)
These traditional baskets are used to carry goods, vegetables, grains, water pots, small animals and poultry, as well as serving as temporary cages. Where there are no motor roads, special oversize dokos are even used to transport people unable to walk. It therefore seemed like a logical solution for our imminent trek.
How to make a child carrier:
Take one basket.
Cut a hole out for the legs
Thread a thin rope through the wicker to create a long
loop.
Add a soft fabric band to wear around the forehead
Add padding to the base of the basket.
= one child carrier
Although it looked a bit archaic, our son absolutely loved the basket.  He had a great panoramic view from a comfortable vantage point and it was easy for us to walk by the side of him. It was also cozy enough for him to sleep for hours at a time, lulled by the stride of Sudi, who was carrying him.
The Poon Hill trek lowdown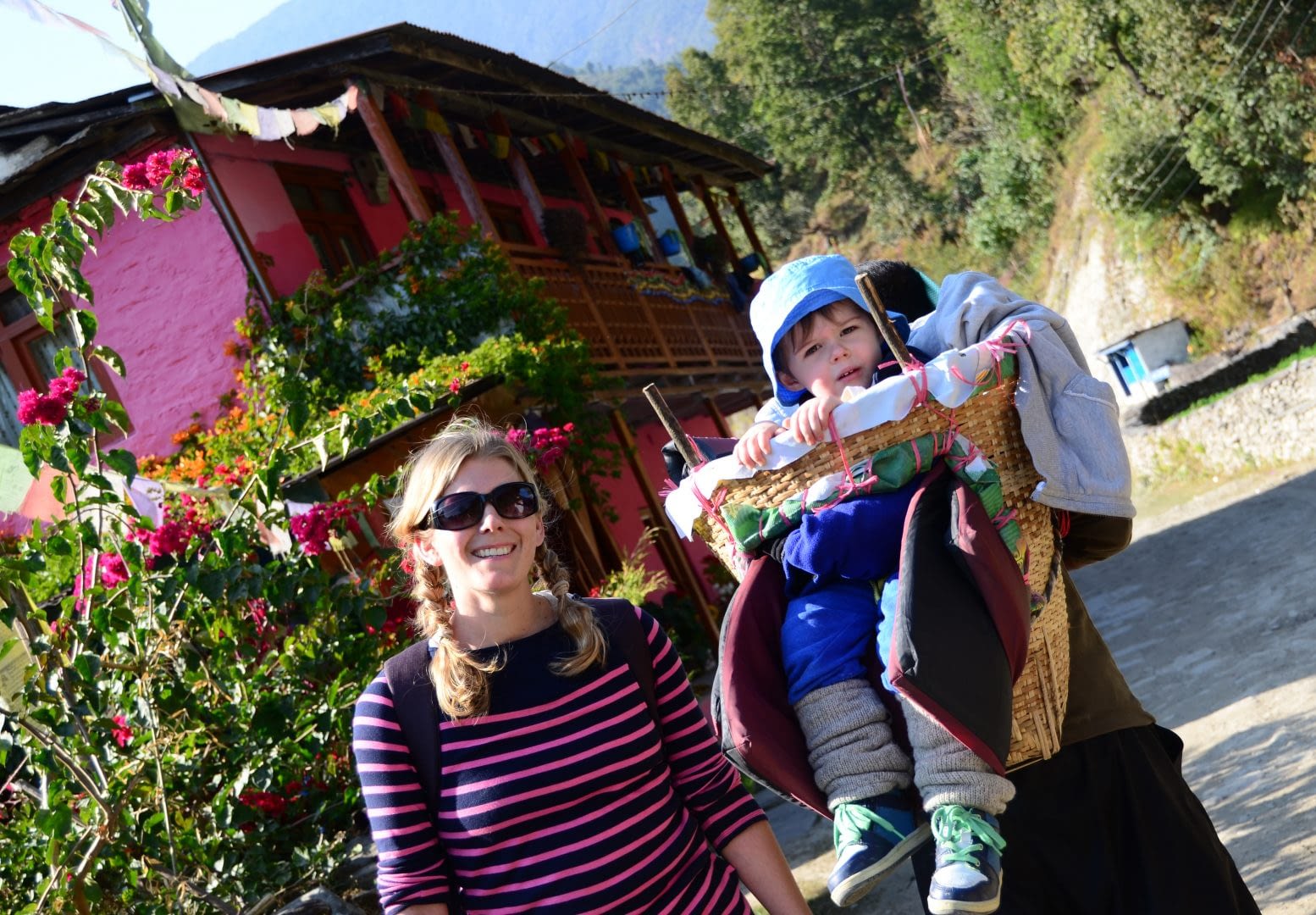 The Poon Hill trek is the most picturesque short trek in Nepal. Taking 5 days/4 nights it makes it a feasible trek for families, particularly as there are plenty of much needed tea house refreshment stops.
But don't underestimate the need for a certain level of fitness. My husband couldn't help giving me the 'I told you so look' when I was struggling to catch my breath on the steep incline on day two of the circuit. I'd thought I was in quite good shape and had ignored his advice to spend a few months building up my fitness and the strength in my legs. But as I huffed and puffed my way up the 6,000 plus uneven steps weaving steeply up the mountain, I couldn't help wishing that I'd followed his advice. Hindsight is a wondrous thing!
Poon Hill Trek day by day:
Here's an overview of what you can expect day by day.
Day 1 – Nayapul to Tikhedunga
Our starting point was Pokhora, the closest town to the base of the Annapurna range. From here we took a minibus to Nayapul to begin the Ghorepani Poon Hill trek.
The first day trekking is a pleasant introduction to five days of walking. Trekking time is estimated at 3-4 hours, so you can take your time, adjust to your surroundings and make sure the Doko is comfortable for your child. The wide gravel track also makes it feasible for your toddler to walk alongside you, if they want to stretch their legs.
The final stop for the evening is at Tikhedunga. We stayed at Tikhedunga Guest House which is a simple lodge that serves dinner and refreshments.
The guest houses tend to be very simple, but clean, with separate bathrooms and eating areas, which are heated during the winter months.
Total hiking hours 3.5-4 (5 hours as a family)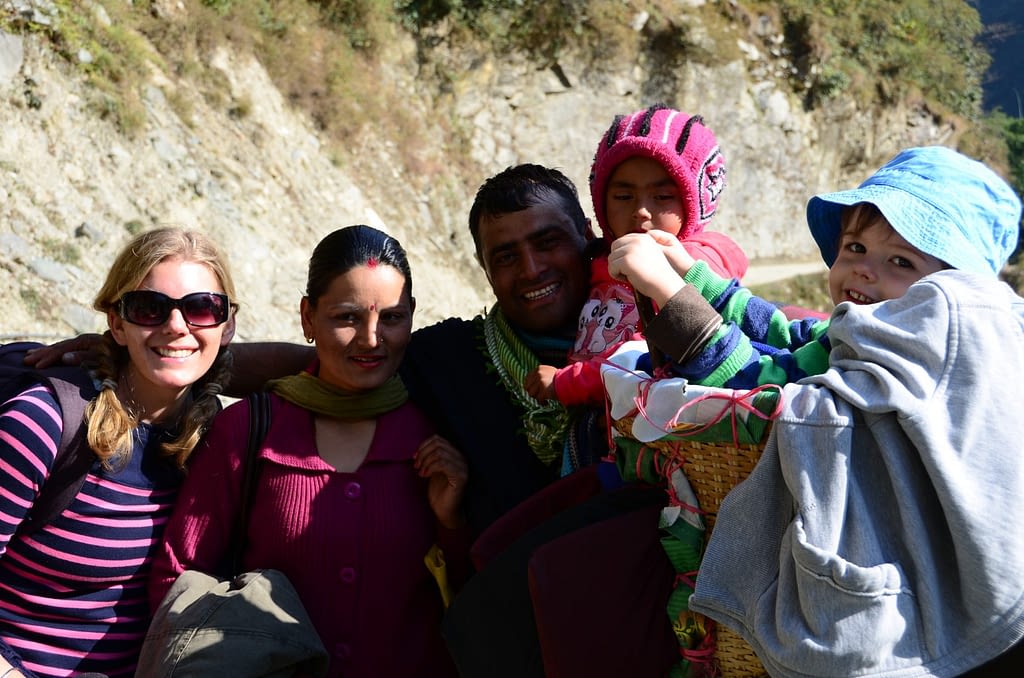 Day 2 – Tikhedunga to Ghorepani
Day two of the trek is the most memorable, and not necessarily for the right reasons.
The hike is the most challenging of the 5 days and includes a 4 hour ascent up the face of the mountain. The incline is steep and the relentless climb up 6,000 plus steps made me wander if I was capable of competing the trek. My steel capped heavy walking boots, that I have owned for 15 years, didn't help! How I wished for a pair of lightweight, but sturdy hybrid boots on my feet.
Reaching the tea house for lunch felt like a huge achievement. Alf, who was being carried by Sudi, was miles ahead and on arrival at the tea house was happily playing with the guides. Choosing guides that you feel comfortable with, or have been recommended by another family, can make a big difference to your trip, as often the sherpas are ahead on the trail and your children are in their care.
After lunch there's a 3 hour trek to Ghorepani village, high up in the mountain. If you're travelling in winter, as we were, be prepared for the cold. As with most accommodation options, heating is only available in the communal areas, so the temperature in the bedrooms and bathrooms can drop to below freezing. Extra blankets were available in all of the lodges, but thermals make a big difference to your comfort.
The views of the Annapurna Himalaya range are amazing and anticipation for tomorrow's climb to the peak start to grow.
Total hiking hours about 7-8 (8-10 as a family)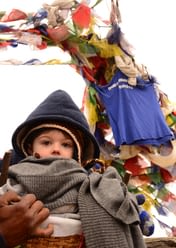 Day 3 – Ghorepani to Poon Hill, Ghorepani to Gandruk
It's an early 4.00am start to ensure we reach the summit in time for sunrise. It's an estimated 45 minutes from Ghorepani to the summit, but don't underestimate the altitude as the reduced oxygen levels do impact your fitness levels.
Reaching the summit was a magical moment. Not only did we achieve what we came to do, we did it together as a family.  Something I hadn't realised would be feasible.
The view of the Annapurna range was nothing short of majestic! There's a small hut on top serving coffee and tea and it's the best cuppa I've ever had.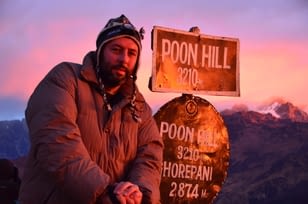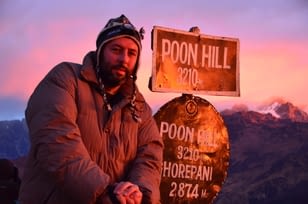 After a quick breakfast back at the lodge we set off for the main trek to Gandruk. This is actually my favourite day of the trek. The views of the surrounding mountains are beautiful, but the trek is also very varied as it winds it way down through the woods, past waterfalls and down stone paths. My fitness levels meant that I was always at the back of the group, and as we wound our way through the woods I enjoyed the tranquility of being alone. Every 20 mins the guide leader would pop back to check I was OK, but I spent many minutes resting on logs and tending to my blisters before summoning up the energy to set off again. It was only later that evening whilst chatting to the guide that I realised that during the winter months, as food sources become scarce, the leopards come down off the mountains and base themselves in the woodland to be closer to the farm animals. Needless to say the following day I felt the need to keep up with the group!
Gandruk is actually quite a large village, and the views of the Annapurnas are outstanding. The lodge was basic but the views made up for everything that it lacked in amenities. We were there on December 31st and woke early on New Years Day to these views.
Total hiking hours – 10 -12 hours (12-13 as a family)
Day 4 – Gandruk to Deurali
We decided to skip the New Years Day shower. A cold shower in minus 6 conditions didn't appeal.
The trail down the mountain is predominantly stone steps. It puts a huge amount of pressure on your knees so this is where the walking poles came in really useful.
The scenery changes yet again as we walked through lots of small villages. Trekking with a toddler was definitely an ice breaker as many of the locals that we passed were keen to come out of their houses to say hello.
Our final night on the trek was in Deurali, a small village overlooking the mountains. The air was warmer here and the shower was warm. Don;t judge me, but I had my first shower of the trek here. The previous lodges had cold or tepid showers but with temperatures dropping to minus 7 at night I opted to use baby wipes.
Our guides were so generous with their time. They could see that we were exhausted and wanted to relax, so they took our son under their wing and spent hours playing with him on the garden and helping him to eat dinner.
Total hiking time – about 6 hours (7 with a family)
Day 5 – Deurali back to Pokhara 
The walk back to the start of the trek only takes a few hours. We set off early as we had booked our flight out of Pokhora that same afternoon.
The satisfaction you feel when you reach the end of the trek is exhilarating, but just be prepared for some aching limbs and blisters.
Total hiking time – 1-1.30 hours  (2 with a family)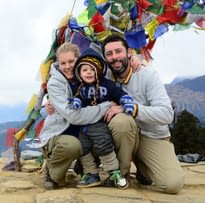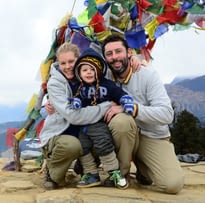 Trekking Gear tips for families
The trekking company will brief you on what to pack, but there are many items that I recommend that may not make it onto their packing list.
1. A day pack with plenty of external pockets – the porters are so nimble they tend to be a long way ahead, so your main luggage isn't accessible between tea houses. Keep kid snacks, baby wipes, nappies, water, insect repellent and other essentials easily to hand.
2. Cargo pants with lots of pockets – again handy to carry baby and child essentials on your person.
3. Phil and Ted's Wriggle Wrapper – this is one of our favourite travel items when our son was younger. It's essentially a simple way of attaching your baby/toddler on your lap allowing you to be hands free. It also doubles up as a portable high chair as you can attach it to any chair with a back. It's great for using on public transport (the bus or mini bus from Pokhara to the base of the mountain) and folds up into a handy pouch.
4. A small pot of talcum powder – if you carry this in your day pack it's handy to shake into your socks if your feet are sweaty. It's also handy to use on your child if the carriers start to chafe.
5. Anti bacterial hand gel
6. Flip flops – after a day of trekking it's nice to have something to slip on that isn't a walking boot. The bathrooms at the tea houses tend not to be linked directly the rooms, so they are handy to put on when you need to pop outside to the toilet in the night.
7. Spare boot laces (my husband's snapped and had to be tied together with string!)
8. Lots of layers and hats – we went in Early Jan when night temperatures dropped to minus 7. That said, once we were a few hours into our trek I was wearing a t-shirt. It's going to be a lot warmer when you go, so lots of thin layers and a fleece on top would be ideal.
9. A shawl or warm pashmina – I used this to tuck around my son when he got chilly on the trek
10. Sleeping bag liners – if you haven't got one then you can buy these in Pokhora or Kathmandu.
11. Walking poles – I hadn't trekked using poles before, but I can highly recommend them, particularly for the descent
12. Knee support – I found the descent quite stressful on one of my knees. I wasn't expecting this as I'd never had issues with this previously. A knee support would have made all the difference.
13. Good quality blister plasters. I recommend Compede.
5 handy hints:
You can rent down jackets and sleeping bags from your trekking company. Wear layers – even in the winter months you do get very hot whilst trekking
If you have kids under the age of 9, consider organising a Doko. Even one between two kids is going to give each child a welcome rest.
Find a guide who you feel comfortable with, is experienced with families and medically qualified to spot altitude sickness signs in young children.
Choose the time of year carefully. Spring is the peak climbing time in the Annapurna range due the mild climate and stunning fauna.
Book somewhere comfortable for your return trip to Kathmandu. We were staying in a basic lodge with unreliable heating and we longed for somewhere warm and cosy to relax in.
I hope that this practical guide inspires you to consider a holiday that you may not have considered. Nepal stands out as being one of our favourite adventure holidays and we hope to go back and explore again.
There are many Nepalese trekking companies online. Do plenty of research before you go to get a feeling of the different offerings and prior to booking ask the company to confirm in writing that the guide they recommend is fully trained in first aid and experienced in taking children.
Drift Nepal is one company that has been used and recommended by a few families in the OTT community.
Enjoy and please share your Poon Hill family photos in the group.