Tell us a little bit about your tribe and your holiday style.
We are a family of four – American mother, Amber; German father, Johannes; five-year-old Malia and two-year-old Noah. Johannes and I have been international teachers since 2000, although we did not meet until 2005. As a family we have lived in Ghana, Uganda, Bangladesh, and we just recently moved to Berlin, German, in order to take a year off from working and to be closer to family.
What has been your favourite family holiday and why did you love it?
We just recently returned from  a family holiday in Bhutan. Although Bhutan no longer has a quota for how many tourists can visit, the daily fees seem to inhibit many travelers from visiting. Fees are: children under 5 are free; children ages 5-12 are half price of adults; and adults are between $250-$350 a day, depending on the season. This daily fee includes hotel, transportation, entrance fees, and all food and drinks. Not included, however, are souvenirs and alcohol. We stayed in four and five-star hotels, and as we are a family of four, we had two rooms in each hotel. Itineraries must be decided beforehand, as your visa depends on it. Hotels can not be changed once visas are issued.
Our trip included the two cities of Paro (airport) and Thimphu (capital) for 5 days / 4 nights. We did more of a cultural tour (temples, schools, museums), although all packages and tours can be tailored to your needs or type of holiday you want (adventurous, hiking, rafting, textile home-stays). As we booked as a family, we had access to our own guide, driver & vehicle. The tour is pre-arranged, but was modified to suit the needs of our family. Instead of doing extra temples in the afternoon, we visited playgrounds and parks. One night my husband was also able to see a Bhutan vs. Maldives football match in the national stadium, even though it wasn't on our initial itinerary. Schools are taught in English medium, so everyone we met spoke English.
Even though we went in June, the weather at night was a bit cool. We were glad we took warm clothes. As both cities we visited were above 2,000 meters in elevation, it did take our children two days to adjust as we were coming from sea level.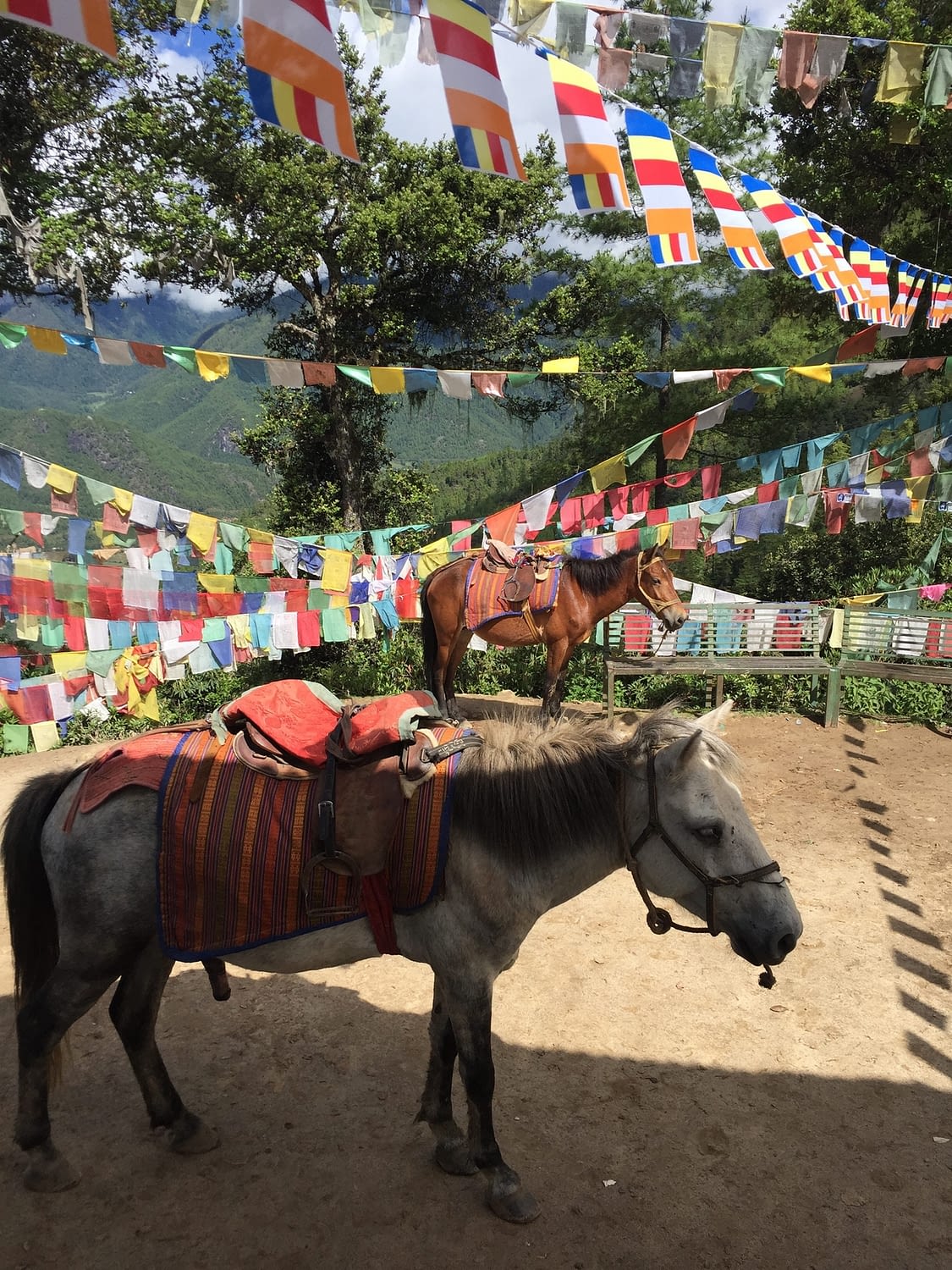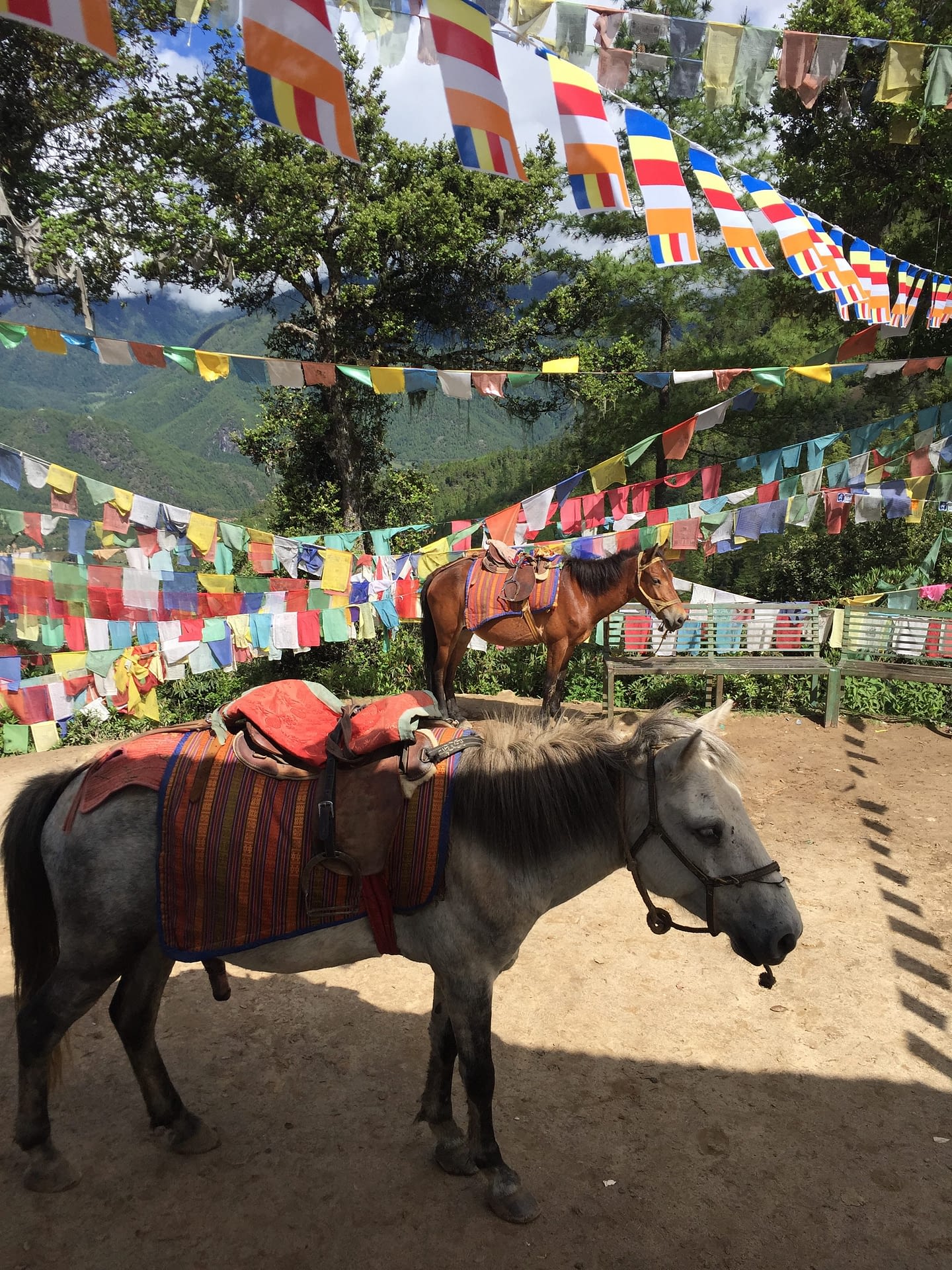 The highlight of our trip was most definitely the hike to Tiger's Nest, or Taktsang Monastery, the holiest site in Bhutan. Built in the 1600s and rebuilt in 2000 after a devastating fire, it perches on the side of a mountain outside Paro. The climb itself is 1000 meters in elevation – our children rode horses up (for about $17 USD / horse) and we hiked. Horses are not allowed to take passengers down the mountain due to its steepness and thus safety, so our five-year-old walked down and our two-year-old was carried in a hiking backpack. There is a vista from the tea house where the children were able to rest and see the monastery. We decided not to go further than this, as the horses can only go to this spot. It is still a steep climb from here with many steps, and our children simply couldn't do the remainder of the hike. We started early in order to avoid the crowds – on busy days over 800 people climb a day. We were at the trail's head at 7:00 AM, whereas most people start at 8:00. The trail is quite narrow with a large drop off, so I would recommend starting early. It is also cooler at that time, which was a bonus for all of us.
Travel to Bhutan must be booked through a government recognised travel agent in Bhutan. Our guide, Rinzin Tamang, was kind, knowledgeable, patient, and wonderful. You can book tours through him directly:  thunderboltrinzin@gmail.com / +975.7720.5059. There are few ATM's in the country, and I believe the only ATM that takes non-Bhutanese cards is located in the airport. TAKE CASH. It is easy to exchange money at the airport and in major towns at banks or hotels. Only some places accepted credit cards.
What 3 destinations are top of your family travel bucket list?
1 – Seychelles or Andaman Islands – we adore beach holidays and have yet to find that perfect quiet family beach.
2 – Morocco – I love the combination of beach and desert as well as the architecture, food, and people.
3 – Namibia – My husband has lived on the continent of Africa more than anywhere else in the world, and I've spent a decade of my life there  as well. Although we are currently in our 'gap year', we do want to move back to Sub-Saharan Africa at some point. Namibia has always interested us – from the camping to the safaris, to the desolate landscape – we can't wait to visit.
If you had to pick one travel item that makes travelling with kids easier, what would it be? Besides the metaphorical idea that this will all be ok even though our children's routine is shot? I don't know if we have an item that works well for our family besides bringing plenty of snacks, but I do think that one planning item that has helped us is to book apartments when we are able to. I remember once we were in Nairobi when our daughter was a baby and we put her to bed and ended up eating take away pizza in the bathroom. I vowed never to travel that way again. We always try to book places where there is a separate living and sleeping area, so we as adults can still enjoy ourselves after the children have gone to bed.
What's your best piece of family travel advice that you can share with the Our Tribe Travels community? In the last two years, our family has experienced some horrific tragedies.  Within these experiences, it has solidified the life that we have chosen. We have chosen to simply live the lives that we know best and love most – one that involves traveling constantly, and living abroad from our passport countries. I know it sounds cliché, but these last two years have taught us that life can be fleeting, and because of that, we must be true to ourselves and our own personal paths. So, my advice is just to go and do it. One comment that keeps being repeated to us is that our children won't remember the travel or the safaris or the trip to Oman or Sri Lanka. And they're right – our children are so young that they most likely won't remember. But my children also won't remember that I read to them every night or that we insist on family dinners without toys or distractions (for children and adults). But that because we have traveled since their birth, it will shape their lives and their selves – just like reading every night or family dinners. That travel teaches my children to love the exploration itself, to be flexible, to meet new people, try different food, and inevitably, to fall in love with the unexpected. They may not remember, but our travel with shape who my children become.