Planning a trip to Greece?
Want to move around and visit more than one location with the kids in tow?
Welcome to the 'Our Tribe Travels' family guide to Greek island hopping.
Planning you Greek island hopping route:
The first decision you have to make is which area to focus on. We prefer to travel in areas that have a more authentic, local feel, so we chose to travel around the CycLades, a stunning and diverse set of islands located East of Athens and the mainland.
It's also worth thinking about your flights to and from the country. We chose to book an inbound flight to Mykonos and an outbound flight from Athens. This gave us the freedom to explore more islands without having to double back on ourselves.
Cost considerations for Greece:
We are budget travellers and our ballpark figure for accommodation is 35 to 50 euros per night. In the height of summer you can expect to pay 30% more for rooms, so factor this in.
Average prices for food are:
Fresh cafe coffee – 2.5 euros
Local style coffee – 1 euro
Greek Salad – 5.5 euros
Main fish dish – 14 euros
Side dishes – 3 – 6 euros
Ice cream on the beach – 2.5 euros
Booking Flights to Greece:
If you are planning to visit during the European summer holidays then start looking at flights 9 months beforehand. Greece is a popular family destination, so the closer you get to the summer holiday, the harder it is to secure a good deal.
To plan or not to plan:
We LOVE to keep things free and easy when we travel, not booking accommodation in advance and finding home-stays and bed and local breakfast establishments as we move from place to place. As we were heading to Greece at the end of July / early August this was a risky strategy, but we decided to see what would happen.
Accommodation on the Greek islands:
Greece has an abundance of small apartments, studio apartments and bed and breakfasts, as well as the more conventional big hotels. We always choose the smaller, privately owned places as we prefer the personal touch.
Family accommodation in Greece – what we learnt:
The majority of rooms come with small kitchenettes (a cooker, fridge, small hob and cooking utensils)
Breakfast is NOT included in the majority of smaller establishments.
Owners will gladly pick you up, and drop you back to the ferry ports free of charge – this is fantastic when you're traveling as a family as you don't have to fathom out the local transport system on arrival.
The local bed and breakfasts and home-stays can be booked through booking.com or Airbnb.
During July we would find an available room online and then visit it and negotiate the rate in person. In some cases we saved 50% off the online rate.
Touts do welcome you off the boats to try and sell you their available rooms, but from what we saw, during he peak of summer these were the rooms with poor review and ratings. There was a reason that they weren't at full capacity.
Travelling in Greece during August:
During the summer months the majority of families will book their accommodation in advance. In August 95-100% of the booking.com inventory was booked, but we found that Airbnb had a larger number of available properties that suited our needs.
If you are a family that requires more than one room it's imperative to secure your accommodation in advance as you may struggle to find anything suitable.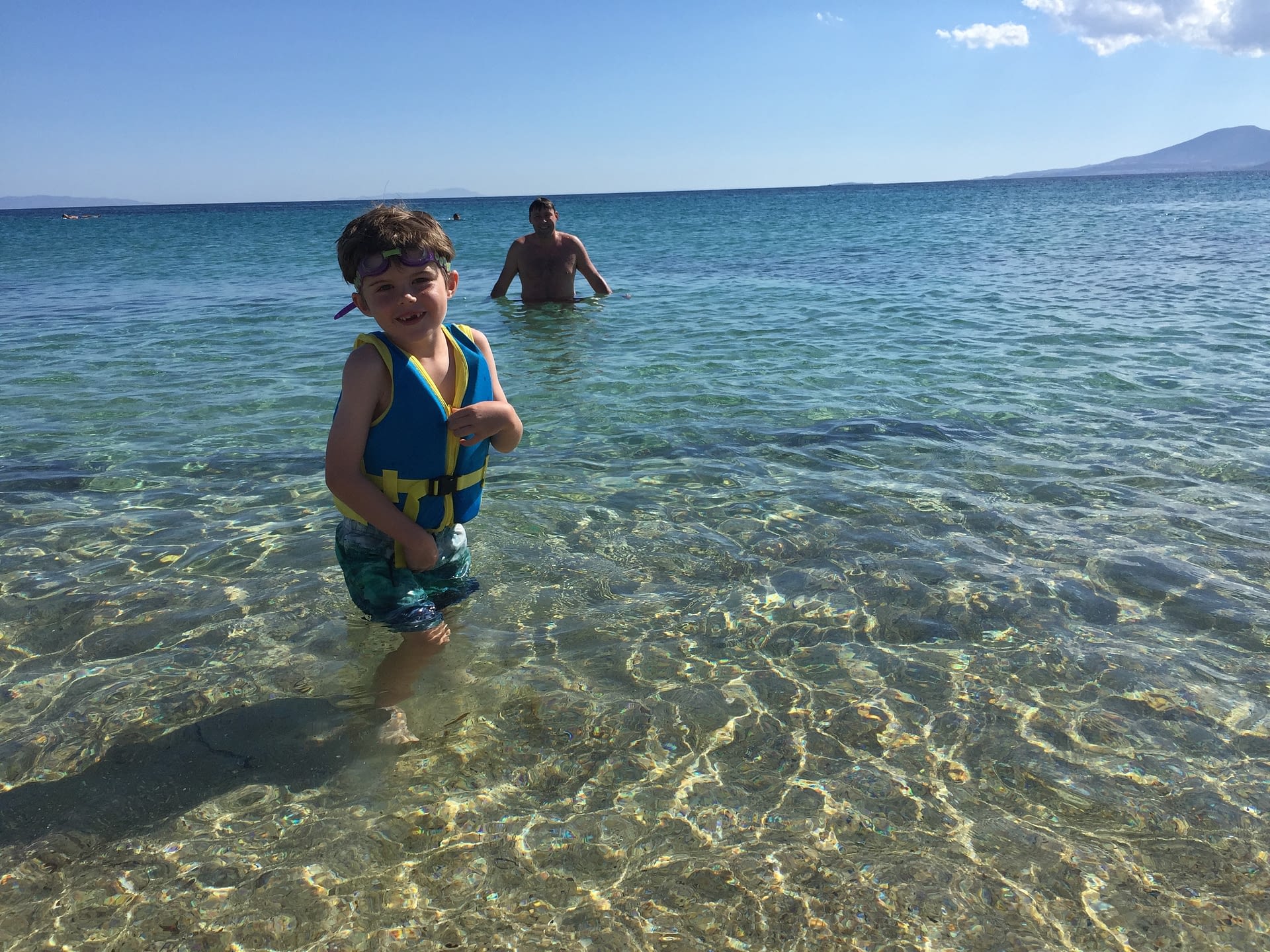 Top tips for the Greek island ferry services.
Plan your route in advance
Some Greek islands have limited services that only run a couple of times a week.
Book the ferry tickets in advance
We booked our tickets online using www.directferries.com, but we found that tickets were cheaper the earlier you secured them.
Please note than when you book tickets online you still have to collect printed tickets from a local travel office near the port. Factor this into your time planning.
Check the ferry routes and journey times
Don't assume that the closer the destination, the shorter the ferry journey. Some ferries make huge detours around neighbouring islands before double backing on themselves. We learnt this the hard way when we booked to go from Paros to Syros. The journey took 7 hours, despite it only being a short hop away!
Get accurate ferry data using live gps tracking
We used a gps tracking app to accurately see when our boat was coming in to dock. We found the easier than trying to track down the ferry port advisors. It was also handy to use when we were on the boats as we could accurately track our journey.
https://www.ferriesingreece.com/live-boat-traffic.htm
Exiting the boat last is a more pleasant experience.
The ferries have one exit for both foot and vehicular traffic. As the ferry comes into doc the basement car park is opened and passengers can get into their vehicles. We found that the lower deck gets very smokey from the car / lorry exhausts and it is better to wait until the vehicles are moving, before trying to exit.
Limited ferry seats.
The larger ferries (Blue Star) have very few free seats. If you want to secure a seat arrive at the ferry doc 1 hour before departure. (The larger boats arrive into the dock 30 minutes before the departure time as the boarding takes 20-30 minutes).
Our Greek Island hopping route:
Day one: London to Mykonos (we jumped on the first boat out to Naxos as Mykonos is SUPER expensive. A very basic room was circa £180 per night)
Day two Naxos – town
Day 3 Naxos – Prokopios beach
Day 4 Naxos – Prokopios beach
Day 5 Paros – Alikis
Day 6 – Paros Alikis
Day 7 Paros Santa Maria
Day 8 Paros Santa Maria
Day 9 Paros to Syros (Kini)
Day 10 Syros Kini
Day 11 Syros Kini
Day 12 Syros to Athens
Day 13 Athens
Day 14 Athens to London

Naxos:
Naxos is the largest of the Cyclades island group. Its fertile landscape spans mountain villages, ancient ruins and long stretches of beach. The port town is really pretty and has whitewashed, cube-shaped houses surrounding an old fort.
The port waterfront has many restaurants running parallel to the water and is a great people watching spot as the boats and yachts sail in to doc.
Why we loved Naxos:
The town beach, called George beach is superb for little kids. The clear water remains shallow for circa 30 metres. It's very popular with families and there are many small bed and breakfasts in the surrounding cobbled streets.
There's a local bus that takes you down the coastline, stopping at the main beaches. Bus tickets need to be purchased prior to boarding and can be bought at the local tourist offices.
Naxos offers a variety of water sports and has windsurfing schools that cater for kids. The shallow, calm water in some of the beaches are perfect for inexperienced windsurfers.
The island is easy to drive around and car hire is from £35 per day.  Child car seats are readily available and we were not charged an additional fee for using it. One day is enough to see the key sights on the island.
The beaches are stunning and the water is very clear. Expect to pay 10 euros per day for the hire of a 2 x sun-beds and an umbrella.
Paros:
Paros is located 8 miles West of Naxos and is best known for traditional whitewashed villages and efficient local bus network.
Paros is a popular holiday destination for the locals and accommodation does get books up in advance.
Alikis is a very pretty area with many seafood restaurants lining the waterfront. The beach here is a little small and although there is a bigger stretch of sand around the headland, we preferred Santa Maria in the North of the island.
Why we loved Paros
Our send stop in Paros was Santa Maria surf school. This was a gem of a find as the majority of places were fully booked. Essentially it is a huge camp, 5 kilometres outside the Naousa, with a range of accommodation. You can bring your own tent, hire an existing tent, stay in a basic hut or rent a family bungalow.
There's an outdoor pool that has a lifeguard, a pool bar, cafe and shop on site and a surf school down on the beach. It's a great location for older kids as there are plenty of outdoor sport options.
Top tip – the only ATM machines on the island are at the airport, port and in Naousa town.
Syros:
Syros is the capital island of the Cyclades and therefore has an abundance of cultural things to do – theatre, museums and historic buildings.
The island is very hilly and the roads cutting across the island are winding with fantastic views over the coastline.
Why we loved Syros:
Our 3 days in Syros was all about the rest and relaxation. We found a fantastic little apartment, set back a few hundred metres from the beech, with a lovely big balcony which was perfect for star spotting in the evenings.
Accommodation recommendations (40 – 75 euros per room per night)
A small, white washed guest house a few streets back from St George's beach. The rooms are bright and clean and some come with small balconies overlooking the cobbled street below.
Our room had a double bed and single and had an en suite bathroom with a handy fridge for storing drinks.
Tasia Studios, Prokopios, Naxos
Set back from the beach, these studio apartments are perfect for families. Our room was very spacious, came with a single and double bed, en suite and kitchenette. We loved the little veranda out the front of the room. A perfect spot for breakfast.
A surf camp that is great for families. The camp itself is a stand alone destination, but they offer a free bus into the nearby town every night. Accommodation ranges from camping up to the comfortable bungalows.
This was a great little find. A lovely little apartment that was spotlessly clean. We had a kitchenette with a single bed/sofa, a double bedroom, a bathroom and a large balcony.
The apartment was a 10 minute walk to the beach (a few hundred metres).
The owner was lovely and even organised a taxi to meet us at the ferry port at 3am!
Packing Tips:
When you're island hopping, and moving from place to place, the less you pack the better. As most apartments have a kitchenette it's very easy to hand wash clothes and a clothes drying rack is standard in most places.
Pack hat clips. The ports and boats can get very windy. Attach your hats to clips to avoid losing them!
Enjoy…