Who are we?:
We are the Cohens, made up of Kate and Leigh and Lyla (7) and Sam (4). Sam is a classic example of a boy, he is very cute and smiley but gets bored easily and needs exercising.
Travelling with him in the past has always been a bit problematic, as he is a bit too young to carry his stuff around with him in a backpack and a suitcase you could guarantee would get passed on to us after a couple of minutes. So the Zinc Flyte was a really possibility for a breakthrough in more independent travel for him – i.e that we don't have to carry or drag his stuff around!
First impressions of the ZincFlyte: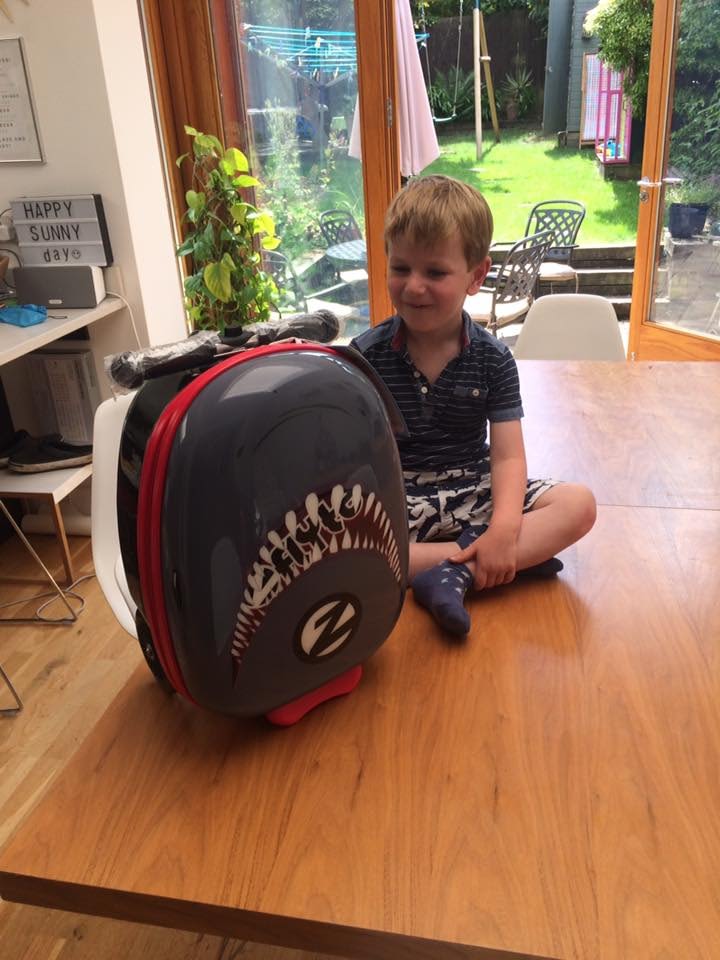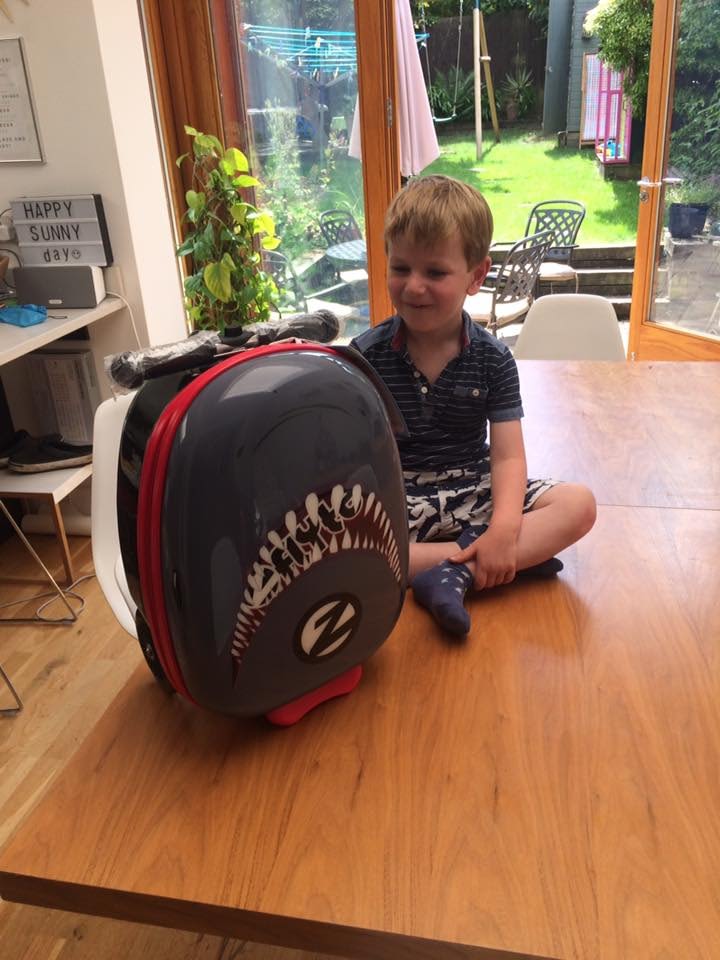 The day it arrived was a very exciting time for Sam, he was so keen to open the box and get it out and try it all. Once we had unpacked it all safely we loved the design (sharkie) and on closer inspection I was quite impressed with the way it was put together, the size and the sturdiness. The scooter and the construction and way it held together was possibly better than some of the more common standard scooters that we've had in the past. We tried it out immediately and after quickly working out how to get the handle up and scooter down he was off and took to it immediately.
ZincFlyte quality and design:
We took it out a few times prior to the holidays to test it out and I actually think that it's on a par if not a slightly better scooter than his standard one. We spend a fair bit of time racing it around seeing how fast it would go (fast) and also how easy it was to control, the summary here is that it's fairly similar to other scooters i.e wide turns, but the brake is great. The biggest downside if you are out with it is that you need to be a bit conscious of the weight in the front and the suitcase section means that going up and down curbs needs to be a bit more calculated.
As a suitcase it functions well, there is a fair amount of space in there and compared to the Trunki that we have used in the past, you can really fit things in there easily and it's easy to do up. As I said before I wouldn't over fill it, but it can definitely take a good selection of toys and books plus a bit of clothing easily. It also pulls along easily, the handle actually doubles up really well as the scooter and suitcase handle.
Putting ZincFlyte to the test:
So now to our holiday trip and confessing. The night before we went away we had pack up the Zinc Flyte and then went to check our booking and the hand luggage allowance. We were flying with Ryan Air and the Zinc Flyte came in 6 cm wider than the hand luggage allowance. To be completely honest we slightly panicked (having come a cropper to Ryan Air's check in desks before) and decided not to take it with us. In hindsight, there is a video on the Zinc website that shows it fitting into a Ryan air luggage rack, but we didn't find it in time so we didn't take it away with us.
Undeterred though we took it with us on a couple of outings to test out is usability which can be seen on the footage. We also took a day trip to Luton airport to test it out and see how it worked in the check in zone.
Although we didn't get to take it on a flight, I actually don't think that this product should be thought of as just an airport suitcase. We would never take a scooter away on holiday with us (when travelling by plane) as it's too bulky, so we'd often find ourselves dragging Sam around when out walking. The Zinc Flyte is great as an airport tool, but I also think it's fantastic as a mode of transport for getting around with little ones. Plus everywhere we went, people were loving the design and the innovation, you could see people's heads turning thinking, what's that?
Conclusion:
So in summary if you have a small child that needs a bit of encouragement to get from A to B whether that's from the car park to the plane or taking that slightly longer route through the latest sightseeing tour, then the Zinc Flyte addresses those issues, plus I also reckon there is a bit of space in there to stash and few Mum or Dad extras!

Disclaimer: The Our Tribe Travels product review panel are given products free of charge in return for an honest and detailed review. All thoughts and opinions expressed are the reviewer's own and are not influenced by the brand or affliliates.