Tell us a little bit about your tribe and your holiday style.
We are a couple, both 42, travelling with our two year-old. I organize, book, and prepare all our trips myself. I love researching new destinations. I travelled a lot before we had our baby, and since he was born, we've taken him to Thailand, South Africa, Morocco, Bali, France and South Korea.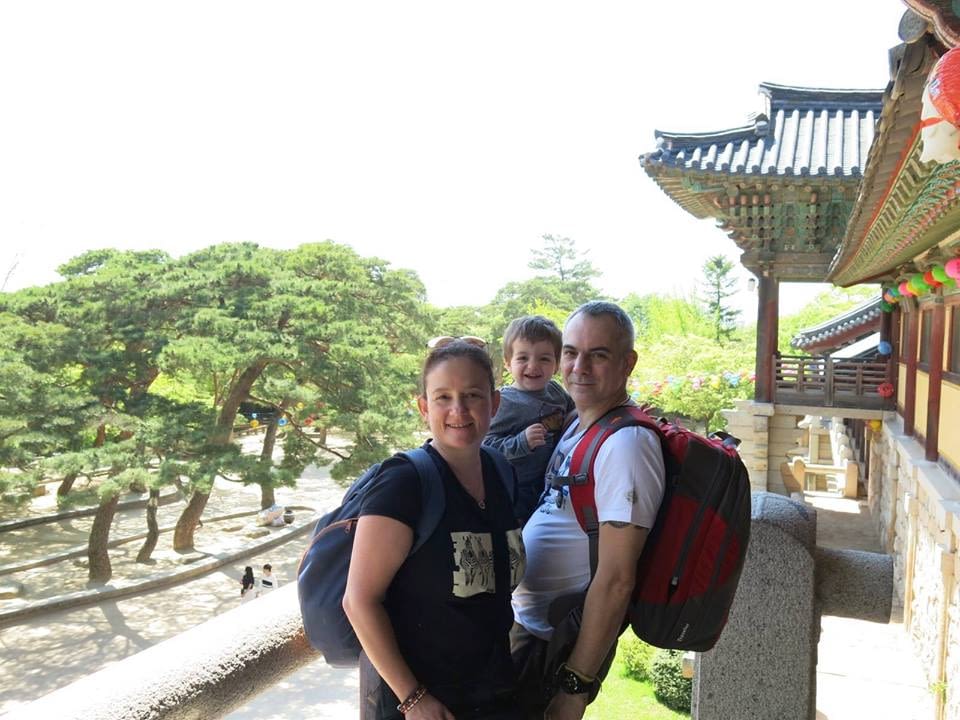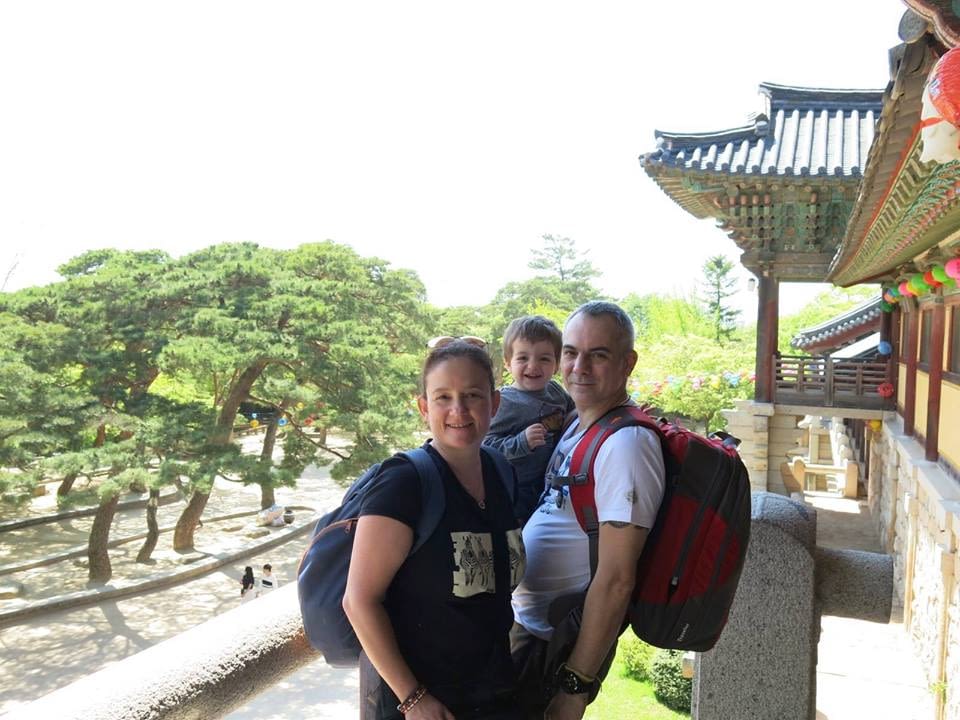 What has been your favourite family holiday and why did you love it?
We just came back from a two-week long trip to South Korea and loved the country, the people, the food … everything. Important note: transportation is usually free for children up to 4 years of age, as well as entrance fees to temples, museums and so on.
Arrival: we arrived at Incheon Int'l Airport. There are trains going into Seoul as well as airport limousine buses – we opted for the latter as the bus stops a few hundred metres from where we were staying (AirBnB rental). There are several limousine buses stopping at various places in the city. Bus nr. 6011 stops not far away from Gyeongbokgung. It's all very well organised at the airport: there are bus stops with numbers, each number corresponding to a particular bus line. Bus 6011, for instance, stops at 5B and 11B. You need to buy your ticket before getting on the bus (10 000 won/person). It's about 70-80 minutes to Gyeongbokgung. Don't forget to change money into Won of withdraw some cash before getting out of the airport. The airport has free wi-fi.
In Seoul: there is a "pass" with which you can visit most temples/palaces and it comes out cheaper than buying your tickets separately. It's valid for one month and you can get them at Gyeongbokgung, but also at other places like Deoksugung, and so on.
There are T-Money cards that you can purchase and reload, to use on the metro, bus and even taxis. You can buy them in metro stations, and reload either in metro stations or at convenience stores such as GS25. You can also get a refund of the money that's on the card if you're not going to use it. You can get a refund at GS25 convenience stores, but they ask 500 Won as a fee.
We were travelling with a toddler and found it very easy to find regular milk (we switched him from powdered baby formula to regular milk before leaving), nappies, baby wipes and even baby bottles, in all supermarkets. Fruit juice, chocolate and so on are available everywhere as well. Our son eats just about anything so food wasn't a problem at all.
We stayed in the Jongno-gu area and found it very convenient. We were within walking distance from the Gyeongbokgung Palace and metro station, as well as Seoul Plaza and the Cheonggycheon stream.
Public transportation around the country: we found trains and buses to be very clean, efficient, on time, and afforable compared to European prices. On our first day we went to Seoul Station to book our train tickets for the rest of the trip. It was a good idea to book in advance as there was a long week-end ahead and trains were packed.
We couldn't get a ticket for the Golden Train, even booking 10 days ahead — and I couldn't book them from abroad as the English version of the Korail website kept bugging
So, we took the KTX to Gyeongju. Regular trains arrive in central Gyeongju, but KTX trains arrive at Singyeongju train station, about half an hour from Gyeongju itself. There are buses and taxis to go into town.
We stayed at a traditional hanok guest house called "Trip to Gyeongju": it's new but built in the traditional hanok style, with "ondol" heating system and futon beds – Western-style beds are available in some rooms as well, though the futons were very comfortable. William, the owner, welcomed us with a plate of fresh fruit. He knows his city very well and recommended the best restaurants according to our tastes (we wanted Korean food, and Korean BBQ), explained what best to visit and when/how, and so on. The guest house is ideally located because it's in a quiet street away from the crowds but at the same time it's quite close to the Tumuli Park and the Express Bus Terminal (both about 10 minutes walk away). Good restaurants and plenty of convenience stores in the area as well.
We visited Anapji Pond, the Tumuli Park, Wolseong Park, the National museum, the Hanok village (a bit too touristy, though), Bulguksa Temple and Seokguram grotto (the Buddha is behind a glass pane so you can't approach it).
From there, we took a bus for Busan (less than an hour's drive). Buses are very comfortable. There are numbered "platforms" so you know exactly where you have to go and which bus to take, and seats are numbered as well (you need to buy your ticket from the counter in the bus terminal, not from the driver).
Busan is huge – second biggest city in Korea. Since we had lots of luggage and a baby we took the taxi from the bus terminal (Nopo) to Haeundae Beach, but it was quite expensive (about 30 000 Won) — if you can, take the subway.
At first we were disappointed because the seafront at Haeundae Beach is, quite frankly, pretty ugly – full of concrete buidings. But we got used to it, somehow, and grew fond of the place. There's so much to see in Busan. We visited Yonggungsa Temple, Beomeosa Temple, Jagalchi fish market (open from morning till evening), Dongbaek "island" (it's not actually an island, it's a small peninsula off Haeundae beach with lots of camellias and nice views over the sea) and the Oryukdo Skywalk (made of glass, 30 meters above the sea, with a view of the Oryukdo Islands – closes at 6.00 pm) …
We stayed at the Best Western Haeundae hotel because we got a great deal on a suite with seaview on Booking.com ! Very good location, near the beach, near the Haeundae metro station, near the Tourist Information centre (very useful maps and info to get there, by the way). A modern hotel with all amenities.
There are plenty of restaurants for all tastes in the area – try the small street full of seafood restaurants just in front of the Best Western hotel.
Another bus took us to Jeonju in 3 hours. Same organization as the previous bus terminal, with numbered platforms and numbered seats. We stayed at a hanok guest house located in a pedestrian street of the Hanok Village — it's best to ask the taxi driver to drop you off at the LeWin Hotel and walk to the Hanok Village from there.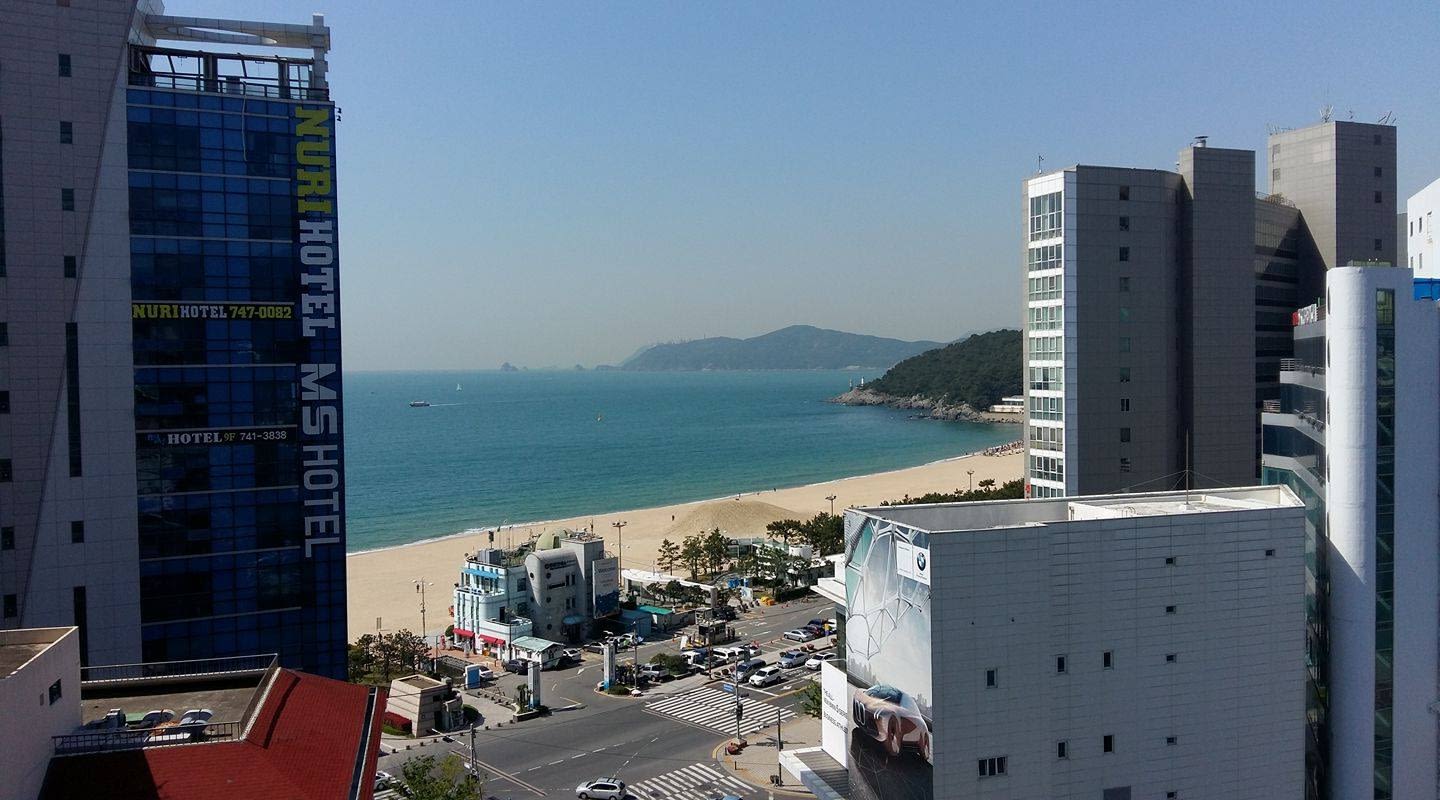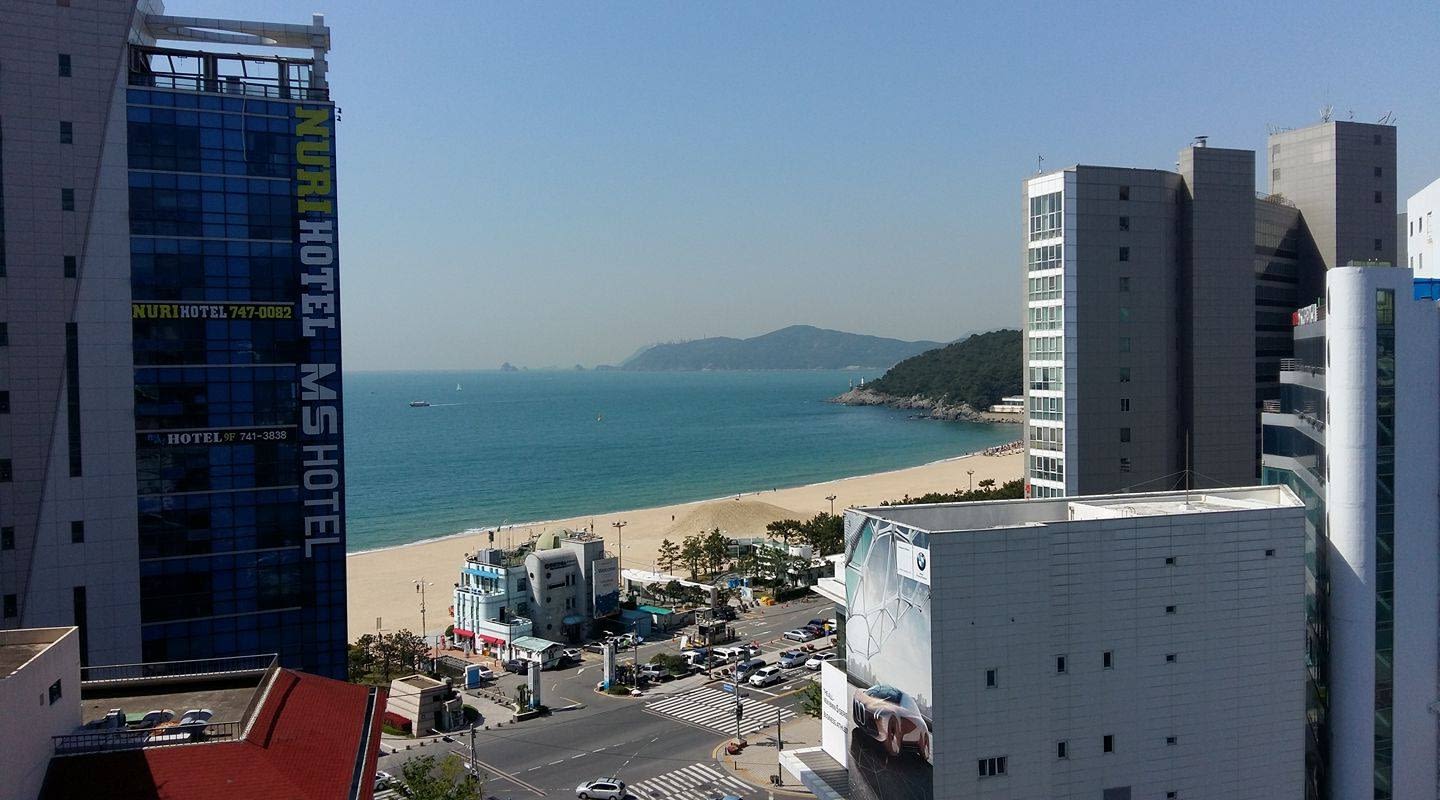 I was a bit disappointed in the accomodation because, though the buildings are lovely, our room (supposed to accomodate 3 people) was VERY small (about 2×3 meters). Once the futon beds were unfolded, we couldn't open the bathroom door anymore and opening our suitcase was certainly out of the question as it would have filled about half the room. Fortunately there was a small courtyard with a table and chairs where we could sit and have a drink because the room was far too cramped. The walls are thin and you can hear your neighbours – especially if they party until 3 a.m.  It was very clean, though, and also with ondol heating system. On the plus side, it's located in a quiet pedestrian street of the Hanok village, which enables you to escape the crowds – total madness on weekends there!!
A day was enough to visit the village, the ancient palace/shrine, the church, the market and the surroundings. Jeonju's mots famous dish is bibimbap – meat cooked in a steel or stone pot, mixed with vegetables, eggs and rice. Apparently the best restaurant in town is Hankook-Jib so that's where we went and we weren't disappointed – plus the staff are very nice.
We wanted to take the Golden Train from Iksan to Seoul but like I said, we weren't able to get any tickets so we took the KTX from Jeonju to Seoul. Arriving at Yongsan Station in Seoul, you can take the subway and basically get anywhere in Seoul fairly easily. We stayed at the same place as at the beginning of our stay.
Our last day was spent in Seoul. Since the last two palaces we wanted to visit were closed on Mondays, we opted for Namsan Park and the N Seoul Tower to see a bit of the modern Seoul. We took the metro to Myeong-dong, and from there walked to the Namsan Cable Car, which took us to the top of Namsan Mountain. Very green and nice views over the city. We went to the observation deck of the N Seoul Tower as well. There are plenty of gift shops and restaurants (pricey !) up there.
In the evening, we took the limousine bus back to the airport. The bus timetables are displayed on the bus stop. Again, count about 70-80 minutes to get there.
What 3 destinations are top of your family travel bucket list?
If you had to pick one travel item that makes travelling with kids easier, what would it be? A baby carrier. We used the Littlelife Traveller S2 Child Carrier – strollers are too cubmersome. We were very happy with it and our son loved it, too!
What's your best piece of family travel advice that you can share with the Our Tribe Travels community? I think preparation is key. Research the destination, check what kind of transportation is available and if it will be feasible with kids in tow. I also book our accomodation in advance, something I didn't do before, but it's so much easier when you have a kid.