Zimbabwe, Zambia, Botswana and Namibia – member submission  from Eleanor Keymer
…or how to hit up Zimbabwe, Zambia, Botswana and Namibia (Zim, Zam, Bots and Nam for short) in a car (and plane), with a toddler, in just under two weeks.
The old lady squinted at me in the café and then leant over, having appraised my 18-month old daughter with a beady eye. "She's too young to have her hair dyed," she finally said.
We parted on amicable terms after I explained that my daughter's red hair hadn't been painted on that morning and still chuckle at the memory that people think a toddler would actually sit still long enough for you to highlight their locks.
This was one of many amusing encounters with the locals we had in Southern Africa. Almost all of them revolved around our daughter who was a constant source of fascination and a great conversational ice-breaker.
Listen, forget all the horror stories you've heard about this continent. Africa loves children and children love Africa. In fact, this is a place that could have been dreamt up from a child's imagination. The wild animals! The landscapes studded with twisted trees, emerald-coloured marshes, raging rivers and dark forests! The fact that there are very few rules and running about bare-foot is positively encouraged! It's the world's largest children's' playground and, with a little planning, you can recapture your own carefree childhood days alongside the younger members of your family.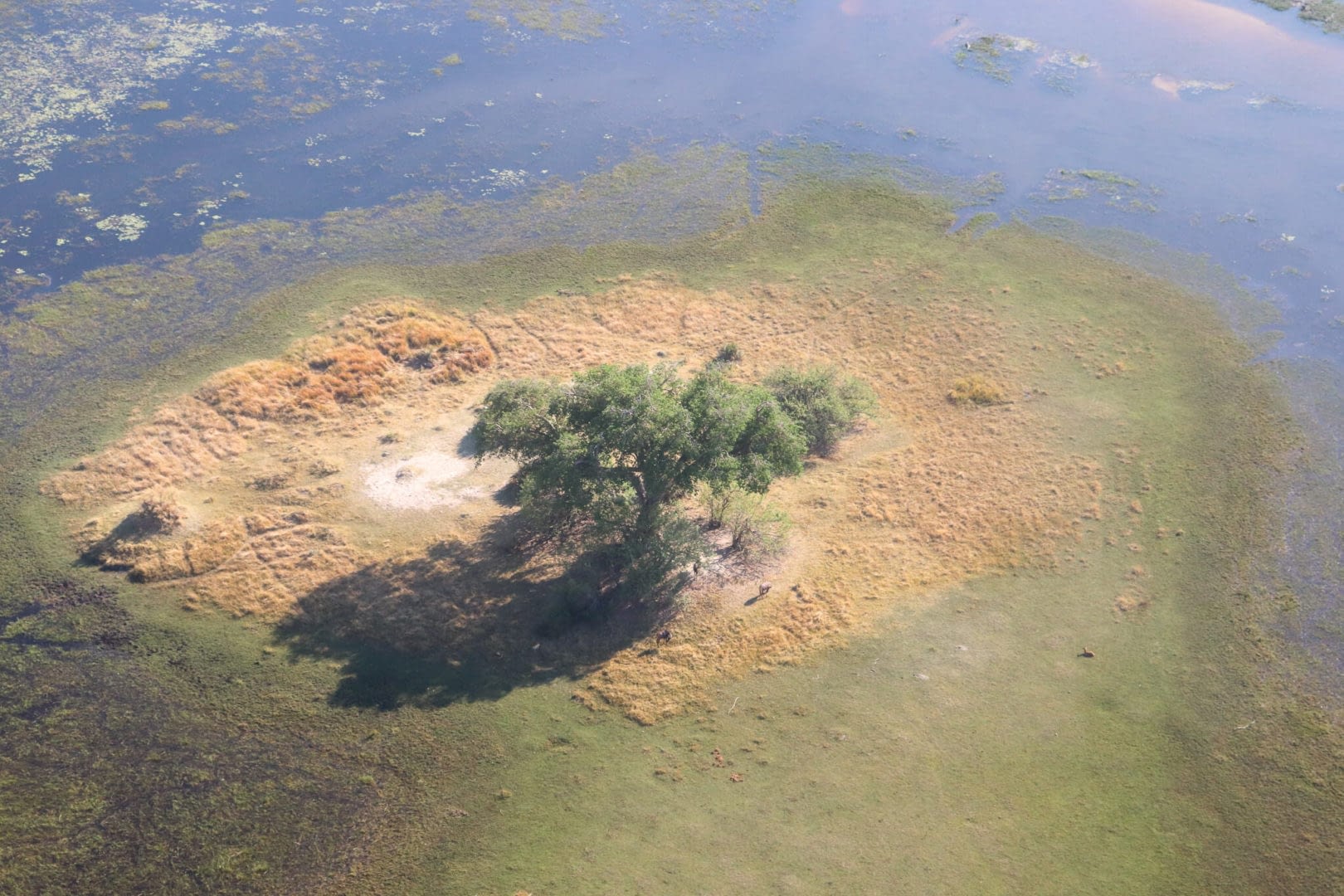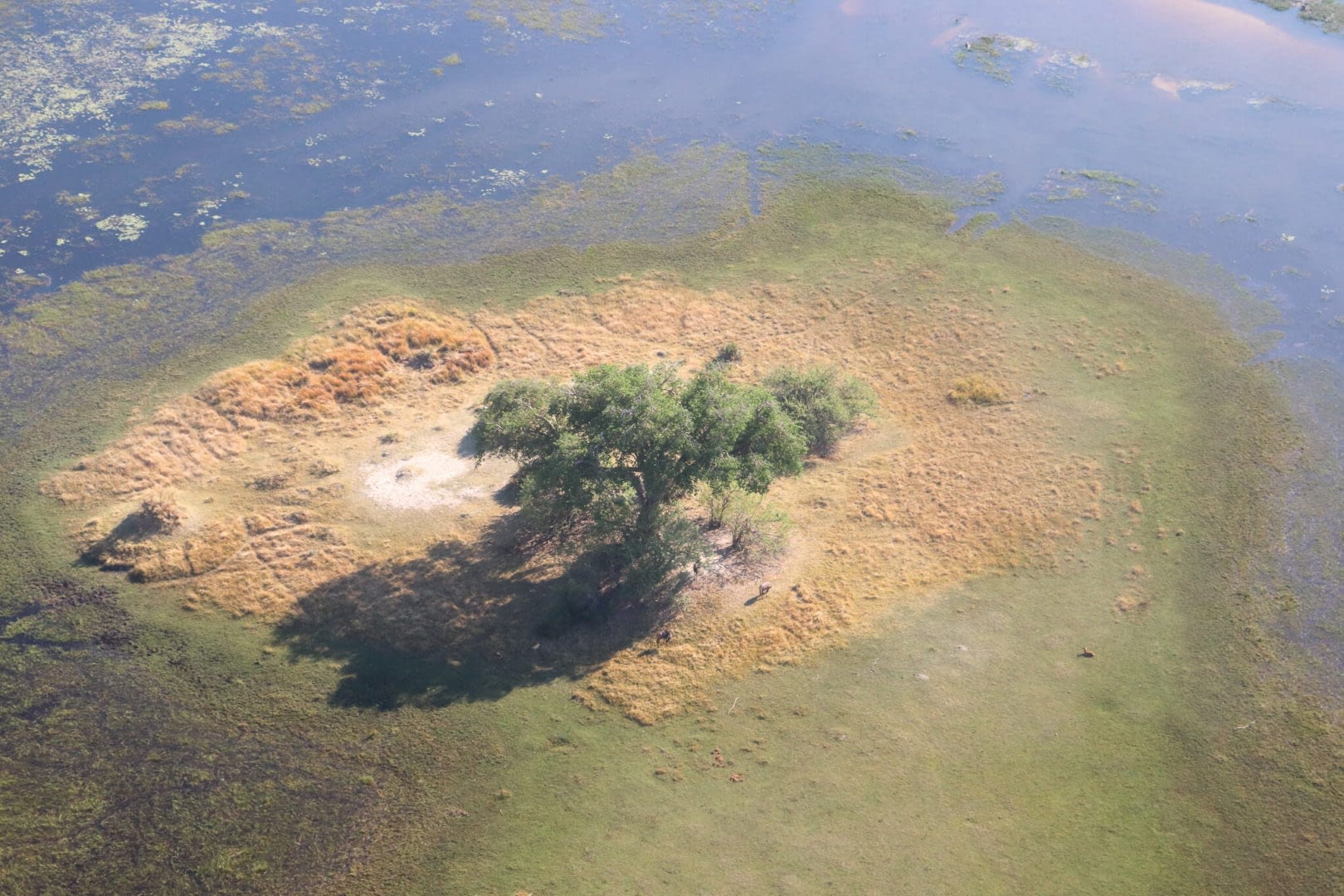 Let's start with the practical information
Weather:
Pick your timing carefully. High season is between May or June and lasts until October and is hugely popular with fellow tourists because it's the dry season with warm days that heat up the further through the year you get. A lack of water means that wild beasts start to congregate around the water holes providing excellent wildlife-spotting opportunities. The downside is that high season brings high prices and plenty of people vying to see the sights at the same time as you.
Shoulder season is November and April and is arguable the best time to go when there are less tourists around but still plenty of animals. Be aware that in April the floodwaters will have reached the upper Delta in Botswana so perfect for birdwatchers but less perfect for planning logistics.
Low season falls between December and March and is pretty much a no-no for easy travel. Roads and hiking trails can become impassable and the days are scorching.
Visas:
Check your country's governmental advisory travel page for the latest up-to-date information, but, for UK citizens, visitors to Botswana and Namibia don't require visas if their stay is under 90 days.
Things get more complicated for Zambia and Zimbabwe. British passport holders do require a visa for Zambia which can either be obtained in advance from the Zambian High Commission in London or else single and double entry visas are available on arrival via the airport or at land borders. Multi-entry visas are not available though. Make sure you have enough cash in USD to pay the fees.
Zimbabwe is much the same; you can get a visa in advance from the Zimbabwean Embassy in London or else on arrival. You can also apply for an online visa in advance and, again, make sure you have enough cash to pay for the visas when you arrive as they may not take debit/credit cards anywhere but the main international airports.
If you are planning on going between Zambia and Zimbabwe multiple times then a KAZA UNIVISA costs USD50 and means you only have to obtain one visa which lasts 30 days so long as you remain within Zambia and Zimbabwe. The visa also covers day trips into Botswana via the Kazungula border crossings. The visas can be bought in Zimbabwe at Victoria Falls Airport, the Victoria Falls Bridge Border (the border with Zambia), the Kazungula border with Botswana and Harare Airport. In Zambia the visa can be bought at Livingstone Airport, the Victoria Falls Bridge Border, the Kazungula land border and Lusaka Airport.
*Important note – ignore at your peril because it will torpedo your holiday before you even get to the departure lounge*
If you are travelling from, or are transiting through, South Africa with children under 18 years old then you will be required to show a full unabridged birth certificate for each child on arrival (although chances are airline staff will ask to see the certificate(s) before you are allowed to check in at your departure airport. You won't be allowed to board the aircraft without them). Take photocopies as well as the original(s).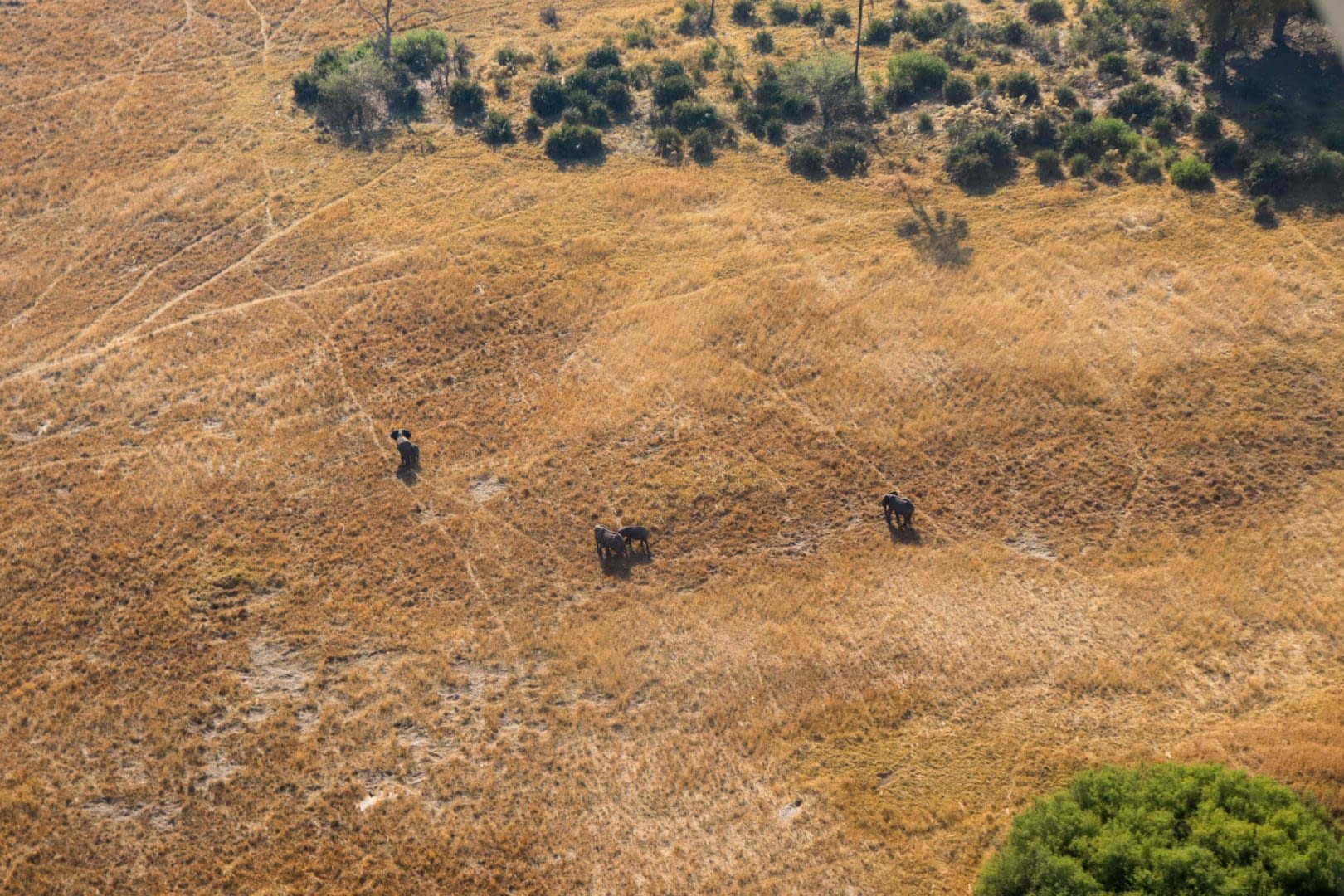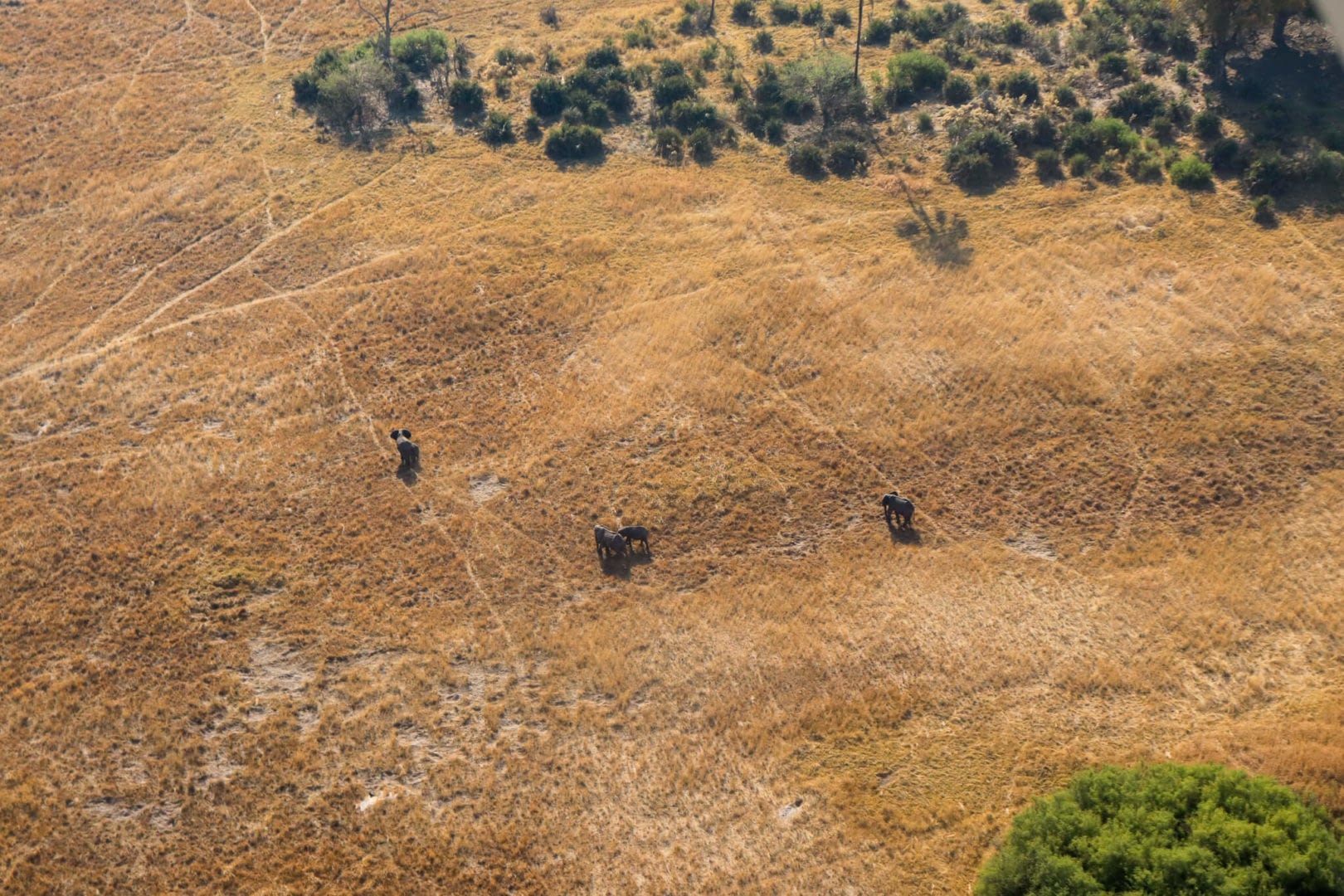 Currency:
Let me share a little-known fact with you; Africa is the most expensive continent on earth. "That can't be right!" I hear you say. "What about Western Europe? I've lived in London…now THAT's an expensive place." Maybe but I'm sorry to say that you will haemorrhage cash in this place. Everything costs an eye-watering amount, from cross-border flights, to tours, to hotels to food. I'm sure there are ways you can save pennies here and there but, in my experience, if you're travelling quickly through multiple destinations with kids then expect to re-mortgage your house on your return.
Now that's over with, bring plenty of US dollars with you as all the countries in this region deal in the currency. In Zimbabwe there are shortages of cash which means that you either pay in the aforementioned dollars or use cards where available (and not all places have card facilities outside the main cities).
In Zambia there are plenty of ATMs dispensing Kwachas at airports, hotels and in shopping centres and exchange offices. Major credit cards are also accepted by larger hotels, shops and tour operators.
Again, major towns and larger villages in Botswana have ATMs dispensing the local currency and take major credit cards.
The Namibian dollar – which is tied to the South African Rand – are dispensed at ATMs spread throughout the country in larger urban conurbations. The Rand is also accepted as legal tender.
Car Hire:
By far the easiest way to cover long distances with children in tow, car hire companies are available at airports and in the larger towns. If you can bring your own kids car seats from home then do it because hiring them will make your wallet weep. A case in point is my brother-in-law who spent about USD700 on car seats for his two kids for a two-week tour of South Africa.
If you have the option, always hire a 4×4 because you may be dealing with unmade roads with potholes the size of a small European country. Certain national parks like Chobe in Botswana make it mandatory to have a 4×4 before you can enter and for good reason. We got stuck in sand a few times and eventually had to be towed out by a friendly ranger…and that was with a pair of mighty big wheels and a HI/LO transmission gearbox.
A few other rules. Whenever you see a petrol station, fill up. You never know when you might come across another refuelling station in the land-of-epic-distances-between-destinations.
Also, always, always bring more food and water (especially water) with you in the car than you think you'll need. As in think of a number of water bottles and then triple it. Shops are far and few between, the heat can be extreme, air conditioning dries you out and it's a literal lifesaver if you do break down.
If you're going deep into the bush, or undertaking self-drive safaris, then also remember a shovel (to escape getting bogged down in those sand baths), extra fuel (often there aren't petrol stations within the national parks), spare tyres, a first aid kit, a torch and a tire air compressor. Let some air out of your tyres before you enter the park so you glide over, rather than sink into, the sand.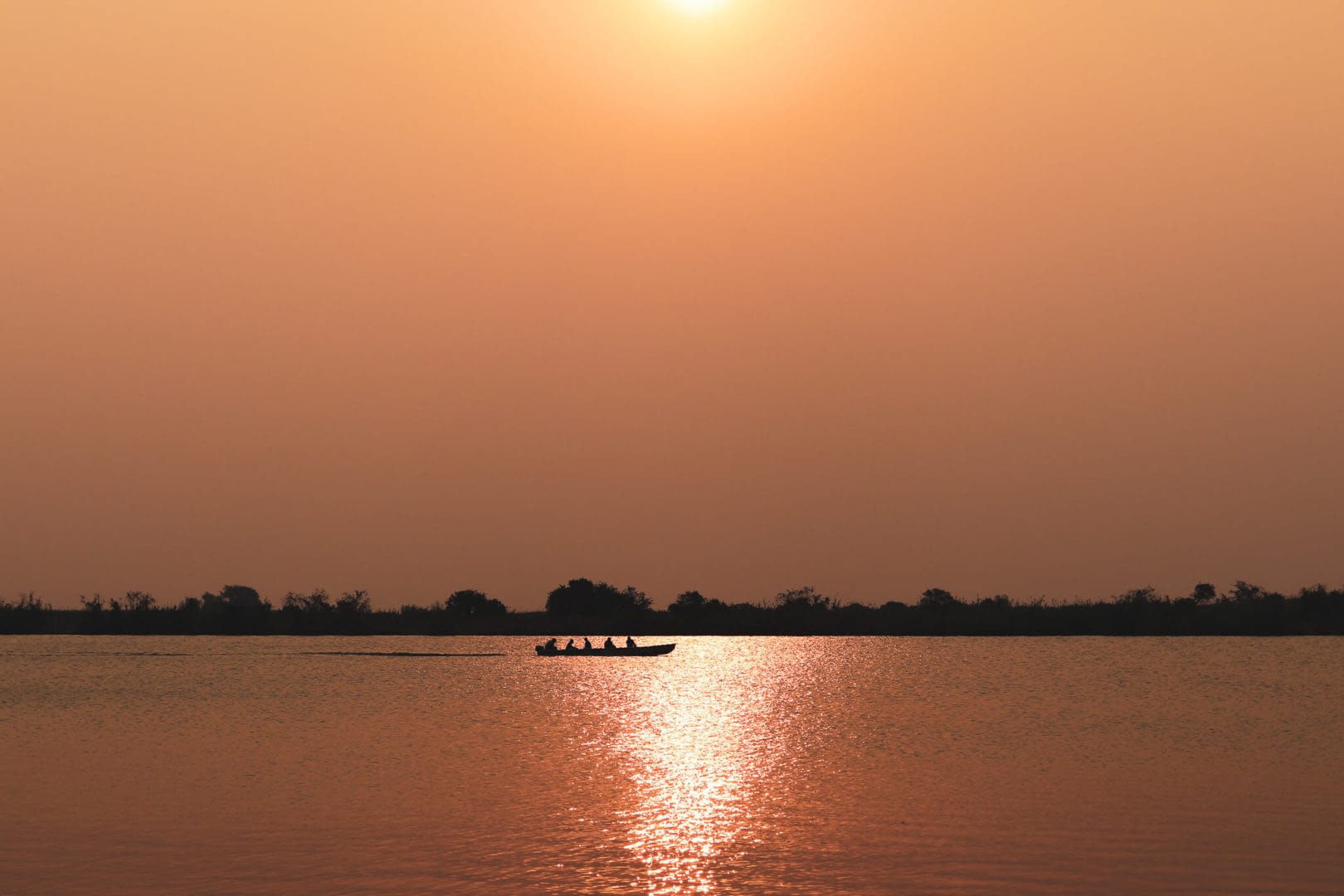 Supermarkets:
Pick n Pay, Shoprite and Spar are the three major supermarkets names in this part of the world and are extremely well stocked with all the essentials you need for yourself and the kids (including nappies, wipes and delicious fruit pouches for babies) as well as camping supplies.
Health:
I know this can be a deal breaker when it comes to Africa and understandably so. Make sure you check your country specific health advice at least eight weeks before your trip. Check your travel insurance is up-to-date and, obviously, covers where you're going. The larger towns and cities have good private clinics but you may need to pay upfront. Unfortunately, malaria is found within this region and if you have any bright ideas on how to feed these bitter pills to your children then let me know. We tried grinding them up and sprinkling them on yoghurt and other delicious foodstuffs, cutting them in half and wrapping them in pastry or bread. Some days we won. Some days the toddler won. Either way, always ensure you are covered in mossie repellent (widely available with 'Peaceful Sleep' a reliable South African brand), and are covered up in long trousers and sleeves at dawn and dusk and sleep under a mossie net at night.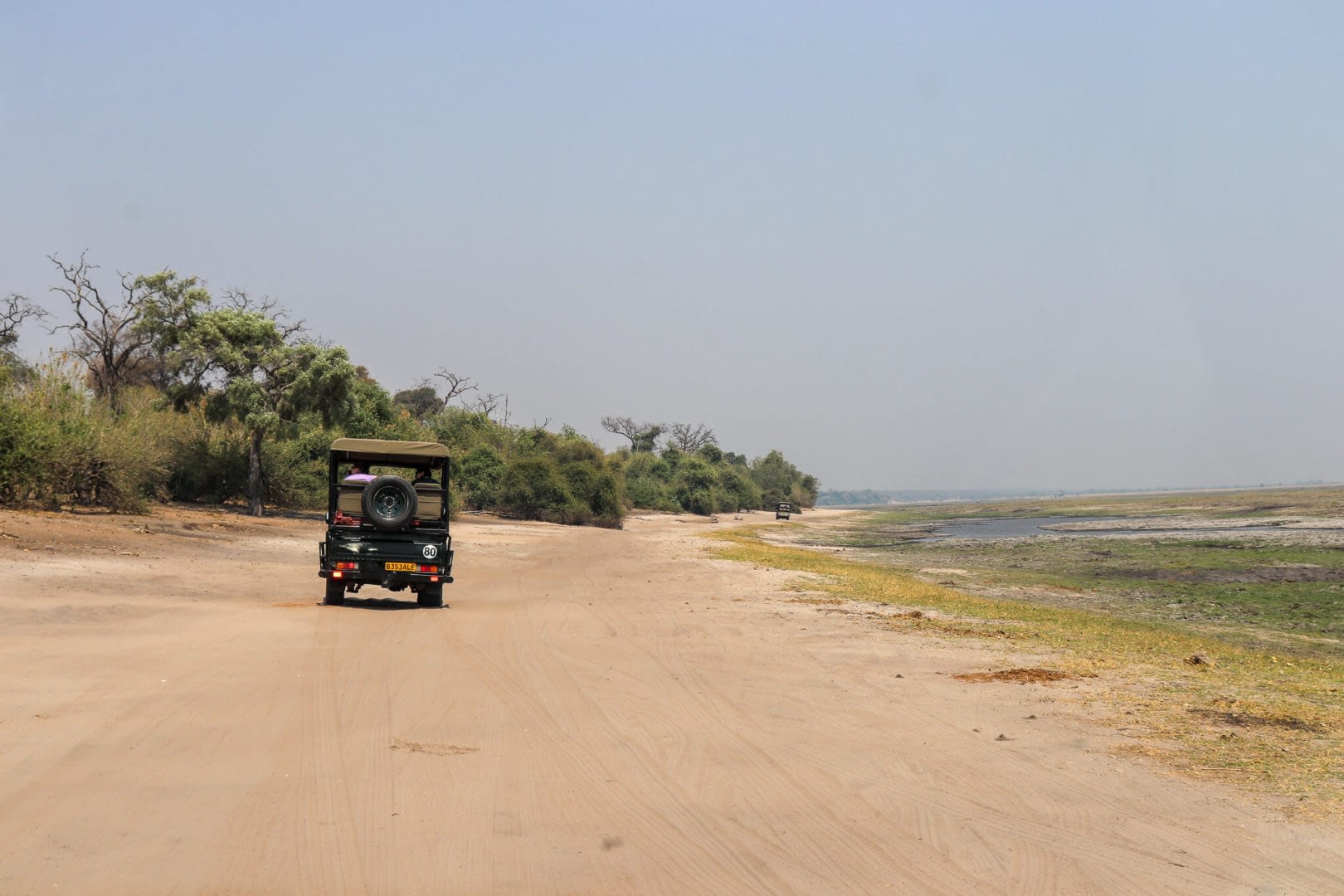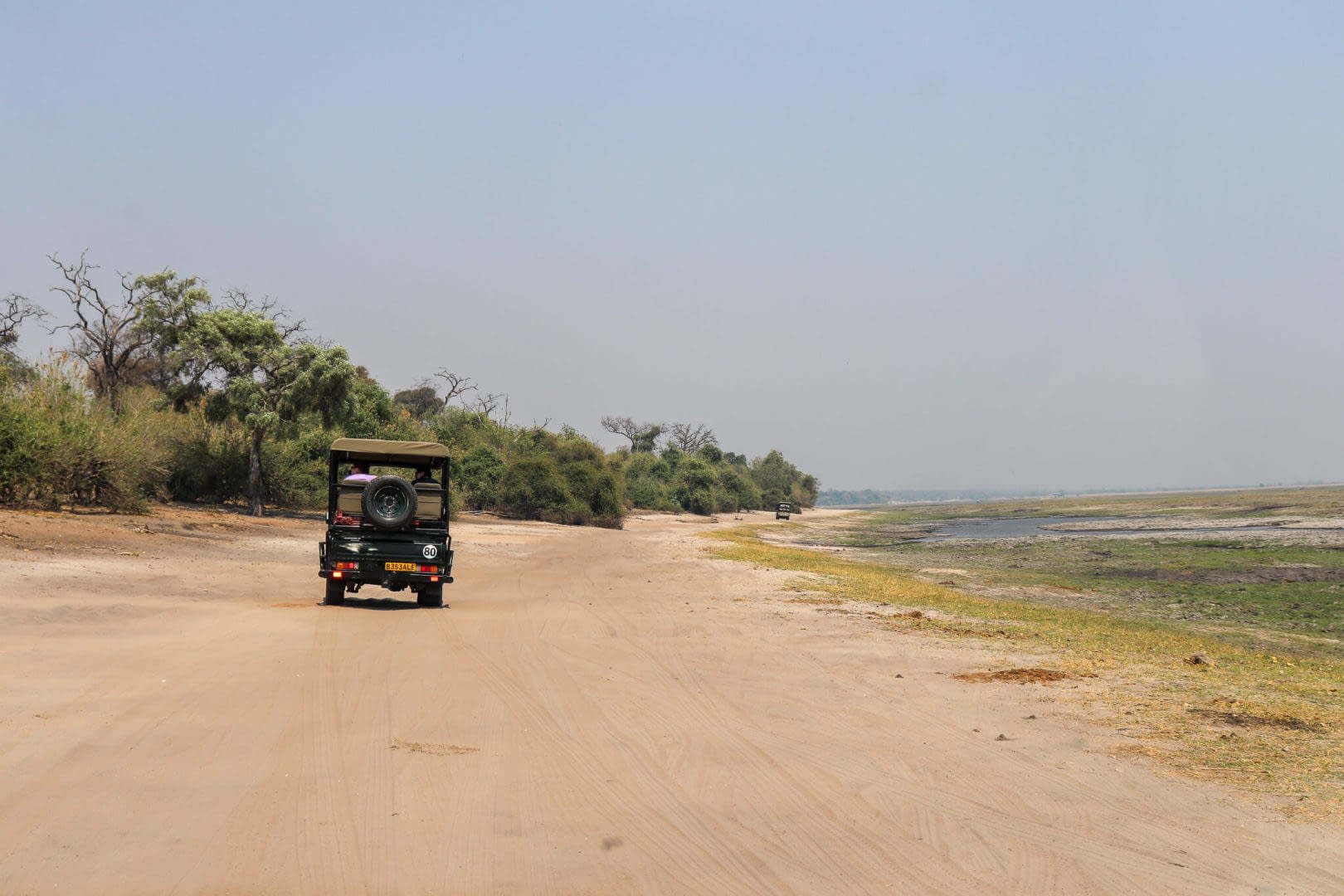 The Road Trip
Now the practicalities are out of the way, let's talk about the trip itself.
Day 1 – Flew into Victoria Falls Airport, Zimbabwe, via Johannesburg
The first tip I have to offer you comes courtesy of Victoria Falls Airport. You stumble off the aircraft exhausted and reeking of other people's bodily odours and see a long queue in front of you for customs. A queue that doesn't seem to have a definable start or end. A queue that might well cause your sanity to jump off a very high ledge. I suggest you find an airport worker who is manning the queue immediately and display your family to them. They will then march you through the crowd directly to an empty desk where you acquire visas and passport stamps. See? Young children do have their uses.
We grabbed a taxi and stayed at a hotel which had its own shuttle bus to the Zimbabwe side of the Victoria Falls. This is immensely useful and saves money on taxis and/or car hire at the start of your trip when you're knackered and trying to get your bearings. You pay a USD30 entrance fee and then spend the remainder of the day gasping at the plumes of rainbow-tinted spray rising up from the thunderous cascades. The paths along the waterfall are well maintained and good for buggies and the viewing spots may have one or two steps up to them but nothing too tricky. There is also a good café on site for refreshments. Keep an eye on toddlers as there is scant fencing to keep them away from the gorges.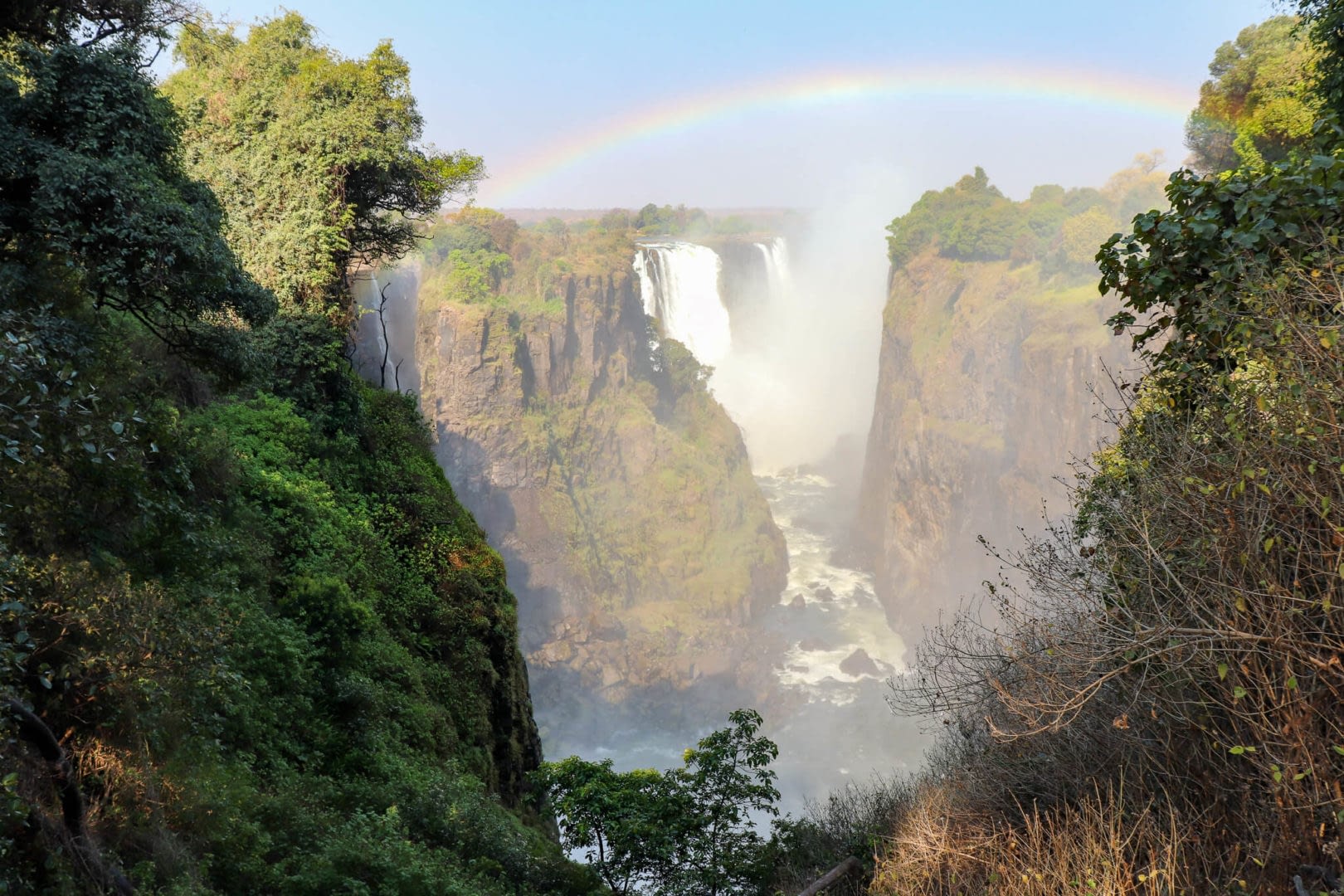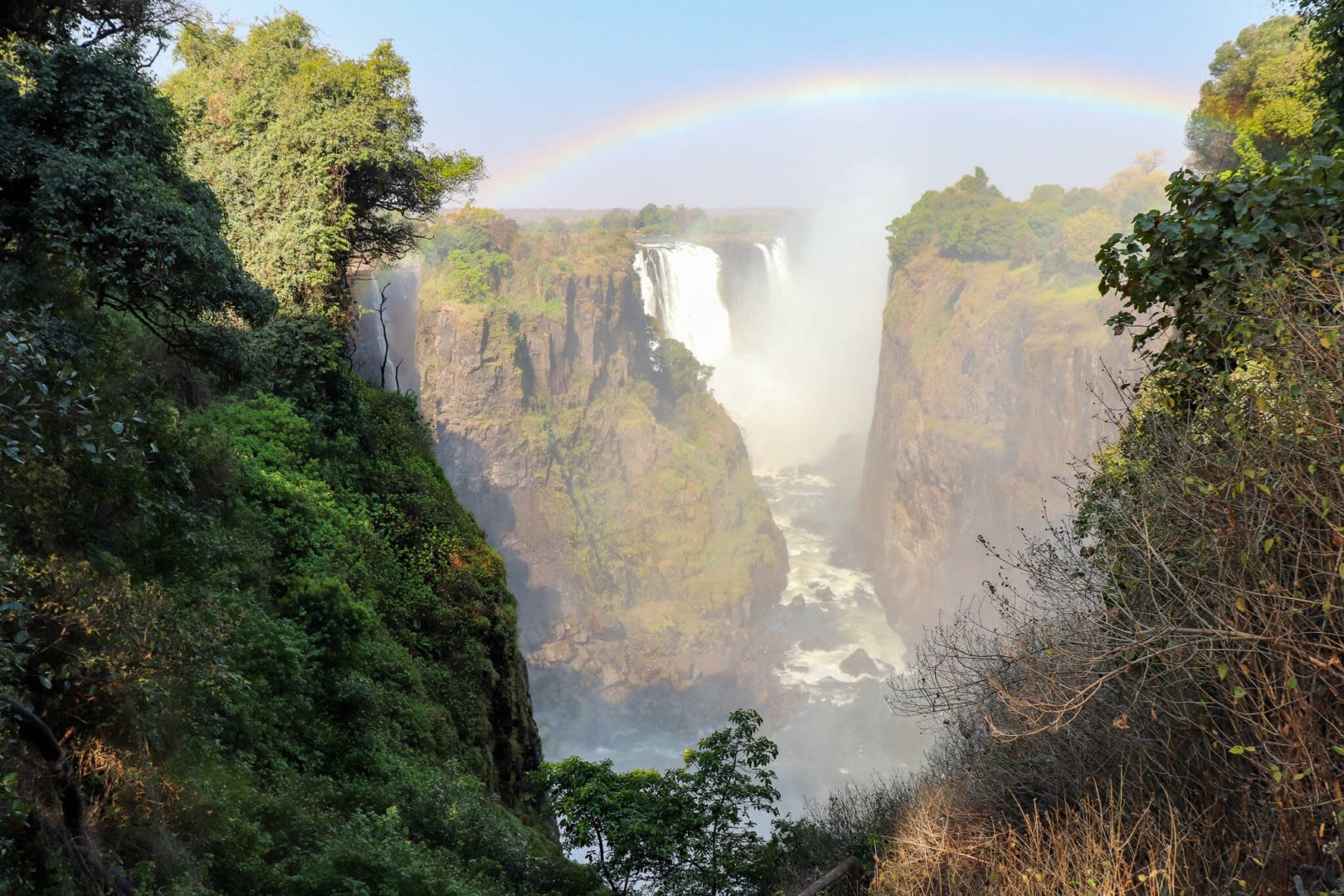 Day 2 and 3 – Victoria Falls from Zambia 
Driving time: 30 mins (20 kms) plus time spent crossing border
We crossed the border into Zambia (surely the most scenic border crossing in the world as you pass over the mighty falls by bridge whilst watching adrenaline junkies hurl themselves off the structure with only a bungee rope around their ankles for safety) and arrived in Livingstone. Buzzing with an energy that frontier towns like this tend to have with all sorts of people loading up their 4x4s for an Adventure (with a capital 'A'), there were plenty of supermarkets to grab supplies before we hired our car at Livingstone airport; a brand new white Ford Ranger that will forever have a place in my heart. Chuck all your luggage in the back and the double cab is big enough for a family of four. Fords are also reliable as are Toyotas. Also, never worry about parking in this part of the world. There is so much space everywhere – and the majority of hotels and guesthouses come with their own vast car parks – so squeezing your 4×4 into a space the size of a small sandwich, as you have to do in most parts of Europe, is not an issue.
We were staying at a cute little guesthouse which came with a tiny children's playground (complete with the ubiquitous tyre swings) and a restaurant serving hearty local and international dishes such as good old pasta for any pint-sized fussy eaters.
We set off for the falls again (another USD30 per adult for the day) but this time from the other side. Which is better? Hard to say. Zimbabwe's view is arguably more epic but seemed more touristy whether Zambia's was a quieter more laid-back experience where you could sit and watch the smaller cascades trickling down the shining rock walls as butterflies drenched themselves in the spray.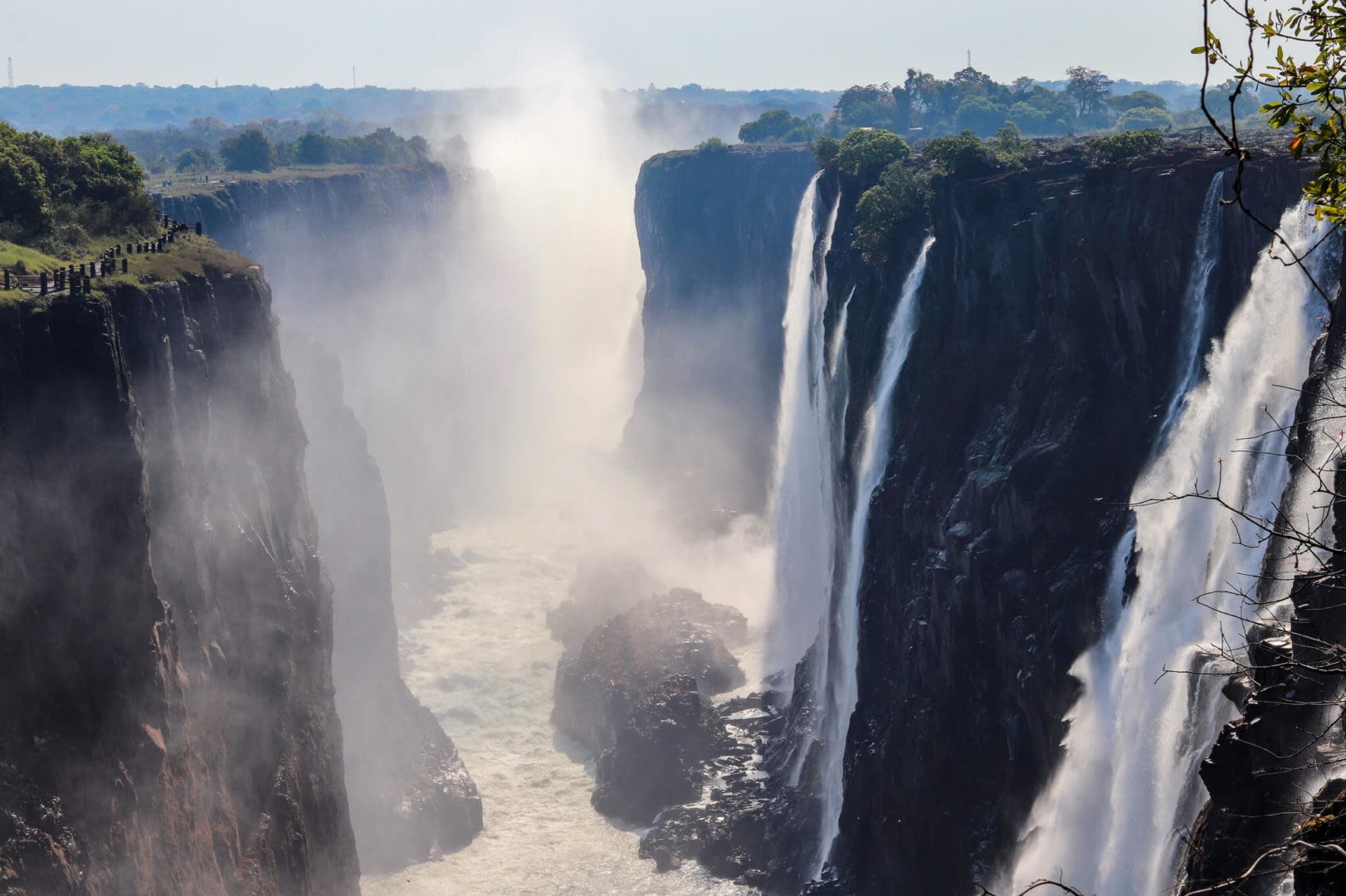 Day 4 – Livingstone (Zambia) to Kasane (Botswana)
Driving time: 1.5 hours (76 kms) plus time spent crossing the border
Ok, so I suspect this is the type of border crossing that springs to mind when someone says "country-hopping in Africa with children? You ARE brave". It's hot. It's dusty. It's crowded. It's chaotic and involves driving your vehicle onto what looks like a piece of silver foil which is then floated across the Zambezi River. Feeling daunted? It's at this point that I would advise hiring one of the chaps who will approach your car asking if you need a middleman to smooth the crossing (agree a price in advance). They will get you to the front of both traffic and admin queues, sort out your paperwork and wave you across to the other side. A godsend when the kids start screaming…
After the border, roads are well-paved and fast so we arrived in the crossroads town of Kasane in good time. The is an excellent place in which to base yourself if you want to visit four countries in a short amount of time; aside from obviously ticking off Botswana and being the gateway town to Chobe National Park, you can do day trips to Victoria Falls in both Zambia and Zimbabwe and you can also cross into the Caprivi strip in Namibia.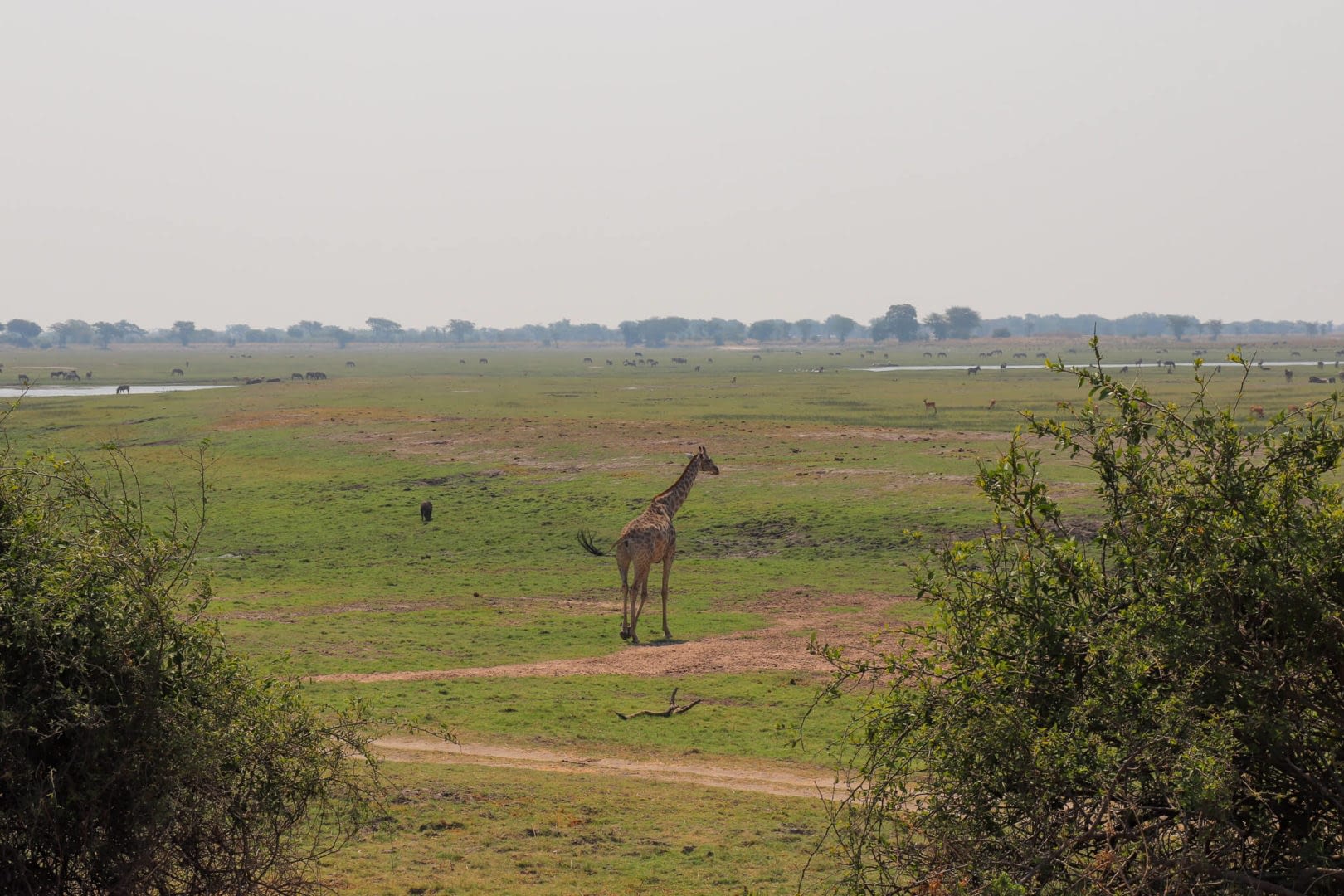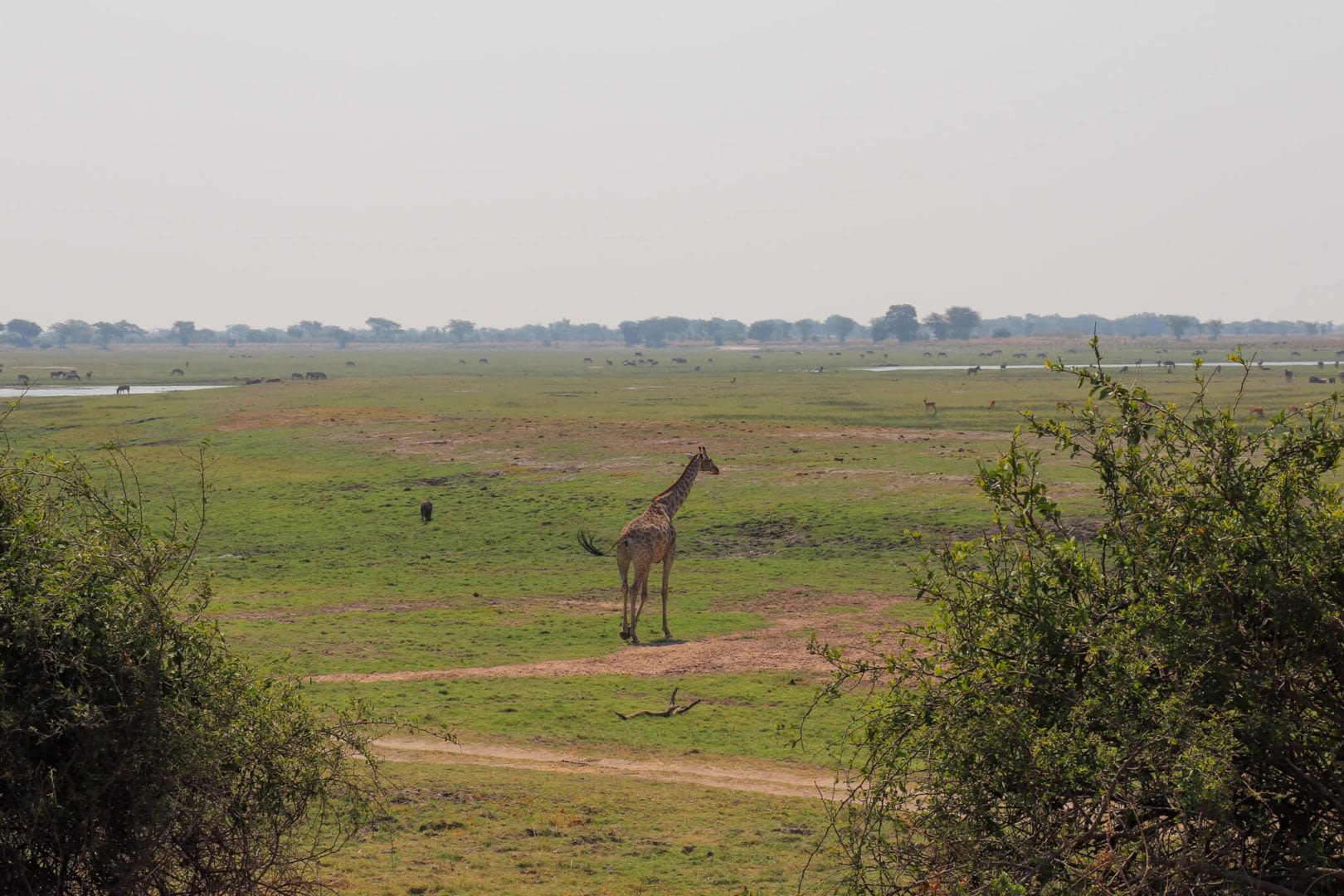 Days 5 and 6 – Kasane and Chobe National Park
Driving time: Really depends on how long you want to stay in Chobe for. There are two-hour drives, day-long excursions or you can stay for days if you opt to sleep in the park at one of the lodges. We planned for a two/three-hour drive and it ended up taking us er…8 hours after we stopped numerous times for wildlife and then got stuck in the sand). Day 2 we just dipped in and out!
Chobe National Park is one of Southern Africa's premier wildlife destinations boasting enormous herds of elephants (there are more elephants here than anywhere else on the planet), the rare oribi antelope, monkeys, big cats, giraffes and an extraordinary array of bird species. The landscapes are varied and spectacular and at one point we were confronted with a cinematic view of zebras and giraffes flagging three enormous pachyderms whilst being framed by a rainbow. It's enough to make you sob with happiness.
Pay the entrance fee at whichever gate you choose to enter (the park's opening hours depend on the time of year you visit but are generally 6am – 6.30pm) and be prepared for tough driving conditions and rewarding wildlife opportunities. I've talked about the importance of being well-equipped but also be wary driving around elephants. They can get aggressive and/or skittish if you get too close (especially if there are young calves about) so give them a very wide berth and always give way when you see them crossing the road. I can guarantee that you and your car will not win a fight against them.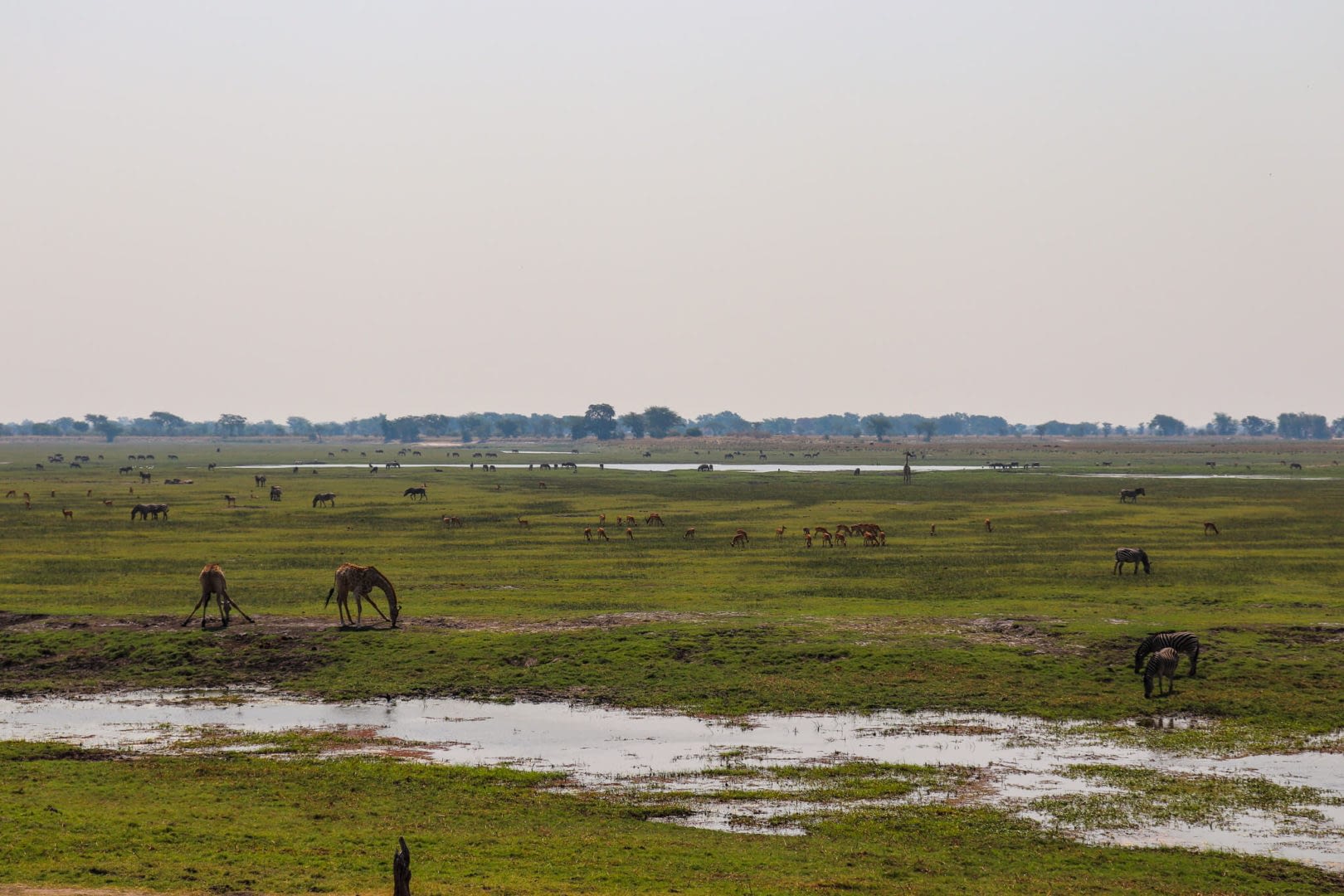 Day 7 and  8 – Kasane (Botswana) – Katima Mulilo (Namibia) – Kasane
Driving time: 2 hours (130 kms) plus time spent crossing the border
Firstly, a disclaimer: I am the first to admit that just spending one night in Namibia at a border town called Katima Mulilo is not doing the country any sort of justice at all. Alas, time restrictions meant this was all we could eek out with our tight itinerary but I am desperate to return to this fascinating nation.
The Ngoma border crossing is super slick and had relatively few people crossing the same time as us. Again, the roads were excellent and took us past neatly-kept villages splashed with the deep-pink of Bougainvillea flowers.
We were staying on the banks of the Zambezi River and could hear the deep chuckling of the hippos into the night from our room. The town of Katima Mulilo has very few attractions but an abundance of well-stocked supermarkets for when you return to Botswana the next day…
Day 9 – Kasane (Botswana) to Maun (Botswana)
Flight time: 45 mins
It was time to ditch four wheels and head for the skies because, although it is possible to drive from Kasane to Maun, it takes at least two days, the roads are pocked with holes and the wildlife is guaranteed to hold you up (and be downright dangerous at night).
Air Botswana appeared reliable, child-friendly and problem-free so comes recommended.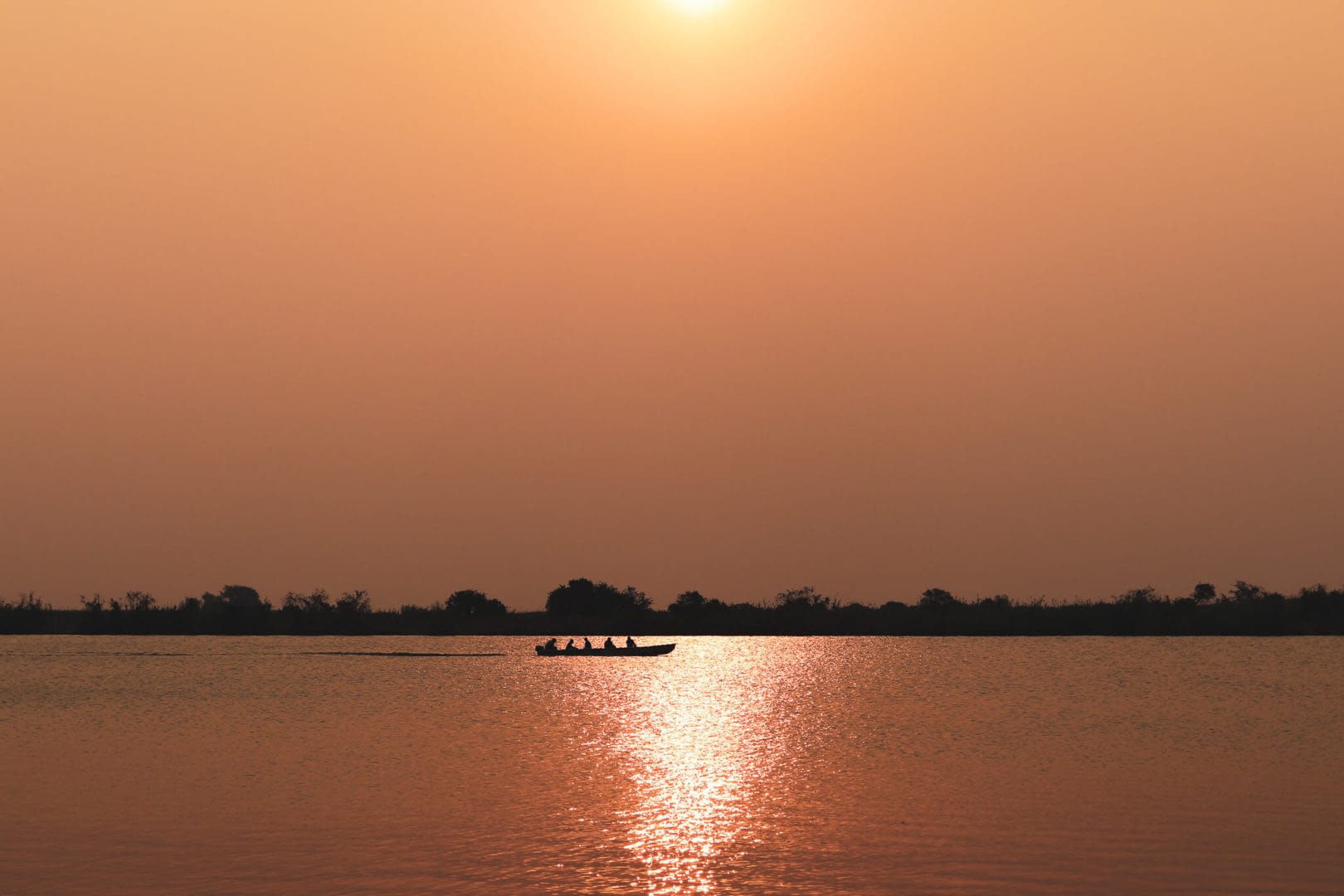 Day 10 and 11 – Maun
Just as Kasane is the gateway to Chobe, Maun is the gateway to the famous Okavango Delta with its shifting vistas, ebbing and flowing waters and astonishing bird and mammal life.
It should be noted that the super luxurious (and expensive) lodges are built in the middle of the Delta and can only be reached by private chartered aircraft from Maun airport. If you're staying in one of these places, I am deeply envious and beg you to take me with you next time. For the rest of us on a budget, you can stay at one of many hotels in Maun and then either book a tour in a mokoro (dugout canoe) where you drift through the waters along the edge of the park (sounds obvious but a no-go with babies/toddlers so one for the families with older kids) or else book an hour-long sightseeing flight which, again, is not cheap (USD110 per person but if your child/children can sit on your lap then you will only charged USD12 in taxed for them).
Travelling with a toddler meant we plumped for the sightseeing flight with Mack Air and it was worth every cent. Toddler fell asleep within five minutes thanks to the engine noise (yes!) and the next 55 mins passed in a haze of incredible animal sightings. There were the elephants swishing through the long grasses, the giraffes looking like strange doubled-necked aliens as the shadows played tricks on the eye and, possibly the most exciting of all, newly-introduced rhinos to the Delta squaring up to a herd of elephants; a scenario which is usually unheard of as rhinos are terrified of their leathery-skinned nemesis'. Who would win this epic battle? The rhinos blinked. The elephants advanced. The rhinos wouldn't make the same mistake again.
Maun, meanwhile, is a pleasant town to spend a few days with lots of child-friendly cafes such as the Wax Apple Café (great coffee and cake) and Hilary's (an organic café filled with wholesome homemade grub).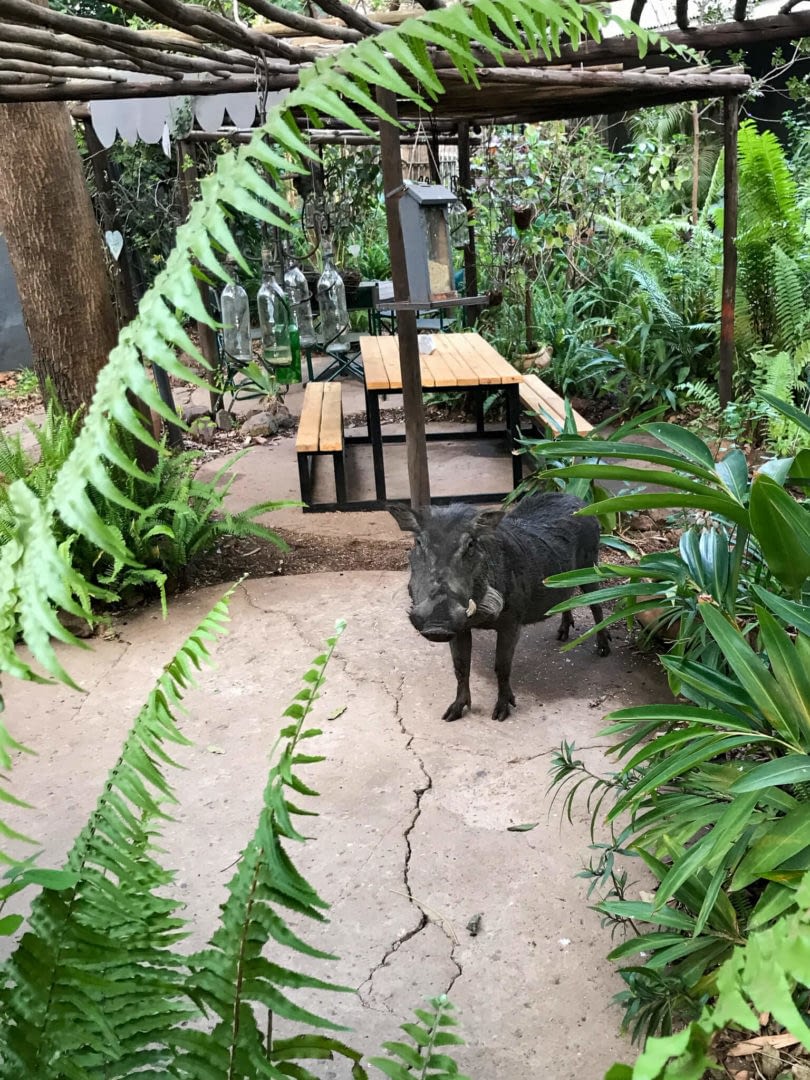 Day 12 – Maun to Gaborone
Flight time: 1 hour 15 minutes
And so our last day full day dawned (and what a dawn! On that note, the burnt orange sunsets this area is so famous for don't disappoint either) as we took the short Air Botswana flight to the country's capital. I have to say that this is one of the most extraordinary African capitals I have ever visited. Rising up from seemingly endless plains, there are all the gleaming skyscrapers, trendy bars and cafes and achingly new shopping centres you would expect from an oil-rich Gulf State. The streets are clean and mostly empty and, although there are few attractions, it is the perfect place to recuperate after a lightening trip and start the end-of-holiday grieving process. Yes, it was exhausting and required a fair amount of planning and money but was it worth it? Absolutely. Africa's magic has well and truly woven itself into our lives and we will back time and time again.