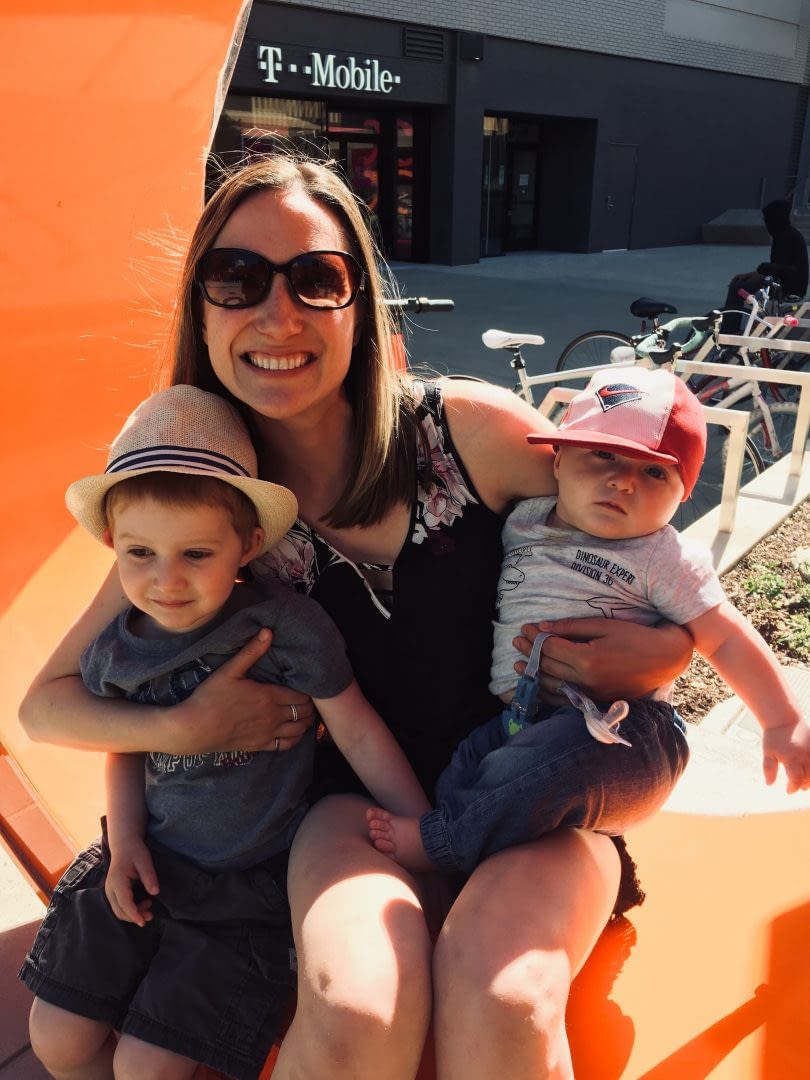 Emilie
Emilie was a born wanderer. From an early age, she wanted to be on the move and always looked for any excuse to pack a bag and explore. Though she is a mechanical engineer with an MBA, she is just crazy enough to leave behind her stable 9-5 to live the life she always dreamed of: traveling full time with her three boys (one of which is the husband!) You can follow their adventure at lovelifeabroad.com / Instagram / Facebook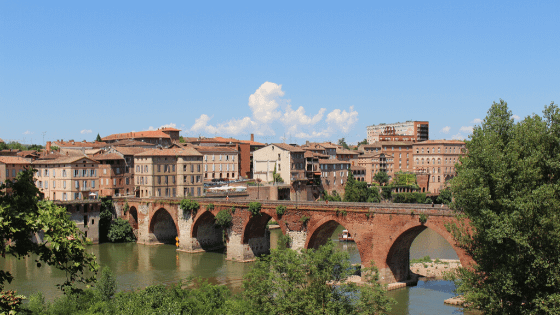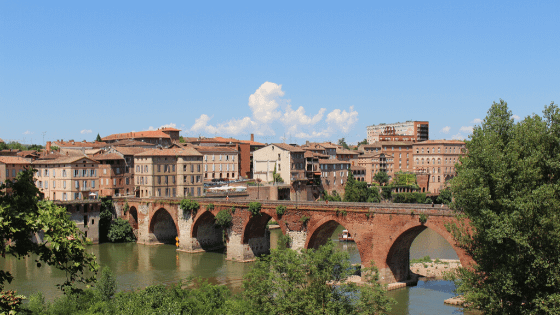 "Montpellier has a nice tram network, so we were able to explore the city easily without using the car too much. But a car is really needed to get the most of La Provence.".
In July 2018, I left with my 18-month old son, my mother, and my 5 month pregnant belly on a three week road trip through Southern France. We flew from Quebec City (Canada) to Paris to see some old friends and made our way down to Bordeaux to start the trip.
Before diving into our itinerary, let's start with a few helpful logistics.
General Information
Renting a car or Public Transportation
For this particular trip, we rented a car to give us more flexibility and allow us to explore small villages. Also, we had a lot of luggage and I was pregnant.
That said, it's totally possible to make this trip by train or bus.
There are a lot of toll highways in France, but they mostly take credit cards as well as cash. Some roads can get expensive, though.
Another important tip? Don't underestimate the distances.
When planning our itinerary, we calculated the time it would take to get to point A to B as if we would always be driving on the highway at 100 km/h, which was completely wrong. For example, the 300 km between Basque Country to Toulouse, or the 370 km from Toulouse to Montpellier took us more than 6 hours.
We also decided not to use the car when we were in a city. We parked the car and used public transportation in Bordeaux, Toulouse, and Montpellier. We didn't want to lose time finding a parking spot, figure out how to pay for a parking meter, or get stuck in traffic.
Accommodation
When traveling with young children, I always privilege housing with a kitchen and separate bedrooms to help with the routine. So we mostly booked our accommodation through Airbnb.
Plus, we tried to stay at one central location for at least 3-4 nights so we wouldn't always be packing and unpacking our bags or waiting on check in.
Schedule
I am pretty flexible with my kids' routine when we travel, but my 18-month old really needed his afternoon nap during that trip, so he and I would often go back to our Airbnb after lunch to lay down for a couple hours.
We would then do a small activity or visit the city before dinner. So you will see that the days are not necessarily packed hour-to-hour with visits and activities. But it also means that there is SO much more to see than what we did on this 3-week trip!
Stop 1: Bordeaux Region
There are so many options on where to stay in Bordeaux and the surrounding areas. We opted for an Airbnb in Cenon, a suburb of Bordeaux, easily reachable by the tram.
Bordeaux is a lovely city.
Fun fact: It's the sister city of Quebec, my hometown.
For me, Bordeaux has the perfect size: not too crowded, but big enough to be vibrante. And public transportation is easy with the tram network, or the buses and trains covering the region.
Day 1 and Day 4: Exploring Bordeaux Old Town:
The Old Town can be seen in one day. But it is nice to go back a couple of times to really explore everything.
Cities are hard to visit with young kids, because the little ones (mine at least) don't really enjoy looking at old buildings and don't care much about historical facts.
But Bordeaux has cool stuff to offer to young kids, such as the Miroir d'eau at Place de la Bourse. It's THE place to go with toddlers. We spent two afternoons over there. My son was just playing in the water in his diaper and having so much fun running and catching the water jets.
We just couldn't leave and He LOVED it!
And we all enjoyed it as well, as the Aquitaine Region can get hot in the summer. There are also different markets around the town, including the Saint-Michel market, where you can find good fruits and some little treats for the kids.
Here is the link to the Bordeaux tourist office for additional things to do.
"My son was just playing in the water in his diaper and having so much fun running and catching the water jets. We just couldn't leave"
We had a car so getting to St-Émilion and wandering around the wine valley was easy, but I explored it years ago with my husband by train and bike. It was pretty easy, too. The advantage of having a car (or bikes) is that you can visit vineyards that are a little further, so they're usually less crowded.
If you plan on visiting some Châteaux, make sure to stop upon arrival at the Saint-Emilion tourist office to get the list of the daily open vineyards. It's important to call them in advance since some places only accept visitors by appointment.
Wine tasting may not be the first activity we think of when traveling with kids, but it's Bordeaux region, and most vineyards have nice, lush green areas for kids to run around and to taste some grapes.
But, there is much more to St-Émilion than wine. The Great Vineyards Train is a great way to visit some of the closest Chateaux and discover the backcountry. And it's a winning activity for kids.
Who doesn't like a train ride around grapevines?
Plus, just walking around the city and stopping in little shops is nice. Make sure to try a typical Saint-Émilion macaron at La Fabrique Saint-Émilion and maybe climb the Tour du Roy for the view.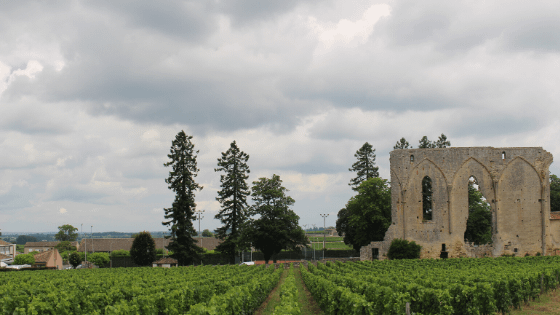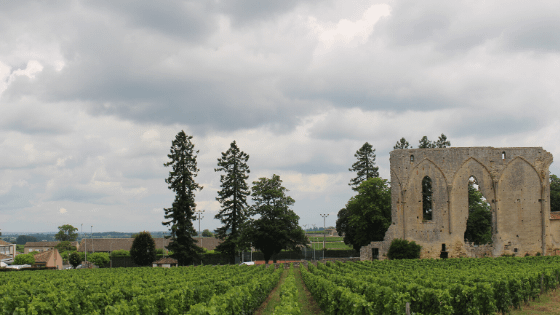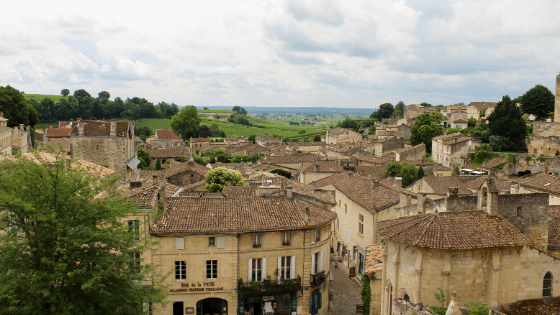 "Make sure to try a typical Saint-Émilion macaron at La Fabrique Saint-Émilion and maybe climb the Tour du Roy for the view."
Day 3: Enjoying the water at Bassin d'Arcachon
The Bassin d'Arcachon is the perfect place to relax and enjoy the summer around Bordeaux.
Our first activity of the day was to climb the Dune du Pilat. It's possible at any time, but it's less crowded in the morning and the sand is at a more pleasant temperature (it gets super hot in the summer and can hurt your feet).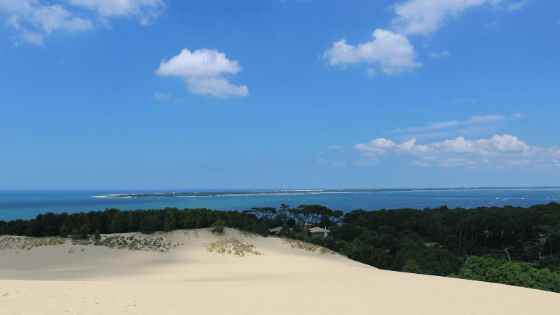 On-site, there is a free parking lot and places to picnic. There is also a restaurant, a souvenir shop and free restrooms.
With young children it may be a little tricky to get to the summit of the dune, but it is really worth it. The view is stunning and there is a beach on the other side. To be honest, I didn't make it that time with my son on the other side of the Dune, but my mother did.
We waited for her at the bottom while making sand castles.
After our visit at the Dune, we headed back to one of the beaches of the Bassin d'Arcachon to relax, played in the water and enjoyed some seafood and ice cream.
Stop 2: Basque Country
The Basque country is in the western Pyrenees at the border between France and Spain. The region is the home of the Basque people with their own language (Euskara), culture and traditions.
Even if we were still technically in France, visiting the Basque region is like visiting a new country.
The Basque Country has many cities and towns to visit so it can be hard to decide where to stay. We decided to find a central location as a home base where we could have easy access to places we wanted to visit without having to check-in and out every day.
Day 5: Driving to the Basque Country
The drive from Bordeaux to the Basque Country is almost 200 km. We took our time to get there and decided to stop at the Parc national du Marais d'Orx (Orx Marsh) for a picnic. We also took a walk through the beautiful natural surroundings to observe some wildlife.
Once we got to our B&B in a small town called Saint-Martin-de-Seignanx, we took our time to settle in and found a small restaurant in town. The host, Isabelle, was really nice and we had the chance to see the horses.
Day 6: Exploring the city of Biarritz
Biarritz has great things to do with kids: a nice walk around the city and the waterfront, some swimming in the Atlantic Ocean, and a stop at the Biarritz Aquarium. It was more than enough to keep us busy for a long day.
During the summer, there are free shuttles running around the major cities of the Basque country including Biarritz, Bayonne, Bidart and Anglet. So we parked our car in a parking lot and jumped on one of the shuttles to Biaritz. The downtown area gets super crowded in the summer, and we really didn't want to spend hours finding a parking place.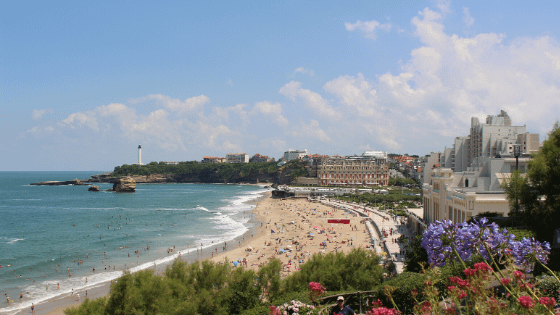 Day 7: Spending a day in Spain in San Sebastian
Less than 60 kilometers from Biarritz is Donostia (San Sebastian), the Spanish Biarritz of the Basque Country. There is so much to do around there that one day isn't enough to see it all, but it gives a good overview and a taste of the town. It leaves most tourists with the sense of "I am coming back here for sure one day".
The first thing we did when we got to San Sebastian was to wander around the tiny cobble streets in the Old Town. There is something different in San Sebastian Old Town, something I didn't find anywhere else in European cities. We did some shopping and stopped for Pintxos, the typical Northern Spain snacks in one of the many restaurants and bars offering these typical
Then we walked on the La Concha Promenade and made some sand castles on La Concha beach. With only one day, we didn't get to do the Mount Urgull hike.
Day 8: Experiencing the Petit Train de La Rhune
We booked our tickets in advance to do the train ride of La Rhune, located in the town of Sare. The summit of La Rhune culminates at 905 meters, so the weather at the foot can be super different from the summit. We sadly didn't see anything at the top because it was so cloudy and foggy. The experience was still fun and my son really enjoyed the train ride.
On our way back to our Airbnb, we stopped in the village of Espelette for an hour or so. There was nothing special to do there except admire the facade of the houses decorated with piments d'Espelette and try some Espelette pepper chocolate.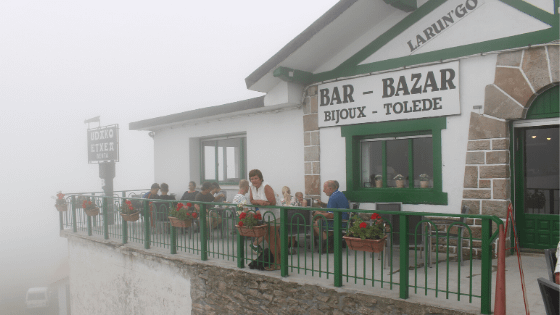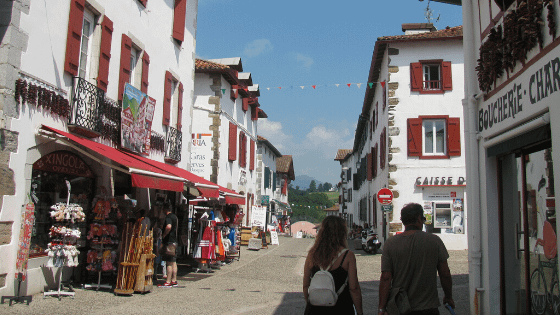 "There are so many typical towns in the Basque Country that are worth seeing. It was hard to choose which one to visit."
Fun fact: Back in the day, the red peppers would be hung at the end of the summer to dry out on the facades of their houses.
Day 9: Visiting typical Basque towns and castles
There are so many typical towns in the Basque Country that are worth seeing. It was hard to choose which one to visit. We finally opted for: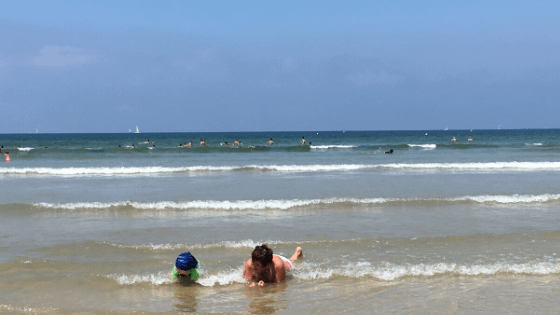 Stop 3: Toulouse Region
It's easy to get around in Toulouse with public transportation. The metro network is good enough to get you everywhere you want. We parked our car and only used it on day 13 to go to Albi. Otherwise we used public transportation or we walked.
Day 10: Driving to Toulouse
300 km separates Saint-Martin-de-Seignanx from Toulouse, so it took us a good part of the day. Again, it's impossible to do more than 1h30-2h in the car with my 18-month old. We stopped in Pau a bit. We didn't take the time to explore much of the city because we got stuck in traffic and road construction, but our initial plan was to visit the castle where Henri IV was born.
Day 11: Spending the day in the Cité de Carcassonne
Carcassonne is a medieval citadel an hour away from Toulouse. For this activity, we decided to leave the car in Toulouse and take the train, departing from Matabiau train station. We also chose to book a guided tour offered by the tourist office. The tour, in French or in English, lasts 1h15 and costs 9,5euros per adult.But it's free for children under 10 years old. It's really nice to walk in the cité and admire the architecture.
Day 12: Exploring Toulouse
To be honest, we didn't do much while in Toulouse. We walked around the city, mainly by the Place du Capitole and the surrounding streets for some shopping. We then visited the Jardin japonais and had a picnic in the park.  There is much more to do in Toulouse, but we needed some rest and a good afternoon nap.
Day 13: Discovering the town of Albi
This is one of my favourite discoveries of the trip. The town of Albi is so pretty with all it's Languedoc-style red brick architecture. It's the perfect day trip from Toulouse because it's less than one hour drive from the city. The Sainte-Cecile cathedral, the largest brick cathedral in the world, is breathtaking. Once again, we let ourselves get lost in the city, walked in tiny streets and relaxed at a cafe while the baby was napping in the stroller.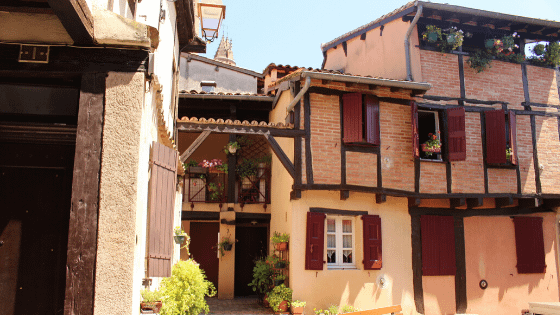 Stop 4: Montpellier and La Provence
Montpellier has a nice tram network, so we were able to explore the city easily without using the car too much. But a car is really needed to get the most of La Provence.
Day 14 : Driving to Montpellier
It took us almost the entire day to do the 250 kilometers to reach Montpellier. We stopped in Sète, a Mediterranean coastal city, to enjoy the sun and warm weather in the sea.
Day 15: Montpellier
Our day in Montpellier started with a tour (well… 2 tours) on the Carousel at Place de la Comédie. We then walked on the Charles de Gaulle esplanade and had an Haagen Daz ice cream (not super French, and a little early in the day, but it's vacation). We also explored the Jardin des plantes and saw the impressive Saint-Clément aqueduct.
We sadly didn't have time to go to the Montpellier Zoological Park.
Day 16 and 17 : Tiny roadtrip in La Provence
Initially, we were not supposed to go further than Montpellier. We planned to explore the city and its surrounding areas for 4 nights, but we weren't satisfied with our accommodation and were a little tired of cities.
So, we packed our bags (once more) and left for a two-day trip exploring La Provence. We didn't have time to see it all, but I was pretty satisfied with our little itinerary that included:
The city of Nîme is often referred as the French Rome, with its famous Arena of Nîme and Maison Carrée, an ancient Roman temple.  It's worth stopping by for those 2 sights alone. We found the perfect spot in a terasse for a coffee with the view of the arena. It was magical.
Pont du Gard: (photo in centre)
The Pont du Gard is a well preserved Romain aqueduct bridge built in the first century AD. We took our time there to enjoy the site. We packed lunch and walked on the bridge, but we also enjoyed the river under the bridge.  We were able to go in the water and have an amazing view of the bridge.
Avignon: (photo on right)
So this is totally stereotypical, but we had so much fun singing "Sur le pont d'Avignon, l'on y danse, l'on y danse" facing the actual Pont d'Avignon. We spent a long time around the Palais des Papes, had some crêpes and looked at the Pont d'Avignon.
Day 18: Sadly time to fly back home