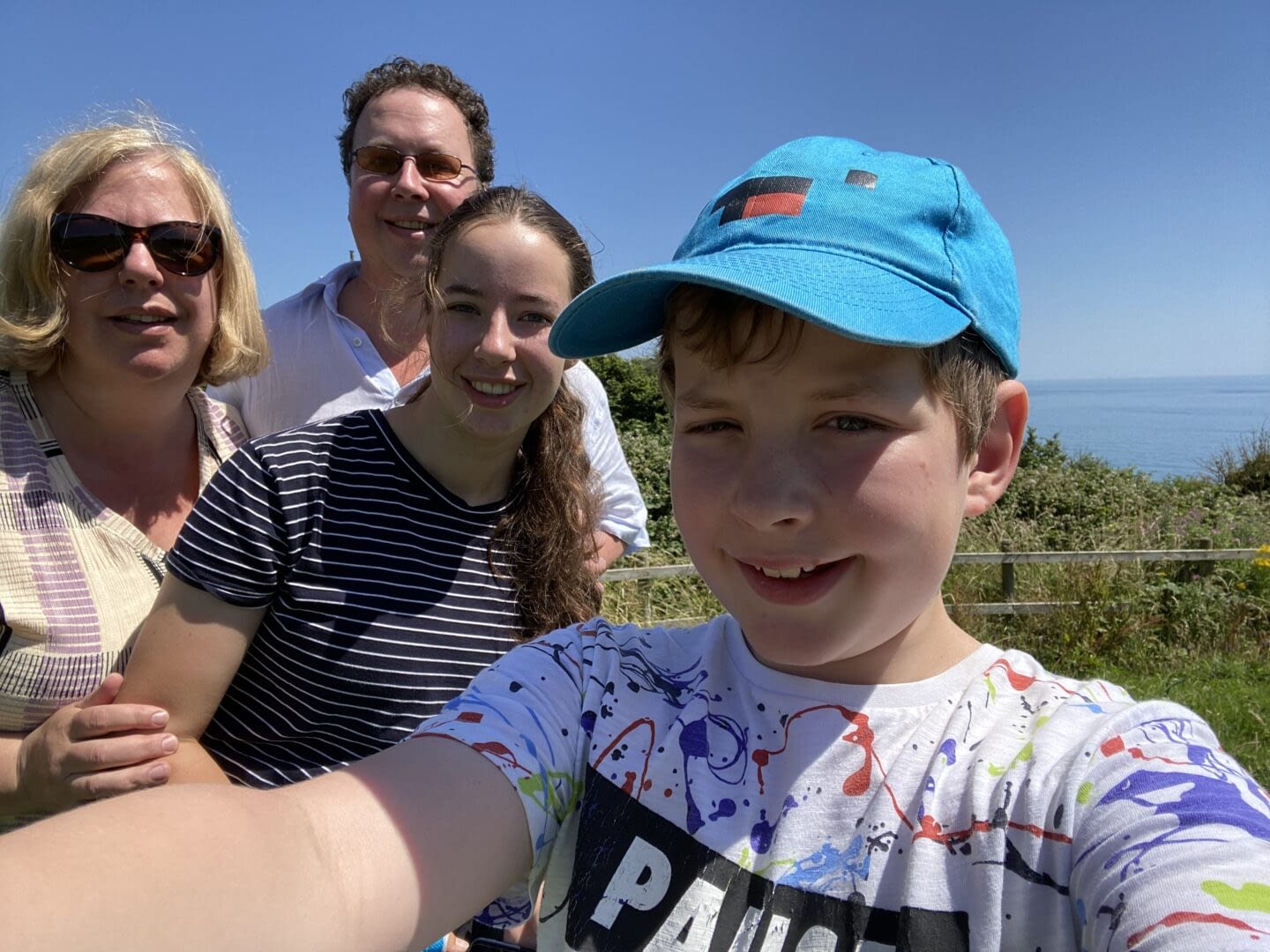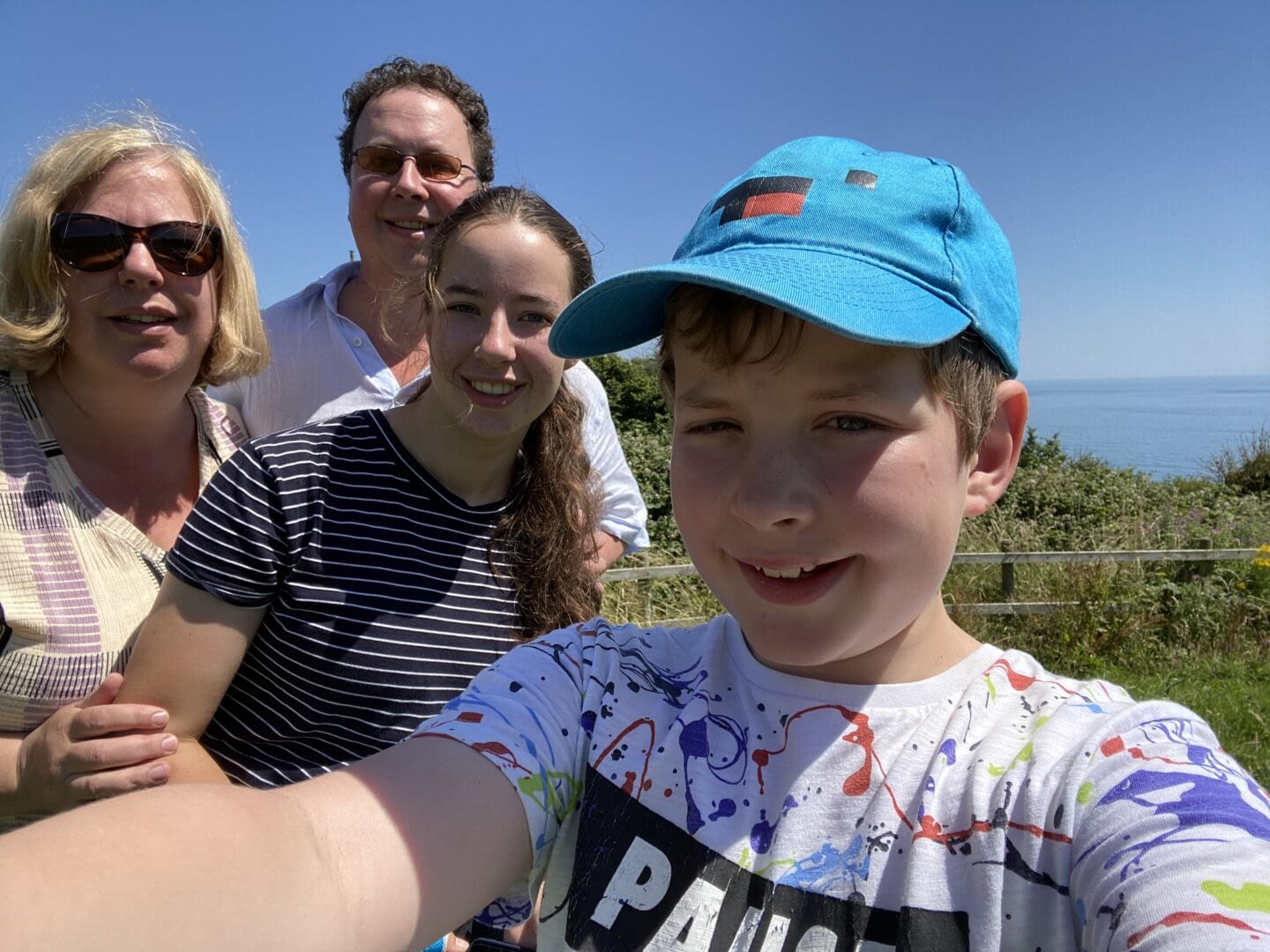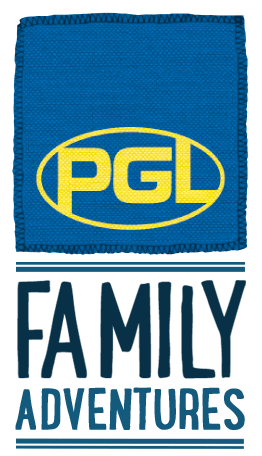 Click the logo above to browse the ten PGL Family Adventures locations. Choose from an action-packed adventure day, weekend, 4-day or full week break.
Our competition winners!

Our PGL Family Adventure competition's winning family share their feedback from their first (and not the last) PGL holiday experience. Find out why they loved the bonding experience of getting outside as a family.
About our family 
I am Kath, and my husband is Charles; we have 2 adorable children, Caitlin, 14 and my son George 11, we live in Reading.   We normally rent a self-catering cottage for a week, ideally near a beach, so Cornwall, Devon, or Dorset visit Family up North.  We love to be near the sea and find it very relaxing, and the children love swimming and the water whilst also making Family day trips locally.  
PGL Family Adventures
We had heard of PGL before from school residentials but did not realize they also did Family adventures.  So we were so excited when we found out we had won the competition and immediately looked up more details on the website.  Our chosen PGL venue was Osmington Bay which was a fabulous choice.   My daughter, in particular, is very sporty so loves active weekends, and we would normally be trekking to sports training or competitions.  
"Our first impression on arrival was what a beautiful location it was overlooking the sea."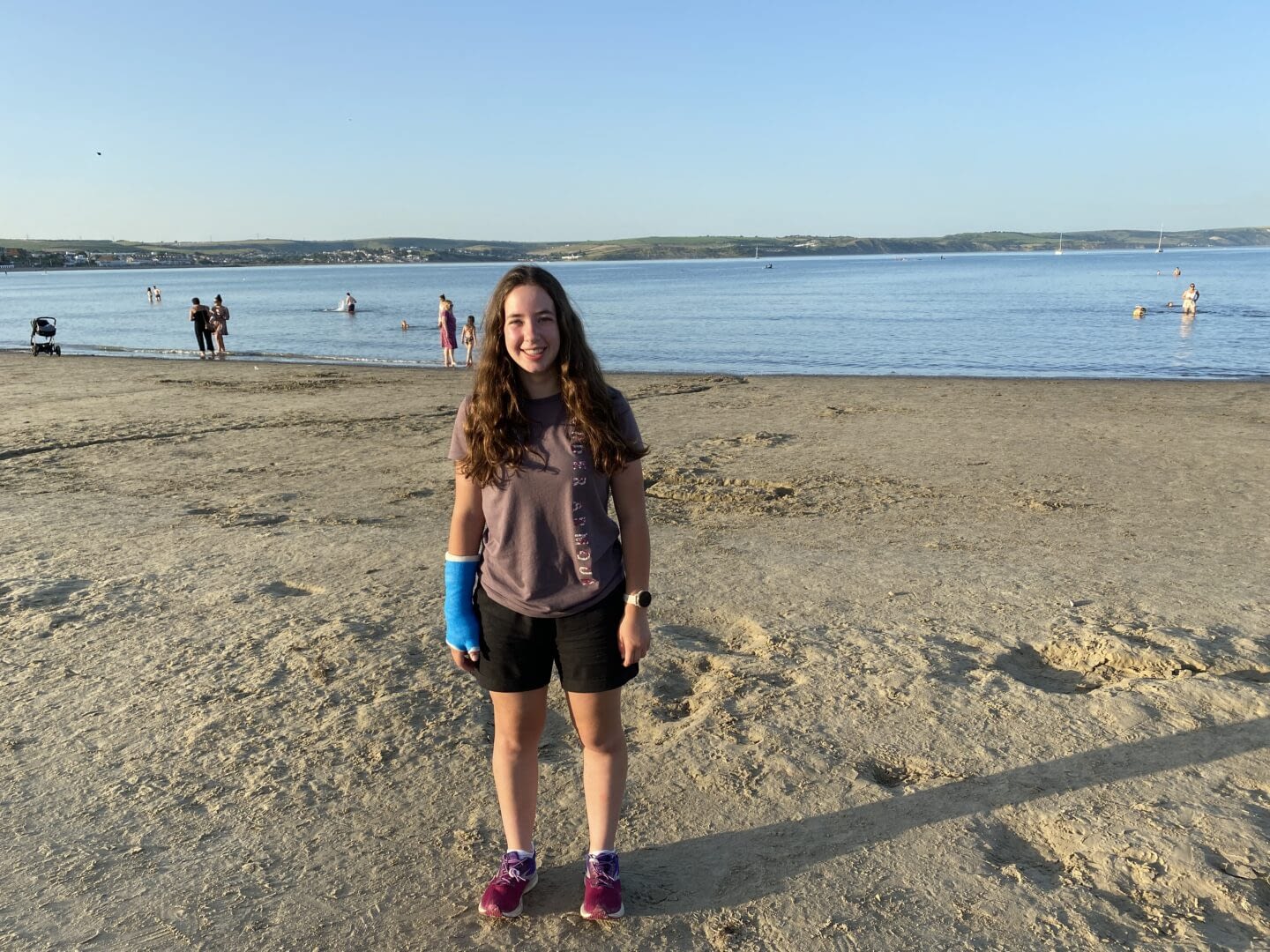 Location and Facilities
Our first impression on arrival was what a beautiful location it was overlooking the sea, and the weather on arrival was amazing.  The children couldn't wait to get out of the car and start getting involved.  The PGL site was well laid out, with lots of activities available.  It was also safe to allow the children to roam; entry was keypad controlled, so they had some freedom.  
" The rooms were clean, ensuite with a shower and had the important tea and coffee making facilities."
The accommodation was great whilst basic it was lovely to have a direct door to the outside, we as parents had a room to ourselves all bedding was supplied (except towels), and the children were directly next door to us in bunk beds and very happy with their room (they had a double bunk bed each) The rooms were clean, ensuite with a shower and had the important tea and coffee making facilities, beds were comfy.  We were assigned our own staff member for the weekend, who also was the link for a small number of other Families.  Staff regularly popped around to check whether you needed anything and to make sure you knew where the next activity was etc. The accommodation was quiet and peaceful at night.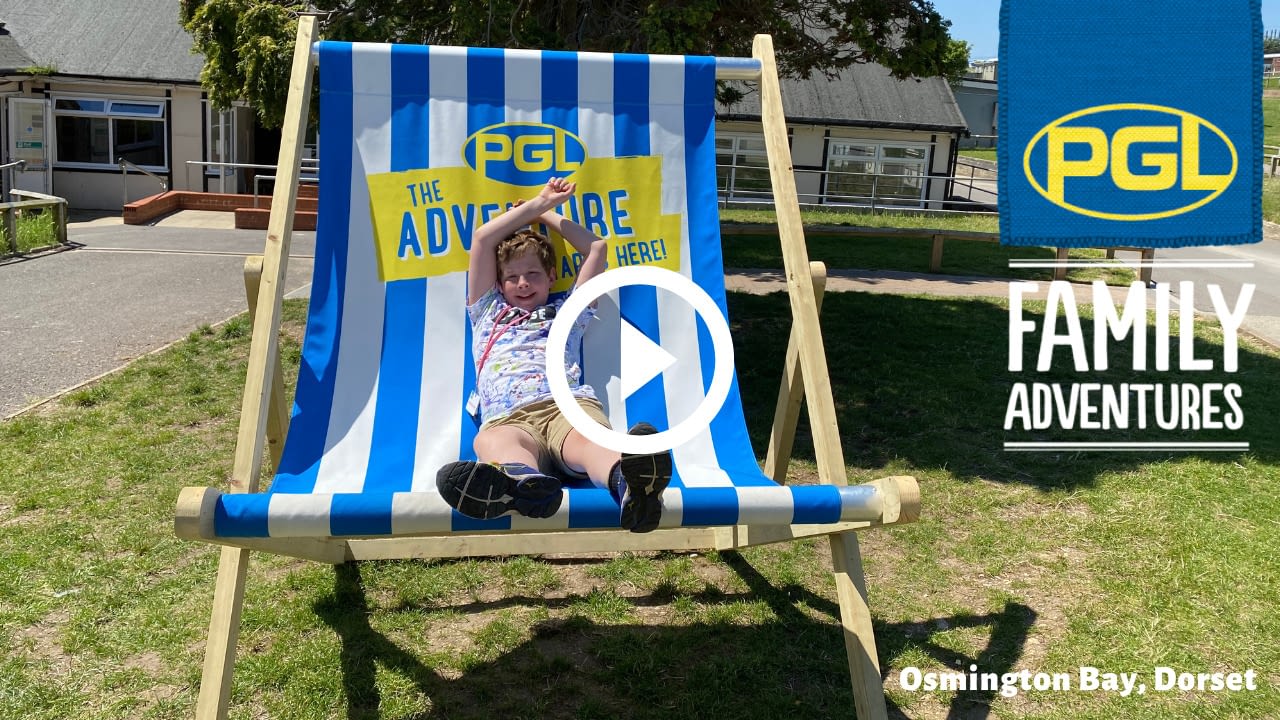 " There was an excellent range of activities including kayaking at the wonderful sports centre from the 2012 Olympics."
Activities
We were grouped with a small number of other families who followed the same timetable of activities.  Other Families were friendly, and we were all encouraging of each other's children and helping out with kits etc.  
My daughter had an arm cast, so sadly couldn't participate in everything.  There was an excellent range of activities we got involved in, from kayaking at the wonderful sports centre from the 2012 Olympics.  This also had parking, a cafe and toilet facilities and was well set up.  The instructor was great, ensuring everyone was kitted out and all safety equipment fitted well.  As my daughter couldn't participate, we took the chance to visit Chesil beach across the road, which was fabulous.  We also did orienteering, zip-lines; this was the children's favourite activity,  rifles and giant swing. Again Instructors were great, always ensuring the safety equipment was fitted correctly.  We also squeezed in a trip to the lovely beach with private access from the PGL site with a secure (keycode locked) gate down a steep set of steps.  It was surprisingly quiet given the beautiful weather.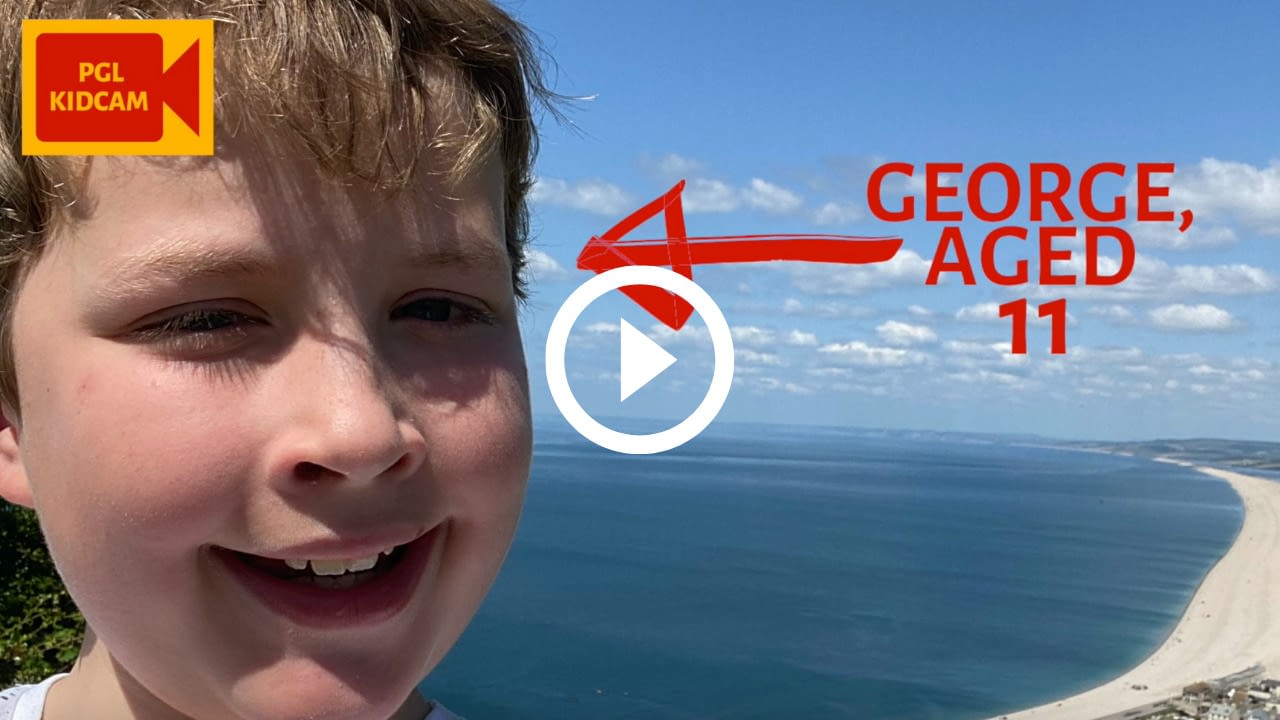 All the PGL instructors were very, very welcoming and engaging.  They were superb at getting the more nervous children to have a go or give things a try and succeeded each time!!
Our PGL Family Adventure Highlights
The trip's highlights were having some Family time and organised fun activities to keep the children entertained.  Also for me as Mum having meals cooked and a lovely choice and range of food.  The dining area was Covid safe with hand gel and one way systems in place.  They also catered well for my son with gluten intolerance which was great.  I would highly recommend PGL for anyone wanting a family fun activity-based weekend.  We created lots of fun and happy memories and would love to book another one soon.  
Thank you so much for the fabulous weekend.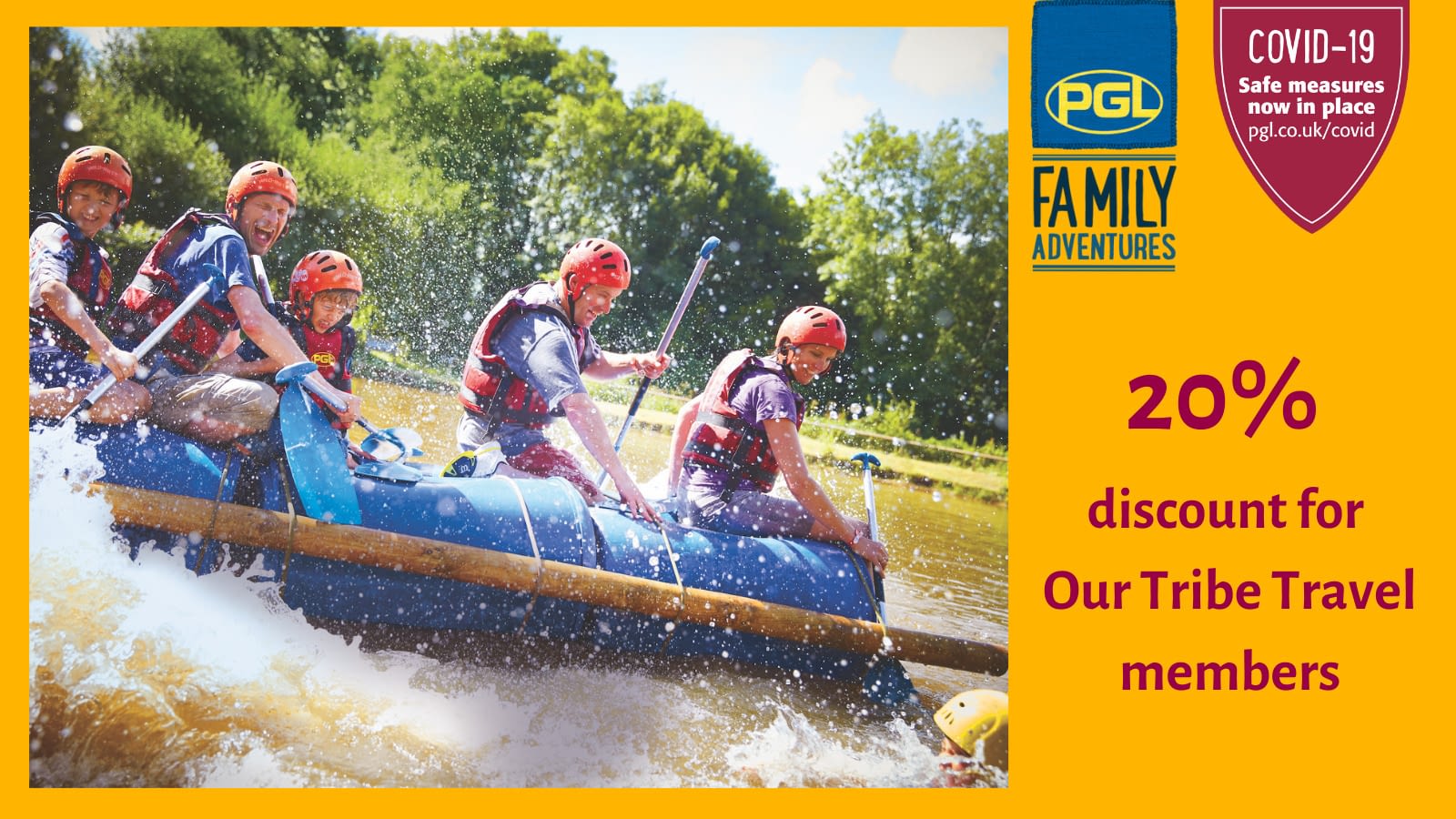 PGL Family Adventures are offering Our Tribe Travels members a 20% discount off any of their Summer Family Adventure breaks – valid until 31st August 2021. Click the pic above to reveal a hidden page that shares the 20% discount code.
WHAT IS A PGL FAMILY ADVENTURE?
PGL family adventures are the perfect, fun-filled holidays for parents and kids and many families in our community (including myself) love them.
PGL family programs are packed with a wide range of activities, and you don't need to be fit or have any experience as PGL's friendly, qualified instructors are there to guide you.
Activities range from raft building, abseiling and zip-lining, to a survival challenge, sensory trail and archery.
Family adventures range from one to seven nights, and all food, activities and accommodation are included in the price. Great value and great fun.
WE LOVE OUR PGL FAMILY ADVENTURES BECAUSE;
1.  We enjoy meeting like-minded parents and kids and socialising together in the evenings.
2. The PGL instructors are always positive, upbeat and encouraging, whatever the weather.
3. We love the activities PGL offer; always fun, varied and sometimes challenging.
4. We love spending time together as a family, outside and away from the distractions of devices.