Who are we?
We are a family of four from the UK.  Our children have just turned 4 and 2, and travelling with children at these tricky ages can sometimes be an ordeal!  Airports can be particularly trying with long corridors to walk and lots of waiting around.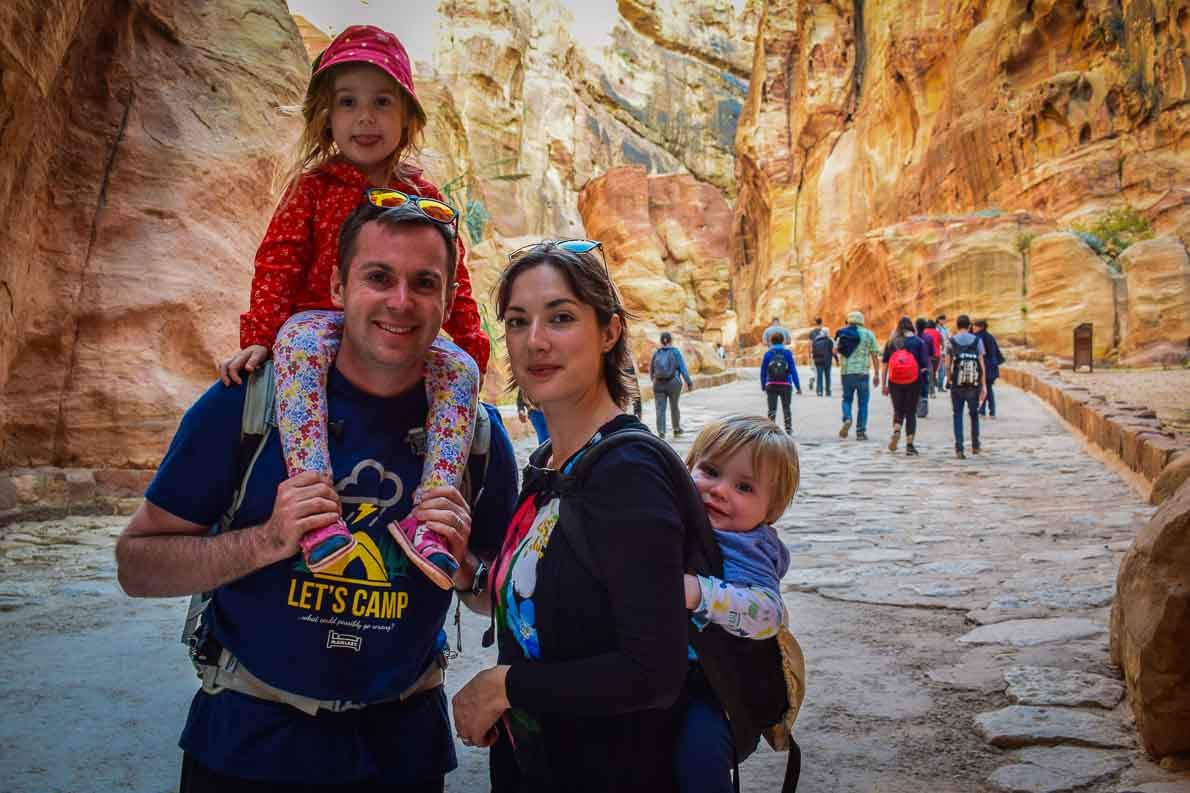 We jumped at the chance to try out a ZincFlyte suitcase as we hoped that using a scooter-suitcase would help us get through the airport quicker, or at least with less fuss from our 4 year old.
We took our ZincFlyte with us on our most recent trip to Iceland.  We travelled from the always-busy London Gatwick to Reykjavik.
First Impressions and general thoughts on ZincFlyte:
ZincFlyte make suitcases for children that turn into a scooter.  At the time of writing, they make a Mini size for children aged 2+ and a Midi version for children aged 4 – 8.  Out soon is a Maxi version for kids aged 8+.
ZincFlyte also make travel accessories. We took Olivia the Owl plushy which turns into a rucksack.  My daughter loves Olivia and uses it as a toy as much as a rucksack.
My 4 year old daughter chose the Betty design from the Midi range.  We were really impressed with the ZincFlyte when we opened the box. Betty is bright and appealing to both kids and adults;  my daughter really loved it and couldn't wait to give it a go.  My son was also very interested and keen to learn to scoot on it!
The build quality is great; the materials are sturdy and the metal parts are not likely to bend or break.  The material on the scooter foot pad is non-slip which is a nice touch.
The case itself is durable but flexible, and it keeps its shape well.  I used Betty to carry some fragile electronic equipment in addition to my daughter's items and Betty protected them well.
Betty has a good capacity and can carry quite a lot of clothes; enough for at least a week in cold weather or 10 days in summer.  The zipper compartment and elasticated clip help to keep clothes and other items from getting mixed up and shaken about when the case is being used.  The pouch in the lid of the case is large enough for books of most sizes.
Using ZincFlyte – how easy is it to use?:
All the mechanisms work smoothly and are easy for an adult to fold out and pack away again.
To extend the handle, you press the button at the top and pull.  To fold out the foot-stand you need to grip firmly and pull up to unfold it.
To pack the scooter away, you need to press just above the base of the foot-stand whilst pulling the stand out with the other hand to release the catch.  You can then fold the foot-stand away.  The handle folds away by pressing the little catch at the base and pushing down on the handle.
The stand is too stiff for little hands to move which is good as children are unlikely to trap their fingers in it by folding it up themselves.
The ZincFlyte had a nice side-effect that we weren't expecting.  Using Betty encouraged my daughter become more confident at scooting in general.  She's quite a timid child when it comes to physical activities and it was lovely to see her interest piqued by the ZincFlyte.
ZincFlyte at the airport:
Betty was very airport friendly.
We had no issues going through security – the case fits into the large trays for baggage scanning.
My daughter had no problem scooting through the long corridors to the departure lounges and it helped to keep her cheerful.  Confident scooters will be racing ahead of their parents!
From an adult's point of view, I didn't need to carry my daughter (so it helped save my back).  We noticed other people looking at the ZincFlyte in the airport and one lady asked where to buy it as she was very keen to get one for her son.
When on board the aircraft Betty folded up and fitted into the overhead lockers with no trouble so it's definitely suitable for carry-on luggage.
A slight downside is that Betty is quite heavy when fully loaded, but that's down to the sturdy material used and I wouldn't trade those for a lighter case.
My daughter is very young and didn't want to scoot absolutely everywhere in the airport so my husband had to carry the case for a bit.  We found that the carry handle on the top was a little small for adult hands and thought a larger handle on the side of the case might help grownups carry the ZincFlyte if needed.
Conclusion:
What we liked:
Beautiful, appealing design
Sturdy build and quality materials
Easy to unfold and pack away again
Good capacity
Scoots smoothly
Helps to protect fragile items
Things we weren't so keen on:
Overall we really liked the ZincFlyte.  It definitely helped us get through the airport with less fuss, and as my daughter becomes more confident at scooting (she's a very small 4 year old) we will get through quicker too!
At £69.99 the ZincFlyte Midi is reasonably priced for the quality of the materials.  The Midi version is for children aged 4 – 8 and I would imagine that it would last that long.
We'd recommend the ZincFlyte to other parents who travel with children.
It looks as though we'll have to get another for my son sooner rather than later!
•••••••••••••••••••••••••••••••••••••••••••••••••••••••••••••••••••••••••••••••••••••••••••••••••••••••••••••••••••••••••••••••••
If you'd like to find out more about Emily and her adventurous travels you can follow her blog 'Kids and Compass'
Disclaimer: The Our Tribe Travels product review panel are given products free of charge in return for an honest and detailed review. All thoughts and opinions expressed are the reviewer's own and are not influenced by the brand or affliliates.